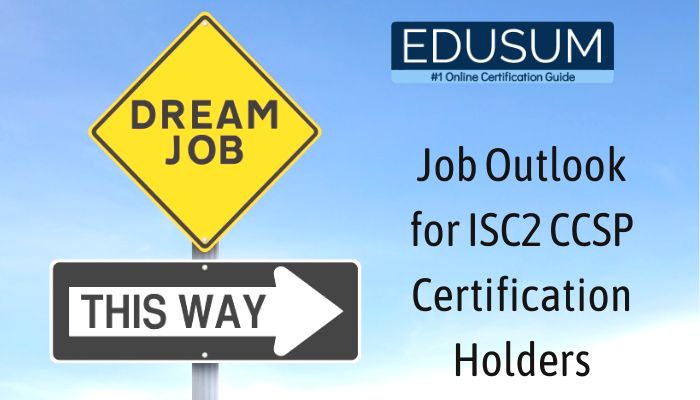 Developed by ISC2 and the Cloud Security Alliance (CSA), the Certified Cloud Security Professional - CCSP certification was intended to assure that cloud security professionals have the essential knowledge, skills, and experience in cloud security design, controls, architecture, implementation, operations, and compliance with regulatory frameworks.
Certified Cloud Security Professionals are cybersecurity specialists that stop hackers from discovering digital backdoors and acquiring access to essential cloud data. People who achieve a CCSP certification from ISC2 are acknowledged as responsible and skilled cybersecurity professionals worldwide with diverse career development opportunities.
People aspiring to earn ISC2 CCSP certifications must have relevant work experience, comply with the ISC2 code of ethics, pass the exam, obtain an endorsement, and pay a yearly maintenance fee.
The ISC2 CCSP certification demonstrates to organizations and clients that an individual is trustworthy and has the expertise to handle and secure cloud data. It also reveals that they are ISC2 members with support from some of the most righteous cybersecurity professionals worldwide. It is perfect for IT and information security administrators with experience in the following fields.
Cloud Administrator

Cloud Specialist

Cloud Consultant

Cloud Engineer

Cloud Security Analyst

Cloud Architect

Auditor of Cloud Computing Services

Professional Cloud Developer
Responsibilities of a CCSP Certification Holder
Unlike other IT certifications that typically deduct security topics, the CCSP certificate concentrates mainly on cloud security.
As members of a global community of certified cybersecurity professionals, professionals with CCSP certification are accountable for upholding clouds are safe and protected for users. ISC2 Certified Cloud Security Professionals help assure the security and privacy of sensitive data and valuable assets contained in digital shadows that belong to different users, who vary from individuals to international corporations.
They should perceive relevant security and design ethics for cloud computing, such as masking, encryption, traceability, cloud architecture, access control, and much more. Cyber attacks can come from outside or within an organization, so Certified Cloud Security Professionals should regularly speak with management to determine critical information and produce adequate security controls.
A precise familiarity with privacy issues, legal requirements, ethical behavior, and other risks corresponding to cloud usage is also essential. CCSP's should know the details of their client's operating systems and impede any vulnerable access points before hackers get to them.
Prerequisites
CCSP certification is not entry-level, but other options are open to getting them on the right track. Some work experience with information technology is needed for applicants to be eligible for the CCSP exam. Three years of experience in information security and one year in one or more of the six domains of the ISC2 CCSP Common Body of Knowledge (CBK) are described in the next section.
People who earlier achieved CSA's CCSK certifications can use it to replace one year of experience in one or more of the six domains of CCSP CBK. ISC2 CISSP certification holders can use those certifications to replace the necessity of the CCSP exam experience.
If they pass, applicants with insufficient experience can still sit for the CCSP exam to become an Associate of ISC2. That gives them six years to earn the needed five-year experience.
Preparing For The CCSP Exam
Applicants will have their knowledge and skills about cloud security assessed by the CCSP certification exam. The exam includes six security domains with distinct weights that can impact results in another way. These are the six security domains that applicants should master, along with their weight percentages:
Domain 1: Cloud Concepts, Architecture and Design (17%)

Domain 2: Cloud Data Security (19%)

Domain 3: Cloud Platform and Infrastructure Security (17%)

Domain 4: Cloud Application Security (17%)

Domain 5: Cloud Security Operations (17%)

Domain 6: Legal, Risk and Compliance (13%)
Exam-takers require a minimum of 700 points out of 1000 to crack the exam, comprising 125 multiple-choice questions. Only remembering information about the six CCSP certification syllabus topics is inadequate because experienced-based questions will be in the exam. CCSP certification cost is $599. The CCSP exam can be given in English and Japanese. Applicants can take the exam at any Pearson VUE Testing Center and have three hours to finish it.
Applicants who crack the exam must carry out an endorsement process that ensures they have sufficient professional experience and stay in good standing with the cybersecurity industry. They also have to agree to the ISC2 Code of Ethics, which provides their commitment to protecting society and working legally.
Job Outlook for CCSP Certification Holders
CCSP jobs are increasing in every industry as individuals and organizations move toward cloud computing services to maintain and secure data and critical assets. As support for protected data clouds increases, so is the threat from hackers, and more cloud security jobs are beginning to require the CCSP certification for hiring eligibility.
These are some of the CCSP jobs that certified individuals can avail of:
Security Manager

Systems Architect

Systems Engineer

Security Architect

Security Consultant

Security Engineer

Enterprise Architect

Security Administrator
What After CCSP Certification? - A Brilliant Career Path
Living in the digital era indicates that people will depend more on appropriate online services for many facets of their lives and elevate the need for trustworthy CCSPs. Cloud businesses are also continuously sprouting worldwide, boosting the competition between them and making their services more economical to the public.
CCSP jobs are open from large organizations like the government, banks, military, hotels, and so on, but small businesses and individuals require them also. The certificate demonstrates to potential employers and clients that CCSPs have vendor-neutral skills that can apply to various technologies and techniques.
The career paths available to ISC2 Certified Cloud Security Professionals only begin to extend and have no symptoms of decline. CCSP certification holders are qualified to receive different IT jobs, whether they specialize in cloud security. The select few CCSPs will always have hiring benefits over other non-certified professionals.
Perks of Becoming ISC2 Certified Cloud Security Professional (CCSP)
The CCSP certification doesn't only make individuals more informed and sought-after for cloud security jobs. It can also significantly improve their salaries and acquire respect from a global community of cybersecurity professionals. CCSPs are also ISC2 members and will access additional educational resources to keep inflating their knowledge.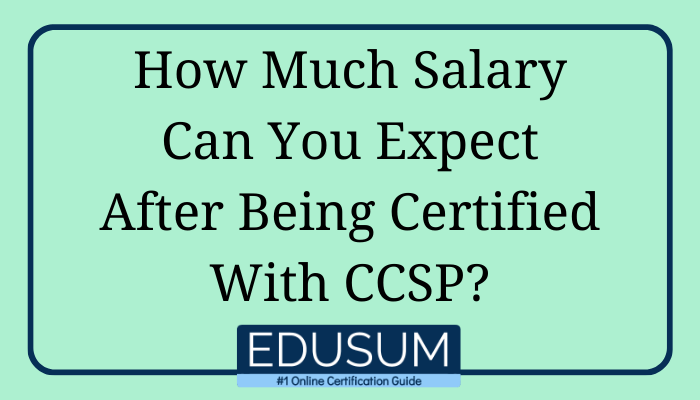 CCSP Certification Salary
The average CCSP certification salary is $138,610, and ISC2 members receive 35% higher wages than non-members.
ISC2 members have to pay an Annual Maintenance Fee of $125 to support continuous developments and recertifying every three years. Recertification is needed to confirm that CCSPs are updated with applicable cloud security techniques and procedures.
Summary
The CCSP certification can be perfect for individuals with IT and security experience but also provides opportunities for entry-level applicants. Certified Cloud Security Professionals have the added advantage of expanded career paths and bigger paychecks while acquiring access to and respect from cybersecurity leaders.
The market for reliable CCSP certification holders will remain to expand as society relies more on clouds for safely keeping data and assets.