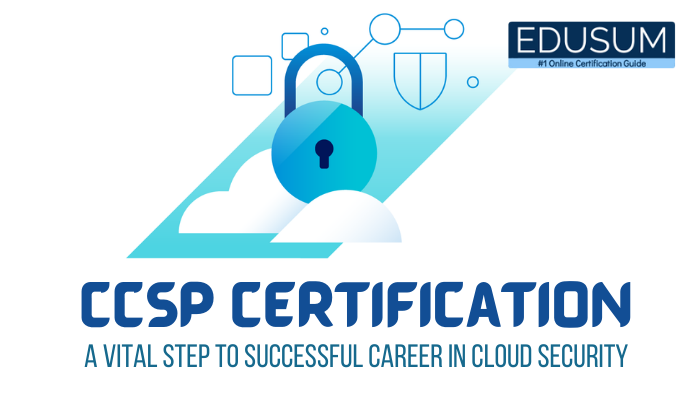 As more organizations embrace cloud-based systems, new complications and difficulties appear, and the risks multiply. Organizations require cloud security professionals with the essential knowledge, skills, and expertise to audit, estimate, and secure cloud infrastructures. To meet this need, ISC2 and the Cloud Security Alliance (CSA) have designed the Certified Cloud Security Professional - CCSP certification.
CCSP certification demonstrates in-depth knowledge acquired from applied information security and cloud computing experience. It confirms practical know-how for professionals whose duties entail cloud security architecture, operations, design, and service orchestration.
Overview of CCSP Certification Exam
Eligibility
To be eligible to sit for the CCSP certification exam, the applicants must have:
Minimum five years of working experience in IT, along with three years of information security and one year of cloud security experience.

Those without the demanded experience can sit for the exam to become an Associate of (ISC)² while working toward the expertise required for complete certification.

Note: Also, earning a CISSP certification from ISC2 can act as a replacement for the CCSP prerequisite/experience requirement.
CCSP Domains
Domain 1. Cloud Concepts, Architecture and Design
Domain 2. Cloud Data Security
Domain 3. Cloud Platform & Infrastructure Security
Domain 4. Cloud Application Security
Domain 5. Cloud Security Operations
Domain 6. Legal, Risk, and Compliance
CCSP Exam Structure
No. of Questions: 125 Questions

Passing score: 700 out of 1000

Exam Duration: 3 Hours (180 Minutes)

Testing Center: Pearson Vue

Passing score: 700/1000
Target Audience
The CCSP is the best fit for IT and information security leaders accountable for implementing best practices to cloud security architecture, operations, design, and service orchestration, comprising those in the following positions:
Security Engineer

Security Manager

Systems Architect

Enterprise Architect

Security Administrator

Systems Engineer

Security Architect

Security Consultant
CCSP Certification Exam: Proven Preparation Tips
When it comes to CCSP exam preparation, there are plenty of resources that can give you some suggestions and details related to this certification exam. But don't believe every comment or blog you hit on. Preferably, review whether the information is coming from a trusted platform or not. Now, let's dive into the tips for passing the CCSP certification exam.
Begin by knowing the details of the ISC2 CCSP exam. Understand which topics and subtopics are included in the exam syllabus.

Devise a perfect study plan, and be sure to study according to it. Following a study plan will boost your odds of passing the CCSP exam and assure that you are not leaving any topic untouched.

Gather every bit of information you need for thorough exam preparation. For instance, determine where to get the study resources and see the duration you have before the real exam date, and much more.

Acquire appropriate study resources that you will be utilizing to prepare for the Certified Cloud Security Professional exam. Keep in mind that you get them from reliable resources. The prep resources should be relevant and approved by the IT professionals.

Perform CCSP practice tests available on Edusum.com. Make this kind of prep tool one of your core ways of preparing for the certification exam.

Make sure that you are spreading your study plan during the given time to complete your preparation before the scheduled exam date. Evade last-minute rush as it might adversely impact your overall performance.

Get a good night's sleep the night before taking the CCSP exam. This will guarantee that you are fresh and energetic, and ready to ace the exam.
The Benefits of CCSP Certification
The CCSP certification is an internationally acknowledged certification that proves a more deep understanding of cloud security. It confirms an applicant's functional proficiency and establishes a new standard for cloud security understanding. It's considered one of the most factual comprehensive cloud security expertise standards and can improve a candidate's integrity in the most sought-after cloud security opportunities. Concisely, a CCSP certification can help a professional distinguish in their field.
CCSP certification has been inspected by ANSI and is aligned with the CSA's Certificate of Cloud Security Knowledge (CCSK). An average CCSP salary is $138,610. As a Certified Cloud Security Professional, you'll relish great salaries in the US and the UK.
CCSP certification also enhances your salary and enhances your prestige among cybersecurity professionals. Certified Cloud Security Professionals are also members of ISC2, which provides them access to additional educational resources. As reported by the ISC2 website, certified Certified Cloud Security Professionals make up to 35% more than non-members. However, the CCSSP certification does come with annual maintenance fees of $125, and you must recertify every three years to maintain your certification validly.
The CCSP certification is a valuable addition to any cybersecurity career. As of 2016, more than 5,000 individuals hold CCSP certification. Businesses value the credential as a sign of professionalism and proficiency. Although cloud security has several advantages, enterprises often hesitate to adopt this technology due to security concerns. CCSP certification was developed to address these concerns. The course emphasizes security principles and architectural concepts for cloud environments, including virtualization, identity and access management, and cloud platform security.
The CCSP certification qualifies practitioners to utilize their knowledge over various cloud platforms. In addition, it will allow professionals to boost their IT careers and move into crucial roles within organizations. As an ISO/IEC 17024-compliant certification, the CCSP is a vendor-neutral certification. As such, it is more correlative than competitive with platform-based certifications. Professionals who hold CCSP certification are prone to flourish in Cybersecurity or IT security role.
Conclusion
Cloud computing has been among the most supported technologies in the past two decades. A large number of organizations are shifting or delivering cloud platform solutions. The cloud is a fully online platform where all the affairs are occurring online. All the perceptive business data is always online. This makes it exposed to external cyber threats and attacks. An efficient cybersecurity arrangement is a necessity for any cloud computing environment to deal with these challenges. Cloud Security is among the quickly-growing branches of Cybersecurity.
The market for Cybersecurity professionals with cloud security skills is soaring. ISC2 is one of the best leaders in Cybersecurity. ISC2 certifications are among the most recognized certifications in the cybersecurity field. ISC2 Certified Cloud Security Professional certification is for high-level security professionals working with cloud security.