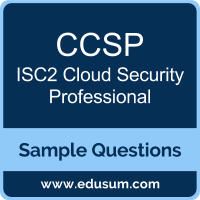 The purpose of this Sample Question Set is to provide you with information about the ISC2 Cloud Security Professional exam. These sample questions will make you very familiar with both the type and the difficulty level of the questions on the CCSP certification test. To get familiar with real exam environment, we suggest you try our Sample ISC2 CCSP Certification Practice Exam. This sample practice exam gives you the feeling of reality and is a clue to the questions asked in the actual ISC2 Certified Cloud Security Professional (CCSP) certification exam.
These sample questions are simple and basic questions that represent likeness to the real ISC2 CCSP exam questions. To assess your readiness and performance with real time scenario based questions, we suggest you prepare with our Premium ISC2 CCSP Certification Practice Exam. When you solve real time scenario based questions practically, you come across many difficulties that give you an opportunity to improve.
ISC2 CCSP Sample Questions:
01. From a security perspective, automation of configuration aids in ___________________.
a) Enhancing performance
b) Reducing potential attack vectors
c) Increasing ease of use of the systems
d) Reducing need for administrative personnel
02. Software developers designing applications for the cloud should expect to include options to ensure all of the following
capabilities except _______________.
a) Encryption of data at rest
b) Encryption of data in transit
c) Data masking
d) Hashing database fields
03. In which court must the defendant be determined to have acted in a certain fashion according to the preponderance of the
evidence?
a) Civil court
b) Criminal court
c) Religious court
d) Tribal court
04. How often should cable management efforts take place?
a) Annually
b) Continually
c) Quarterly
d) Weekly
05. An event is something that can be measured within the environment. An incident is a(n) _______________ event.
a) Deleterious
b) Negative
c) Unscheduled
d) Major
06.
You are in charge of building a cloud data center. What purposes does the raised floor serve?
a) Allows airflow and increases structural soundness for holding large components
b) Cold air feed and a place to run wires for the machines
c) Additional storage for critical components and a dedicated access to a landline
d) Fire suppression systems and personnel safety
07. What is the most secure form of code testing and review?
a) Open source
b) Proprietary/internal
c)
Combination of open source and proprietary
d)
Neither open source nor proprietary
08.
In a cloud environment, who is responsible for collecting data in response to an eDiscovery order?
a) The cloud customer
b) The cloud customer and cloud provider
c) The data owner
d) The cloud provider
09. Which phase of the software development lifecycle (SDLC) is most likely to involve crypto-shredding?
a) Define
b) Design
c) Test
d) Disposal
10. In a platform as a service (PaaS) model, who should most likely be responsible for the security of the applications in
the production environment?
a) Cloud customer
b) Cloud provider
c) Regulator
d) Programmers
Answers:
Question: 01




Answer: b

Question: 02




Answer: d

Question: 03




Answer: a

Question: 04




Answer: b

Question: 05




Answer: c

Question: 06




Answer: b

Question: 07




Answer: c

Question: 08




Answer: b

Question: 09




Answer: d

Question: 10




Answer: a
Note: For any error in ISC2 Certified Cloud Security Professional (CCSP) certification exam sample questions, please update us by writing an email on feedback@edusum.com.