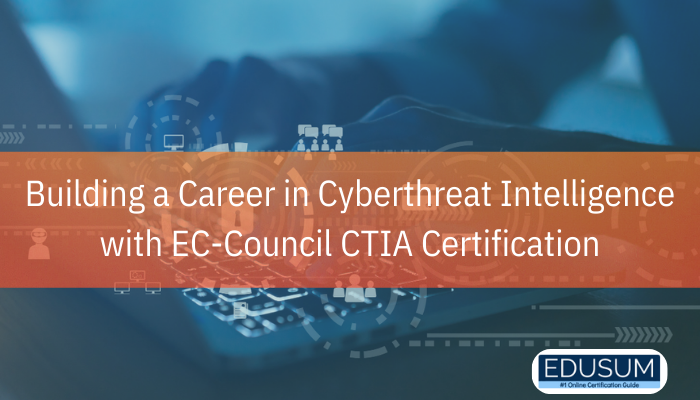 EC-Council Certified Threat Intelligence Analyst (C|TIA) is planned and created in association with cybersecurity and threat intelligence professionals worldwide to help organizations spot and alleviate business risks by transforming obscure internal and external threats into known threats. It is a complete, specialist-level certification that instills an integrated approach to building powerful threat intelligence.
Is EC-Council CTIA Certification For You?
Ethical Hackers.

Security Practitioners, Engineers, Analysts, Specialists, Architects, and Managers.

Threat Intelligence Analysts, Researchers, Associates, and Consultants.

SOC Professionals.

Threat Hunters.

Incident Response Team Members.

Digital Forensic and Malware Analysts.

Any intermediate-level to high-level cybersecurity professionals with at least two years of experience.

Individuals from the information security professionals who want to enrich their skills and knowledge in the field of cyber threat intelligence.

Individuals interested in preventing cyber threats.
Reasons to Earn EC-Council CTIA Certification
Consistent with JTA listed beneath the 'Analyze' category of NICE 2.0
EC-Council Certified Threat Intelligence Analyst certification utilizes a strict Job Task Analysis (JTA) of the job positions involved in the field of threat intelligence. This makes it the ideal threat intelligence certification for professionals to be experts in cybersecurity.
Enhanced Employability, Geometrically
The cyber threat intelligence certification equips you with the most advanced techniques and tools to identify, engage, and offset cyberattacks in no time. This puts you in an exceptional place where hiring managers wait to employ skilled professionals like you!
EC-Council CTIA Certification Is Created by global subject matter experts (SMEs)
EC-Council's cyber intelligence analyst certification is created using inputs and an extensive talent pool from global subject matter experts. An EC-Council CTIA certification covers the A to Z of threat intelligence.
Certified Threat Intelligence Analyst (CTIA) Exam details:
Number of questions: 50

Time Limit: 2 Hours

Test Format: Multiple choice

Passing score: 70%

Exam Cost: $250
EC-Council CTIA Exam Domains
Introduction to Threat Intelligence

Cyber Threats and Kill Chain Methodology

Requirements, Planning, Direction, and Review

Data Collection and Processing

Data Analysis

Intelligence Reporting and Dissemination
EC-Council CTIA Certification Exam Preparation Tips
With an adequate study schedule, passing the EC-Council Certified Threat Intelligence Analyst exam becomes easy. CTIA examination is very hands-on and demands individuals be in tune with their preparations. Below are a few tips and tricks to help you smoothen your preparation process. Following these tips will increase your odds of passing the certification and flourishing in your Cyber Threat Intelligence career.
1. Manage Your Time to Study Smartly
"Time is of great importance." Planning your time to make a practical study schedule for preparing for the EC-Council CTIA exam is essential. With an applicable study schedule, following your preparation course becomes easy. So, it would be best to chart a realistic and accomplishable study schedule for the EC-Council Certified Threat Intelligence Analyst exam preparation.
2. Know About the CTIA Certification from A to Z
Becoming familiar with all the details about the CTIA certification is essential before you start your preparation. Knowing the exam prerequisites, exam topics, and question types. And so on, it will help you get a deep insight into the exam. Hence, you must explore different websites, starting with the official one, and compile all the relevant information.
3. Understand the CTIA Exam Syllabus Topics
The exam comprises 50 multiple-choice questions that outline threat intelligence and cybersecurity topics. To pass this EC-Council certification exam, all the syllabus topics must be appropriately studied. Thus, reading over each exam objective is recommended to gain a more solid understanding of what needs to be learned. To enhance your CTIA exam preparation, you can list all the topics and ensure that none is left.
4. Enroll in the Training Course
You can enroll in online training courses to reinforce your exam preparation. EC-Council provides a training course for this certification exam, including video lectures, study guides, online community help, and so on.
5. Use CTIA Practice Test
The most crucial step for preparing for the exam is to attempt the time-bound and authentic EC-Council CTIA practice tests. Giving practice tests will help you get a bigger perspective on your preparation for the actual exam and let you understand your strong and weak areas. You can find a lot of practice tests online, free and paid. E-council and edusum website are the best providers of realistic CTIA practice tests for better evaluation.
6. Schedule Your CTIA Certification Exam In Advance
EC-Council CTIA certification exam preparation demands a lot of smart preparations. Along with that, definite prerequisites must be satisfied to be eligible for the exam. You need to assign at least two to three months for exam preparation, and this is why you should register for the exam well in advance so that you can fulfill all the requirements and have enough time to study.
7. Read the EC-Council CTIA Exam Question Thoroughly
The CTIA certification exam demands the applicants to answer 50 MCQ questions in 120 minutes (2 hours). This indicates you get 2.4 mins for each question, but it requires a lot of focus while answering the EC-Council CTIA Exam Questions. Make sure you begin with easy questions and only spend a little time on one question.
8. Participate Actively in an Online Community or Group
Online communities and groups are created for exchanging knowledge and experiences. There are various relevant study groups out there in which you can participate. Becoming an appropriate group member will help you solve doubts and learn from industry experts.
Conclusion
EC-Council CTIA is one of the famous examinations in the field of threat intelligence. Passing the exam is a minor task if you stay focused on your preparation, and it demands complete dedication and the correct approach and strategy. Success in any exam lies in the relevance of the resources, so make the most out of all the resources available and practice tests from the edusum website.