Technology has always been evolving, notably on the most customer-facing sides of technology. As businesses and customers continuously explore new methods to do things, it's crucial for IT professionals to assure their skills are developing along with the industry, because it will benefit them stay competing within their job market.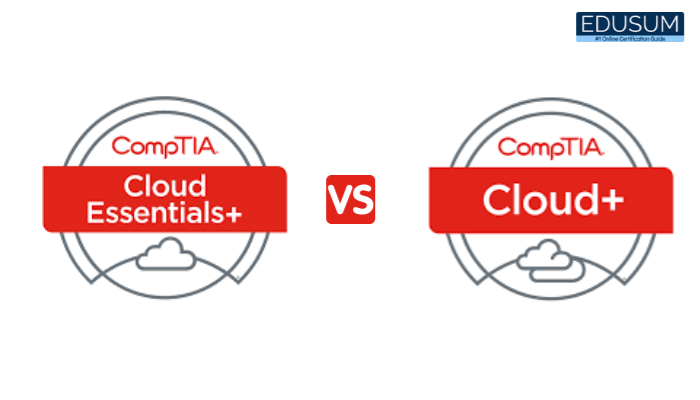 One of the best ways to maintain skills prevalently is to keep learning. Even if your end objective isn't occupying a IT certification, regularly learning on technology enhances your value as an IT professional.
There's no better skill set to earn in the prevailing environment than a cloud certification and no valid place to start learning the cloud than CompTIA certification. If you're deciding to evaluate the differences between Cloud+ and Cloud Essentials+, this article will help.
CompTIA Cloud
Essentials+ Certification: For the Non-Technical Professionals
The CompTIA Cloud Essentials+ certification is designed for business professionals and non-IT experts who aspire to perceive the basics and practical segments of cloud computing technology and how the cloud affects a business.
The Cloud Essentials Certification focuses on:
Business advantage of the cloud, security, including scalability, and the complete influence of the cloud on business productivity.

Technical aspects of the cloud, comprising deployment models, network requirements, federation, automation, and standardization.

Technical challenges such as cloud storage, security risks, application performance, and mitigation, and application architectures.
Steps to utilizing cloud-based services:
Cloud computing and ITIL for running cloud service operation, planning service procedures, and the constant development of service with the cloud.

Legal, technical, organizational, and financial prospects and outcomes connected with the cloud.
The Cloud Essentials+

CLO-002 Certification Exam Objectives are:
Cloud Concepts (24%)

Business Principles of Cloud Environments (28%)

Management and Technical Operations (26%)

Governance, Risk, Compliance, and Security for the Cloud (22%)
CompTIA Cloud+ Certification: For Experienced IT Professionals
CompTIA recommends that applicants for CompTIA Cloud+ certification keep at least 2-3 years of work experience with IT networking, storage or data center technology. Unlike Cloud Essentials, this certification is intended for the experienced IT professional inquiring a knowledge of cloud computing basic technical understanding. This person should impart to or represent a significant position in the maintenance and administration of the IT infrastructure at their organization. This audience definition does not eliminate the IT professionals who are important to the internal IT operations and would considerably avail from the certification.
The Cloud+ certification includes various technical topics for cloud computing, such as:
Cloud concepts, models, and terminology

Storage networking

Systems management

Performance tuning

Cloud security

Disk storage systems

Virtualization and the cloud

Systems management

Testing and troubleshooting

Business continuity and disaster recovery
The Cloud+ Certification Exam Objectives are:
Configuration and Deployment (24%)

Security (16%)

Maintenance (18%))

Management (20%)

Troubleshooting (22%)
Cloud Essentials+ Is More Basic Than Cloud+
The apparent way to differentiate these two CompTIA certifications is the targeted audience. Who requires to take Cloud Essentials versus Cloud+? IT professionals normally will drift toward the profoundly technical Cloud+. Traditionally non-technical professions will gain from the high-level, business-like introduction of Cloud Essentials.
That doesn't suggest either organization won't avail from the other certification.
Cloud+ certification might be intended for the technical professional, but IT professional could benefit from acquiring the business implications of the cloud with Cloud Essentials+.
Cloud Essentials was intended for business people who require to understand the legal and business associations of cloud technology without tremendous hard work. It enables anyone in an organization to study the cloud so that they can make versed decisions. These people might incorporate those in sales, marketing, management, and particularly IT.
Even those IT professionals that have been working with cloud technologies for years might avail from this certification, as they might not be proficient on the business associations of these technologies.
Likewise, Cloud+ is an entry-level cloud certification, so there's value for the non-technical professional to qualify on these topics. It's also a professional certification that will make a non-technical resume a bit more multi-functional.
Whether you intend to work for a cloud services provider or as a sales manager, the knowledge you'll get through Cloud+ will qualify you to work with cloud technology.
Cloud Essentials+ Might Be a Big Start for IT Professionals
CompTIA prescribes that before pursuing a Cloud+ certification, you have a minimum two to three years of hands-on experience in data center technology or IT networking. The certification is highly technical, but anyone with primary knowledge of IT fundamentals practiced in Network+ can track along.
For a limited experienced IT professional, it may be helpful to start with the Cloud Essentials certification, which will work as a stepping stone to Cloud+ and beyond. There are no requirements for the Cloud Essentials certification.
Cloud Essentials+ Is Great for Life
Another contrast between the Cloud+ and Cloud Essentials+ certifications is shelf-life. Once you earn your Cloud Essentials certification, you have it for life. You don't need to recertify. You may ultimately want to add to that certification, but the certification will be on your resume whether you make on it or not.
The Cloud+ expects renewal every three years from the date of your exam. Because CompTIA also retires the old version of the exam and propels a new version every three years, you'll likely require to recertify with the new exam.
CompTIA's three-year renewal procedure assures that your qualification always stays advanced, which means both contemporary and inherent management will see you as a valuable asset to the cloud community.
Professionals who carry Cloud+ certification from CompTIA also have access to advancing learning opportunities that will encourage them to stay contemporary. CompTIA has a broad variety of recertification options for IT professionals. But it's essential to find the distinct educational path to help you accomplish your long-term and short-term career objectives.
The divide between Cloud+ and Cloud Essentials+ is moderately clear; you likely will recognize right away which is the appropriate option for you. If you're a business professional who solely desires to learn more about what the cloud has to contribute, decide Cloud Essentials. However, if you're interested in moving into IT, CompTIA has a certification that can help you each step of the way.