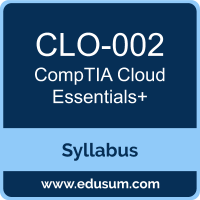 Use this quick start guide to collect all the information about CompTIA Cloud Essentials+ (CLO-002) Certification exam. This study guide provides a list of objectives and resources that will help you prepare for items on the CLO-002 CompTIA Cloud Essentials+ exam. The Sample Questions will help you identify the type and difficulty level of the questions and the Practice Exams will make you familiar with the format and environment of an exam. You should refer this guide carefully before attempting your actual CompTIA Cloud Essentials Plus certification exam.
The CompTIA Cloud Essentials+ certification is mainly targeted to those candidates who want to build their career in Additional Professional domain. The CompTIA Cloud Essentials+ exam verifies that the candidate possesses the fundamental knowledge and proven skills in the area of CompTIA Cloud Essentials Plus.
CompTIA Cloud Essentials+ Exam Summary:
CompTIA CLO-002 Exam Syllabus Topics:
Topic

Details

Cloud Concepts 24%

Explain cloud principles.

1. Service models

2. Deployment models

3. Characteristics

Elastic

Self-service

Scalability

Broad network access

Pay-as-you-go

Availability

4. Shared responsibility model

Identify cloud networking concepts.

1. Connectivity types

2. Common access types

3. Software-defined networking (SDN)
4. Load balancing
5. DNS
6. Firewall

Identify cloud storage technologies.

1. Storage features

Compression

Deduplication

Capacity on demand

2. Storage characteristics

3. Storage types

Object storage

File storage

Block storage

4. Software-defined storage
5. Content delivery network

Summarize important aspects of cloud design.

1. Redundancy
2. High availability
3. Disaster recovery
4. Recovery objectives

Business Principles of Cloud Environments 28%

Given a scenario, use appropriate cloud assessments.

1. Current and future requirements
2. Baseline
3. Feasibility study
4. Gap analysis

5. Reporting

6. Benchmarks
7. Documentation and diagrams
8. Key stakeholders
9. Point of contact

Summarize the financial aspects of engaging a cloud provider.

1. Capital expenditures
2. Operating expenditures
3. Variable vs. fixed cost
4. Licensing models

5. Contracts
6. Billing
7. Request for information
8. Human capital

Training

Professional development

Identify the important business aspects of vendor relations in cloud adoptions.

1. Professional services

Time to market

Skill availability

Support

Managed services

2. Statement of work (SOW)
3. Service level agreement (SLA)
4. Training
5. Evaluations

Pilot

Proof of value

Proof of concept

Success criteria

6. Open-source vs. proprietary

Identify the benefits or solutions of utilizing cloud services.

1. Identity access management

Single sign-on

Multifactor authentication

Federation

2. Cloud-native applications

Microservices

Containerization

3. Data analytics

Machine learning

Artificial intelligence

Big Data

4. Digital marketing

Email campaigns

Social media

5. Autonomous environments
6. IoT
7. Blockchain
8. Subscription services
9. Collaboration
10. VDI
11. Self-service

Compare and contrast cloud migration approaches.

1. Rip and replace
2. Lift and shift
3. Hybrid
4. Phased

Management and Technical Operations 26%

Explain aspects of operating within the cloud.

1. Data management

Replication

Locality

Backup

2. Availability

3. Disposable resources
4. Monitoring and visibility

5. Optimization

Auto-scaling

Right-sizing

Explain DevOps in cloud environments.

1. Provisioning

Infrastructure as code

Templates

2. Continuous integration/ continuous delivery
3. Testing in QA environments

Sandboxing

Load testing

Regression testing

4. Configuration management

Orchestration

Automation

Upgrades and patching

5. API integration

Given a scenario, review and report on the financial expenditures related to cloud resources.

1. Storage
2. Network
3. Compute
4. Chargebacks

5. Maintenance
6. Instances

7. Licensing type
8. Licensing quantity

Governance, Risk, Compliance, and Security for the Cloud 22%

Recognize risk management concepts related to cloud services.

1. Risk assessment

Asset inventory

Classification

Ownership

2. Risk response

Mitigation

Acceptance

Avoidance

Transfer

3. Documentation

4. Vendor lock-in
5. Data portability

Explain policies or procedures.

1. Standard operating procedures
2. Change management
3. Resource management
4. Security policies

5. Access and control policies
6. Department specific policies
7. Communication policies

Identify the importance and impacts of compliance in the cloud.

1. Data sovereignty
2. Regulatory concerns
3. Industry-based requirements
4. International standards
5. Certifications

Explain security concerns, measures, or concepts of cloud operations.

1. Threat
2. Vulnerability
3. Security assessments

Penetration testing

Vulnerability scanning

Application scanning

4. Data security

Categories
Public
Private
Sensitive
Confidentiality
Encryption
Sanitization
Integrity
Validation
Availability
Backup
Recovery

Breach

5. Application and Infrastructure security

Audit

Access

Authorization

Hardening
To ensure success in CompTIA Cloud Essentials Plus certification exam, we recommend authorized training course, practice test and hands-on experience to prepare for CompTIA Cloud Essentials+ (CLO-002) exam.