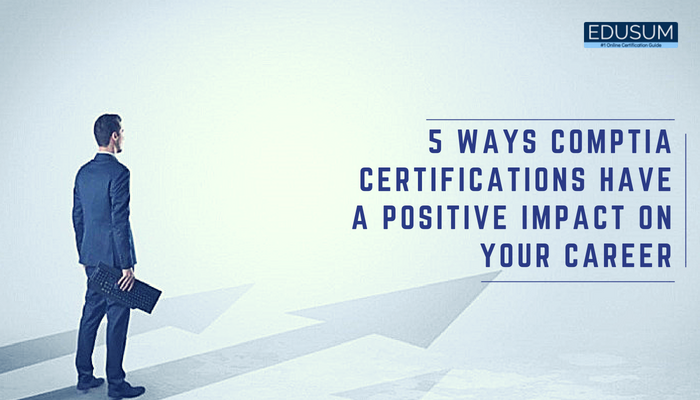 Earning CompTIA Certifications to prove your skills and knowledge is the norm in the IT landscape, and that does not look to be changing anytime soon. Still, often it requires time and money to earn those certifications. Exactly what difference do they make?
Well, current certification holders about their experiences post-certification and showed that CompTIA certifications make a world of difference, both for career and self-growth. Check out five ways they do so.
1. Personal Satisfaction
The number one area influenced by getting a CompTIA certification is personal satisfaction. It may not be the first thing that comes to mind in supporting find a job, but you'd be surprised! Those who have confidence in their abilities and skills are more likely to come across as competent and effusive, whether it's socializing at job fairs or listing accomplishments during an interview. Having a reasonable level of self-confidence is necessary for landing, and keeping, the job you want.
2. Professional Development
Following a career path means you need the room and training opportunities to grow your profession. It's all about tackling more responsibilities, upward mobility and the potential for a more substantial salary. CompTIA certification holders picked professional development as the second most crucial area their certifications helped. With no limit as to how many CompTIA certifications you can obtain, the certifications' different areas of expertise are excellent for long-term professional growth.
Top 5 CompTIA Certifications
3. Career Satisfaction
We all know the value of holding down a job, but you should also keep your future career path in mind. CompTIA certifications can help with both short- and long-term career aims! For now, a certification can enhance the likelihood of landing a job. In the future, the number of various CompTIA certifications, and their multiple areas of focus represent a series of strong career-building possibilities that are there whenever you are ready.
4. Job Attainment
Anyone who has been job hunting knows it's hard to stand out from other applicants mainly when you and the other applicants all have same skill-sets. Getting a CompTIA certification to your LinkedIn profile and resume goes a long way. It is an excellent way to prove your skill-set and help your resume avoid the rejected pile! Most significant, it verifies your knowledge and demonstrates to inherent employers that you are motivated in maintaining and developing your skills.
5. The Right Job
Feeling eager and motivated to Job every morning is an essential part of a pleasant job. But it can be hard to find stability between easily managed tasks and tackling those that challenge you to grow your skills. Getting different CompTIA certifications can help find that sweet spot, thanks to the preferred knowledge and skills they focus on. It can help employers, and you, see the right job level according to what certs, and thus what skills, you already have.