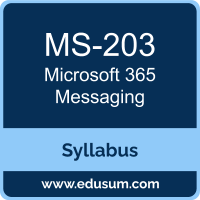 Use this quick start guide to collect all the information about Microsoft 365 Messaging (MS-203) Certification exam. This study guide provides a list of objectives and resources that will help you prepare for items on the MS-203 Microsoft 365 Messaging exam. The Sample Questions will help you identify the type and difficulty level of the questions and the Practice Exams will make you familiar with the format and environment of an exam. You should refer this guide carefully before attempting your actual Microsoft 365 Messaging certification exam.
The Microsoft 365 Messaging certification is mainly targeted to those candidates who want to build their career in Microsoft 365 domain. The Microsoft 365 Certified - Messaging Administrator Associate exam verifies that the candidate possesses the fundamental knowledge and proven skills in the area of Microsoft 365 Messaging.
Microsoft 365 Messaging Exam Summary:
Microsoft MS-203 Exam Syllabus Topics:
Topic

Details

Manage Microsoft Exchange Online settings and resources (40-45%)

Manage organizational and client access settings in Exchange Online

- Manage a Global Address List (GAL)
- Add or remove an offline address book (OAB)
- Manage address book policies
- Plan and configure organization relationships and individual sharing
- Configure Outlook on the web policies

Manage recipients and resources

- Manage user mailboxes
- Manage resource mailboxes
- Manage shared mailboxes
- Create and manage mail contacts and mail users
- Manage groups, including distribution lists, dynamic distribution lists, mail-enabled security groups, and Microsoft 365 groups
- Manage mailbox permissions, including delegation
- Manage mailbox mail flow settings
- Create and manage public folders

Manage Exchange hybrid settings and migration

- Configure virtual directories and URLs in a hybrid environment
- Maintain and expand the configuration by using the Hybrid Configuration wizard
- Configure migration endpoints
- Create and manage a cross-tenant migration batch

Plan and Manage the Mail Transport Architecture (25-30%)

Manage and secure mail flow

- Plan and configure connectors
- Plan and implement mail flow rules (transport rules)
- Manage accepted and remote domains
- Configure namespaces, accepted domains, and DNS records, including Exchange Online Protection (EOP)
- Implement email authentication, including Sender Policy Framework (SPF), DomainKeys Identified Mail (DKIM), and Domain-based Message Authentication, and Reporting and Conformance (DMARC)

Troubleshoot mail flow

- Configure and manage alert policies
- Trace a message
- Analyze a message trace
- Analyze message headers
- Analyze Non-delivery Reports (NDRs)
- Troubleshoot by using the Microsoft Remote Connectivity Analyzer

Secure the Messaging Environment (25-30%)

Manage role-based permissions in Exchange Online

- Plan and manage RBAC roles
- Manage default and custom admin role groups
- Manage user roles

Secure messages by using Microsoft 365 Defender

- Configure and manage Anti-phishing policies
- Configure and manage Anti-spam policies
- Configure and manage Anti-malware policies
- Configure and manage Safe Attachments
- Configure and manage Safe Links
- Configure and manage quarantine policies

Manage compliance

- Configure Messaging Records Management (MRM) and retention policies for a specific mailbox folder
- Enable and configure archive mailboxes
- Manage inactive mailboxes
- Analyze audit logs
- Manage journal rules
- Manage content search
- Manage standard eDiscovery cases (not including Premium eDiscovery)
To ensure success in Microsoft 365 Messaging certification exam, we recommend authorized training course, practice test and hands-on experience to prepare for Microsoft 365 Messaging (MS-203) exam.