With new technologies being launched every day, the cloud is becoming more significant than ever. You now have machine learning on Microsoft Azure, can produce multiple virtual machines all across the globe, and utilize various cloud providers to store and process your data. The fundamental feature of cloud computing is to assure that all the data is prevalent and stored in the cloud and is available from almost anywhere in the world, with the support of a conventional internet connection.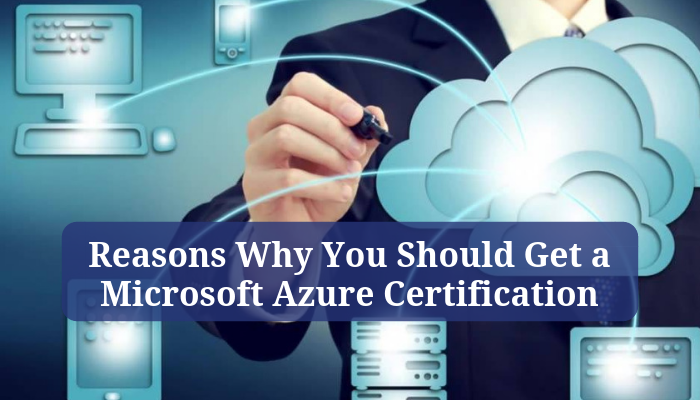 Now that people are more centered on adopting cloud services, they are using the features of sharing, storing, and accessing data from all over the world. A significant reason behind the rise in the prevalence of this technology is its cost-effectiveness and ease of availability.
The use of cloud services not only avails corporations, but it also presents individual developers and coders the freedom and tools that they require to accomplish complicated tasks. One such service roaring the industry is Microsoft Azure. Cloud computing expedites universal access to a shared pool of computing resources, allowing information to be transferred easily and with least effort. With cloud computing, users and businesses can now collect and process data in third-party data storage centers.
However, if you don't have any knowledge using cloud services, you should first get Azure training and become a Microsoft Azure certified expert. Here we have listed reasons why you should get a Microsoft Azure certification before adopting cloud services.
Reasons to Get Microsoft Azure Certification
Microsoft Azure is one of the most sought after cloud services around the world. If you're looking for a career path heading towards cloud services, this certification could very well be what you require. The following reasons make the Microsoft Azure certification one of the most sought-after in the IT industry:
1. Excellent Integration Probability
Microsoft Azure maintains the .Net platform, which is generally utilized for development purposes. Hence, if you are a developer, employing this cloud service will offer you added benefits. Additionally, Azure has huge user support that you can seek cooperation and support from; this is the main inclination for developers and IT administrators.
Microsoft Azure also presents a platform to run various open-source technologies, like Java, Linux, and PHP. Developers can study how to produce Linux-based applications that'll take cloud computing to the next level.
2. Adaptability
With Microsoft enjoying a powerful dominance in the personal computer OS market, most users will be habitual with the Windows operating system. This executes the Microsoft Azure learning method flatter than it is for other platforms. Knowing the working principles of Azure is an enormous advantage since concepts like Azure Automation and Operational Insights are very simple to study if you have a revelation to Microsoft's tools at work.
3. Net Support
Microsoft Azure accepted .Net coding, one of the oldest in software development, to make it simpler for developers to learn and practice its functionality in projects. This is one reason that some users and software enterprises have chosen for Microsoft Azure over its competitor, Amazon AWS.
4. Security Offering
Excellent tools and security protocols, like the Security Development Lifecycle (SDL), are utilized to provide superior security to all users and their data on the Azure cloud, defending it from cybercriminals. In extension to that, Azure cloud service is also approved by European data protection authorities and has a certification of international standard for cloud privacy, ISO 27018.
With the recognition of Microsoft Azure certification, you can surely consider Azure a market leader. Moreover, with a certification in Microsoft Azure, you can study all about these protocols and how they preserve the stored data.
5. DevOps
DevOps is a software engineering inclination that unites software operation, development, and quality assurance. Azure presents DevOps connections allowing developers to produce secure applications, while also promoting them maintain and monitor the production method and resolve the defects before launching an application.
Most methods related to DevOps are automated, so you can effortlessly test the apps in various environments and forward the outcome to the production department in no time. This skill is considered useful in this enterprise and can help you launch your career into a success story.
6. Hybrid Capabilities
Microsoft Azure is dense with hybrid services that allow your data to be approached from all over the world. The hybrid connections incorporate Virtual Private Networks (VPN), Content Delivery Networks (CDN), and ExpressRoute, which enhance user experience and achievement. Many other cloud service providers are still incapable to allow such protocols.
7. Learning Platform
The best part about using Microsoft Azure is that you don't have to study how to conduct so many different tools. Azure provides all the usually used tools including Xcode, Eclipse, Hadoop, Github, etc. to make it simpler for freshers to adapt and start utilizing this platform. Furthermore, with a brief learning process, you can get your Microsoft Azure certification quicker and begin your career. You can get lots of study material accessible online in the form of comprehensive guides and tutorial videos, as well.
8. Best Cloud Service Provider
It's crucial for businesses to select the best cloud service because most of their significant operations are dependent on this vital decision. Microsoft Azure guarantees 99.9% service time, which indicates that you will almost never meet any technical complications while working with this service. Software engineers also avail from this aspect as they are at no risk of losing their work.
9. Enterprise Agreement Provision
All organizations using Microsoft as their primitive software for improvement come under the enterprise agreement clause. With this provision, all other Microsoft tools and software are obtainable at reduced prices, including Azure cloud services. This is outstanding for all businesses that use various Microsoft products.
If you are planning to pursue a career path in this field, you will relish recognizing that there are over 60 million commercial Microsoft clients. So, you can effortlessly find a business where you can employ the skills you acquire through Azure training.
10. Boost Your Career and Salary
With a Microsoft Azure certification, you can surely become a successful developer and earn an attractive salary. The need for such professionals is on the rise with many top businesses shifting over to cloud services.
Summary
Microsoft Azure is a comprehensive cloud service that empowers users, both businesses and individual developers, to expand the performance of their processes and avail from its profitability. It is suggested that you invest time and potential in earning a Microsoft Azure certification to simplify your business operations and achieve new heights of success.