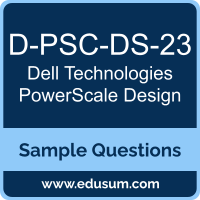 The purpose of this Sample Question Set is to provide you with information about the Dell EMC PowerScale Design 2023 exam. These sample questions will make you very familiar with both the type and the difficulty level of the questions on the D-PSC-DS-23 certification test. To get familiar with real exam environment, we suggest you try our Sample Dell EMC PowerScale Design Certification Practice Exam. This sample practice exam gives you the feeling of reality and is a clue to the questions asked in the actual Dell EMC PowerScale Design 2023 (DCS-TA) certification exam.
These sample questions are simple and basic questions that represent likeness to the real Dell EMC D-PSC-DS-23 exam questions. To assess your readiness and performance with real time scenario based questions, we suggest you prepare with our Premium Dell EMC PowerScale Design Certification Practice Exam. When you solve real time scenario based questions practically, you come across many difficulties that give you an opportunity to improve.
Dell EMC D-PSC-DS-23 Sample Questions:
01. When a Gen 6 Isilon cluster receives a file to be stored, which node(s) performs the FEC calculation?
a) Node to which the client is connected
b) Each node in the cluster
c) First node in each node pair
d) Node that will be holding the FEC
02. What is used to set permissions for devices managed by Secure Remote Services?
a) InsightIQ
b) Secure Remote Services gateway
c) SupportIQ
d) Policy Manager
03. You are designing a cluster for workloads that have a low latency, heavy, random access pattern. Which node type is designed for this type of workload?
a) H5600
b) A2000
c) F800
d) A200
04. You are adding a new node to an existing cluster. What OneFS function should you use to remove the old nodes from the cluster?
a) SmartFail
b) SyncIQ
c) AutoBalance
d) SmartPools
05. An Isilon cluster has two ports configured per node. Each port is on a different VLAN. Although incoming traffic is evenly distributed, transmitted data from the Isilon uses one port more than the other port. What could be the cause of this imbalance?
a) Static routes are configured on the less-used port
b) Source Based Routing is not enabled on the cluster
c) A default gateway was not configured on both ports
d) Priority of the gateway in the less-used port set too low
06. You are setting up SmartPools and SmartConnect on an Isilon cluster. Which Microsoft Windows system tool will illustrate the difference in performance experienced by clients connecting to different tiers of storage?
a) iostat
b) IOZone
c) Iometer
d) MiTrend
07. You are sizing an Isilon Gen 6 cluster for a small organization that is concerned about the availability of the journal during an extended power outage. What is a consideration when sizing?
a) Journal is replicated to all nodes within a chassis
b) Journal is written to nonvolatile storage if power is lost
c) Battery life within each node is a limiting factor
d) Journal needs to be protected by an external UPS
08. Which service daemon is used by FTP and FTPS to transfer files to and from the cluster?
a) sftpd
b) ftpsd
c) ftpd
d) vsftpd
09. An architect is designing a solution for a customer that is replicating data between two data centers 15 km apart from each other. The customer requires point-in-time protection.
What is possible in a SyncIQ policy?
a) Copy source snapshots to remote cluster
b) Replicate shares and exports on remote cluster
c) Create snapshots on remote cluster
d) Replicate cluster configuration data
10. In a multi-tenant environment, which OneFS feature can be used to connect to DNS servers from different tenants?
a) Access Zones
b) ZRBAC
c) RBAC
d) Groupnets
Answers:
Question: 01




Answer: a

Question: 02




Answer: d

Question: 03




Answer: c

Question: 04




Answer: a

Question: 05




Answer: b

Question: 06




Answer: c

Question: 07




Answer: b

Question: 08




Answer: d

Question: 09




Answer: c

Question: 10




Answer: d
Note: For any error in Dell EMC PowerScale Design 2023 (DCS-TA) (D-PSC-DS-23) certification exam sample questions, please update us by writing an email on feedback@edusum.com.