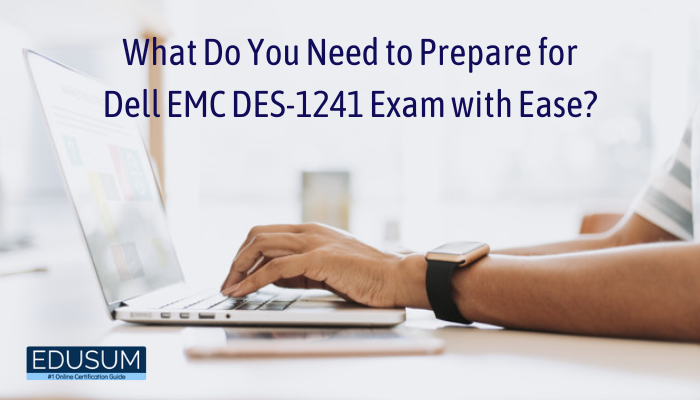 The Dell Technologies Proven Professional certification program confirms your excellent grasp of technology and positions you as a skilled professional capable of effectively implementing change, attaining business objectives, and leading the way in competition as a trustworthy advisor. This article will concentrate on the Dell EMC DES-1241 certification.
What Is Dell EMC DES-1241 certification?
The Dell EMC DES-1241 certification is advantageous for individuals who are responsible for installing and managing PowerStore storage arrays in open systems settings. This certification places emphasis on installation, cabling, upkeep, updates, and fundamental problem-solving.
Dell EMC DES-1241 Exam Information
The Dell EMC DES-1241 exam is labeled as "Dell EMC Certified Specialist - Platform Engineer, PowerStore Exam." It comprises 60 multiple-choice queries and must be completed within 90 minutes. To achieve a passing grade, test-takers must obtain a minimum of 60%.
Exam Objectives
The objectives that are the most focus on DES-1241 exam are:
PowerStore Concepts and Features (6%)

PowerStore Installation (7%)

PowerStore Cabling (10%)

PowerStore Implementation (20%)

PowerStore Maintenance (15%)

Software Upgrades (12%)

Troubleshooting (30%)
Dell EMC DES-1241 Exam Preparation – Step-By-Step Guide
Once you have familiarized yourself with all the aspects of the Dell EMC DES-1241 exam, the next step is to focus on exam preparation, which is the most crucial part of any test. It is essential for candidates to adopt a specific study pattern and implement certain strategies to perform well in the exam. In this article, you will discover some commonly used study techniques by candidates to prepare for the exam.
1. Collect The Study Material
The initial step in exam preparation involves gathering study materials. Obtaining study materials from various sources is critical in achieving a good score on the exam. Printed books can be acquired from authorized publishers, while e-books and other study resources can be accessed via the official Dell EMC website. It is also possible to purchase study materials based on your financial means.
2. Make A Study Plan
After gathering the necessary study materials, the next step is to review the course content and create a study schedule. It is important to remember that a well-designed study plan is essential for passing the Dell EMC DCS-PE DES-1241 exam. Your study plan should include the amount of time you will allocate to studying and the specific study methods you will use. If you are unfamiliar with the subject matter, it is advisable to start preparing as early as possible.
3. Decide on a Learning Strategy
In addition, it is important to choose a study approach that suits your needs. The type of study approach you select may depend on various factors, such as the amount of time you can dedicate to the Dell EMC DES-1241 exam preparation and your financial resources. Self-study and recommended training courses are the primary types of study approaches. Self-study is often considered the most effective approach as it allows you to customize your study schedule and choose your study materials.
Recommended courses provide personalized support from instructors who can comprehensively explain the subject matter. This type, of course, is ideal for individuals who are unfamiliar with the subject. Online courses are the best option for those with some knowledge of the subject matter but require additional guidance to fully grasp the material.
4. Use Dell EMC DES-1241 Practice Test
Regularly solving practice papers is a crucial aspect of exam preparation. Solving at least one practice paper per day leading up to the exam is recommended. Practicing papers can enhance your speed and accuracy and help you identify areas in which you need to improve. Additionally, solving practice papers allows you to assess your weaknesses and determine where to focus your studies.
5. Register for The Exam
Only register for the exam once you are confident in your level of preparation. If you are still determining your readiness, take additional time to study before registering. You should review tips for passing the Dell EMC DCS-PE DES-1241 certification exam on your first attempt.
Edusum.com: Your Best Chance
You may wonder how Edusum.com can assist you in passing the DES-1241 exam on your first attempt. The answer is simple - this platform is a reliable source of updated and genuine practice tests designed for Dell EMC certification exams.
By practicing and revisiting practice test questions multiple times, you can better understand the necessary topics and assess your progress. Additionally, you will encounter various questions related to the same concept, which will help you evaluate your knowledge from multiple angles. This approach ensures you have a solid grasp of the fundamental principles taught.
By taking practice tests on the edusum website, you can evaluate your abilities and comprehension and become accustomed to the time constraints. This can give you an advantage during the actual exam, allowing you to answer all the questions within the allotted time. Additionally, you can become familiar with the exam set by using practice tests.
Conclusion
In summary, if you aim to excel in the Dell EMC DES-1241 exam, you must diligently work on the course material. Despite any claims, there is no guarantee of a 100% pass rate. Beware of false promises and avoid relying on dumps and fraudulent websites. Follow the aforementioned step-by-step approach and dedicate sufficient time to studying to increase your chances of success.