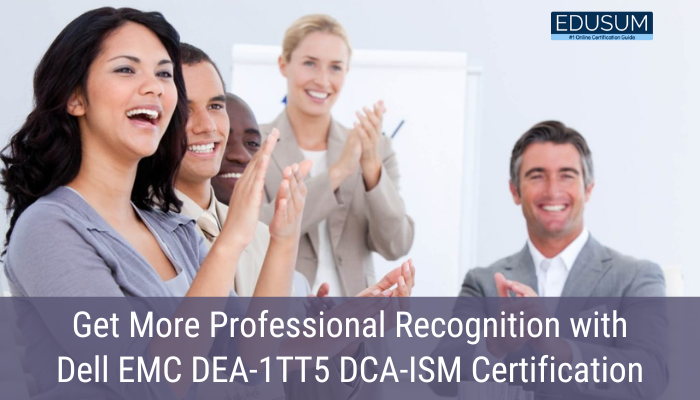 Dell EMC Information Storage and Management (DEA-1TT5 DCA-ISM) is an exclusive certification that provides a complete understanding of the various storage infrastructure components in data center environments.
This Dell EMC certification qualifies participants to make well-informed decisions on storage-related technologies in a gradually complex IT environment, which is quickly changing with compliance with software-defined infrastructure management and third-platform technologies (cloud, Big Data, social, and mobile technologies). It delivers a robust understanding of storage technologies and prepares participants for advanced concepts, technologies, and processes.
Dell EMC DEA-1TT5 DCA-ISM Exam Details
To register for this exam, the candidates need to pay the fee of $230 and schedule their test through the Pearson VUE platform. The details of registration and exam schedule can be found on the official website.
The Dell EMC exam is a comprehensive test that consists of 60 questions, which must be completed within 90 minutes. To pass this exam, candidates must achieve a minimum score of 60%.
Exam Objectives
Modern Data Center Infrastructure

Storage Systems

Storage Networking Technologies

Backup, Archive, and Replication

Security and Management
Dell EMC DEA-1TT5 DCA-ISM Preparation Tips
The study tips shared here will help you have an effective preparation process. However, it is your responsibility to adhere to these hints and cover the exam topics, and do other necessary things before attempting the Dell EMC DEA-1TT5 exam.
Get Familiar with the Exam
To begin your preparation, it is important to have a clear understanding of the exam content before choosing any book, resource, or tutorial. While there may be numerous posts available on the subject with a wealth of information, it is recommended to refer to the official webpage and read the content from there.
There is a possibility of significant changes occurring between the time a blog post was created and when you read it. This includes changes to the content of the certification test. It is, therefore, advisable to carefully review the exam topics and subtopics before selecting study materials in order to ensure that the materials are current and relevant.
Check Out Video Tutorials
By seeking guidance from experienced professionals who specialize in the Dell EMC DCA-ISM DEA-1TT5 certification exam, you can gain a fresh perspective and deepen your understanding of its subject matter. These experts provide video courses from different viewpoints, using unique training tools that may otherwise be unavailable to you. A range of video tutorials is available to assist you in preparing for your Dell EMC DCA-ISM exam, including those offered on YouTube that provide comprehensive coverage of the exam's content.
Use Multiple Study Resources
When preparing for an exam, it's essential to use various study resources to ensure a comprehensive understanding of the material. Textbooks and lecture notes are crucial resources but may not cover all the necessary information. Supplementing these materials with online resources such as educational websites, videos, and podcasts can provide alternative explanations and help reinforce key concepts.
Training
The official site recommends two training for this exam, and you should complete at least one of them to get well-versed with the exam topics.
Information Storage and Management v5 (ESOCMD03294)

Information Storage and Management v5 (ESOCMS03293)
Use Practice Tests to Gauge Your Level of Preparation
No matter which approach you use to get ready for the DEA-1TT5 exam, it's essential to incorporate practice tests into your study plan. These tests enable you to evaluate your comprehension of the material, pinpoint any gaps in your knowledge, and determine the areas you need to focus on more closely.
Additionally, by taking several practice tests, you'll become familiar with the types of questions on the actual exam and how to answer them. This not only helps build your confidence for the test but also prepares you for what to expect on the actual exam day. Edusum offers an extensive assortment of practice tests that students can use to prepare for their Dell EMC certification exams.
The study suggestions mentioned previously can assist you in preparing for the Dell EMC Information Storage and Management DEA-1TT5 exam in the most effective way possible. It's advisable to schedule your exam in advance to allow for sufficient preparation time.
Advantages of Successfully Passing the DCA-ISM DEA-1TT5 Exam for Your Career Growth and Development
There are numerous justifications for why passing this widely recognized certification exam is beneficial. Dell EMC is known for upholding exceptional standards and delivering top-notch quality. Individuals who complete the Dell EMC Information Storage and Management exam possess well-rounded skills and can effectively confront work-related obstacles. The following are some reasons to consider passing this exam:
1. You Gain Expertise That Is Highly Regarded in the Industry
As you prepare for the exam, you'll acquire enhanced proficiency in your field of study. Successfully passing the test signifies that you've comprehended the requirements and have already acquired the essential skills.
2. You Develop Versatility and a Proactive Approach
Typically, Dell EMC exams are hands-on, requiring you to apply what you've learned in practical scenarios. Through practice, you can enhance your proficiency and be able to provide effective solutions to real-world challenges. Individuals possessing these abilities are recognized for their proactive approach and the constant pursuit of solutions. Their focus is on achieving the desired outcomes.
3. Passing the DCA-ISM DEA-1TT5 Exam Indicates Hard Work, Competence, and Efficiency
Passing a rigorous exam such as DCA-ISM DEA-1TT5 is an excellent way to showcase your diligence and efficiency. It highlights your unwavering commitment to pursuing your goals and demonstrates to your employers your preparedness to tackle any challenge that comes your way. Ultimately, passing this exam also serves as proof of your competence.
4. Success in the Exam Opens up Opportunities for You to Achieve More
Successfully passing the Dell EMC DEA-1TT5 exam serves as a motivator to pursue further exams that build upon your skills and advance your career prospects. The achievement of passing this exam can inspire you to continue growing your knowledge and expertise in related fields.
5. The Process of Job Hunting Becomes More Manageable
Obtaining a Dell EMC certification to validate your skills can make it easier to secure a job. A lot of employers seek out professionals with specific abilities and credentials that verify their proficiency.
6. Obtaining Certification Can Lead to Career Advancement and Higher Earnings
Acquiring a Dell EMC certification enhances the likelihood of receiving promotions or qualifying for higher-level positions, and it is a fact that these more advanced job positions often have more lucrative compensation packages.
7. Passing the Dell EMC DEA-1TT5 exam Fetches better job opportunities and higher salaries
Getting certified is not just a piece of paper; it indicates that you are eligible for a good job and a higher salary that corresponds to it.
Conclusion
The manner in which you prepare for the Dell EMC DCA-ISM DEA-1TT5 exam is crucial in determining your success. Passing this essential test will earn you the Dell EMC Certified Associate - Information Storage and Management certification, which can enhance your career prospects. Therefore, if you aspire to accomplish your individual and IT career objectives, passing this exam is the most effective approach to achieving them.