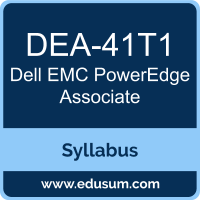 Use this quick start guide to collect all the information about Dell EMC PowerEdge Associate (DEA-41T1) Certification exam. This study guide provides a list of objectives and resources that will help you prepare for items on the DEA-41T1 Dell EMC PowerEdge Associate exam. The Sample Questions will help you identify the type and difficulty level of the questions and the Practice Exams will make you familiar with the format and environment of an exam. You should refer this guide carefully before attempting your actual Dell EMC DCA-PowerEdge certification exam.
The Dell EMC PowerEdge Associate certification is mainly targeted to those candidates who want to build their career in PowerEdge domain. The Dell EMC Certified Associate - PowerEdge exam verifies that the candidate possesses the fundamental knowledge and proven skills in the area of Dell EMC DCA-PowerEdge.
Dell EMC PowerEdge Associate Exam Summary:
Dell EMC DEA-41T1 Exam Syllabus Topics:
Topic

Details

Weights

Introduction to Severs

- Define the Server, identify the types of servers and their form factors
- Explain how various storage technologies are used in servers
- Explain in RAID concepts
- Explain the steps to set up a server
- Identify the types of Server Operating Systems and explain the installation procedure

28%

Server Networking

- Identify networking hardware and cables
- Explain the concept of IP Addressing
- Define various network services

12%

Server Applications

- Define several common server roles
- Identify and explain common Dell Technologies and Microsoft Windows tools for monitoring server hardware
- Explain the concept and benefits of server virtualization

17%

Server Maintenance

- Identify server components and their roles
- Identify and describe server management tasks and management tools
- Define Power supply of a server and configure it
- Explain the environment needed for servers and define server maintenance
- Explain common troubleshooting methods and tools for Dell EMC servers
- Explain server configuration management

37%

Server Security

- Describe best practices and methods of securing and performing backups
- Identify and describe best practices for performing data backups

7%
To ensure success in Dell EMC DCA-PowerEdge certification exam, we recommend authorized training course, practice test and hands-on experience to prepare for Dell EMC PowerEdge Associate (DEA-41T1) exam.