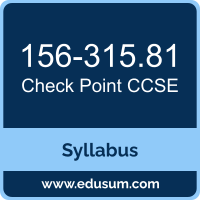 Use this quick start guide to collect all the information about Check Point CCSE (156-315.81) Certification exam. This study guide provides a list of objectives and resources that will help you prepare for items on the 156-315.81 Check Point Security Expert exam. The Sample Questions will help you identify the type and difficulty level of the questions and the Practice Exams will make you familiar with the format and environment of an exam. You should refer this guide carefully before attempting your actual Check Point CCSE R81 certification exam.
The Check Point CCSE certification is mainly targeted to those candidates who want to build their career in Security domain. The Check Point Certified Security Expert (CCSE) R81 exam verifies that the candidate possesses the fundamental knowledge and proven skills in the area of Check Point CCSE R81.
Check Point CCSE Exam Summary:
Check Point 156-315.81 Exam Syllabus Topics:
Topic

Details

Upgrading

Objectives:

Perform a backup of a Security Gateway and Management Server using your

Understanding of the differences between backups, snapshots, and upgrade-exports.

Upgrade and troubleshoot a Management Server using a database migration.

Upgrade and troubleshoot a clustered Security Gateway deployment.

Backup and Restore Security Gateways and Management Servers

- Snapshot management
- Upgrade Tools
- Backup Schedule Recommendations
- Upgrade Tools
- Performing Upgrades
- Support Contract

Upgrading Standalone Full High Availability

Lab 1: Upgrading to Check PointR77

- Install Security Management Server
- Migrating Management server Data
- Importing the Check Point Database
- Launch SmartDashboard
- Upgrading the Security Gateway
Advanced Firewall

Objectives:

Using knowledge of Security Gateway infrastructure, including chain modules, packet flow and kernel tables to describe how to perform debugs on firewall processes.

Check Point Firewall Infrastructure

- GUI Clients
- Management

Security Gateway

- User and Kernel Mode Processes
- CPC Core Process
- FWM
- FWD
- CPWD
- Inbound and Outbound Packet Flow
- Inbound FW CTL Chain Modules
- Outbound Chain Modules
- Columns in a Chain
- Stateful Inspection

Kernel Tables

- Connections Table
- Connections Table Format

Check Point Firewall Key Features

- Packet Inspection Flow
- Policy Installation Flow
- Policy Installation Process
- Policy Installation Process Flow

Network Address Translation

- How NAT Works
- Hide NAT Process
- Security Servers
- How a Security Server Works
- Basic Firewall Administration
- Common Commands

FW Monitor

- What is FW Monitor
- C2S Connections and S2C Packets fw monitor

Lab 2: Core CLI Elements of Firewall Administration

- Policy Management and Status
- Verification from the CLI
- Using cpinfo
- Run cpinfo on the Security Management Server
- Analyzing cpinfo in InfoView
- Using fw ctl pstat
- Using tcpdump
Clustering and Acceleration

Objectives:

Build, test and troubleshoot a ClusterXL Load Sharing deployment on an enterprise network.

Build, test and troubleshoot a ClusterXL High Availability deployment on an enterprise network.

Build, test and troubleshoot a management HA deployment on an enterprise network.

Configure, maintain and troubleshoot SecureXL and CoreXL acceleration solutions on the corporate network traffic to ensure noted performance enhancement on the firewall.

Build, test and troubleshoot a VRRP deployment on an enterprise network.

VRRP

- VRRP vs ClusterXL
- Monitored Circuit VRRP
- Troubleshooting VRRP

Clustering and Acceleration

- Clustering Terms
- ClusterXL
- Cluster Synchronization
- Synchronized-Cluster Restrictions
- Securing the Sync Interface
- To Synchronize or Not to Synchronize

ClusterXL: Load Sharing

- Multicast Load Sharing
- Unicast Load Sharing
- How Packets Travel Through a Unicast
- LS Cluster
- Sticky Connections

Maintenance Tasks and Tools

- Perform a Manual Failover of the FW Cluster
- Advanced Cluster Configuration

Management HA

- The Management High Availability Environment
- Active vs. Standby
- What Data is Backed Up?
- Synchronization Modes
- Synchronization Status

SecureXL: Security Acceleration

- What SecureXL Does
- Packet Acceleration
- Session Rate Acceleration
- Masking the Source Port
- Application Layer Protocol
- An Example with HTTP HTTP 1.1
- Factors that Preclude Acceleration
- Factors that Preclude Templating (Session Acceleration)
- Packet Flow
- VPN Capabilities

CoreXL: Multicore Acceleration

- Supported Platforms and Features
- Default Configuration
- Processing Core Allocation
- Allocating Processing Cores
- Adding Processing Cores to the Hardware
- Allocating an Additional Core to the SND
- Allocating a Core for Heavy Logging
- Packet Flows with SecureXL Enabled

Lab 3 Migrating to a Clustering Solution

- Installing and Configuring the Secondary Security Gateway Re-configuring the Primary Gateway - Configuring Management Server Routing
- Configuring the Cluster Object
- Testing High Availability
- Installing the Secondary Management Server
- Configuring Management High Availability
Advanced User Management

Objectives:

Using an external user database such as LDAP, configure User Directory to incorporate user information for authentication services on the network.

Manage internal and external user access to resources for Remote Access or across a VPN.

Troubleshoot user access issues found when implementing Identity Awareness.

User Management

- Active Directory OU Structure
- Using LDAP Servers with Check Point
- LDAP User Management with User Directory
- Defining an Account Unit
- Configuring Active Directory Schemas
- Multiple User Directory (LDAP) Servers
- Authentication Process Flow
- Limitations of Authentication Flow
- User Directory (LDAP) Profiles

Troubleshooting User Authentication and User Directory (LDAP)

- Common Configuration Pitfalls
- Some LDAP Tools
- Troubleshooting User Authentication

Identity Awareness

- Enabling AD Query
- AD Query Setup
- Identifying users behind an HTTP Proxy
- Verifying there's a logged on AD user at the source IP
- Checking the source computer OS
- Using SmartView Tracker

Lab 4: Configuring SmartDashboard to Interface with Active Directory

- Creating the Active Directory Object in SmartDashboard
- Verify SmartDashboard Communication with the AD Server
Advanced IPsec VPN and Remote Access

Objectives:

Using your knowledge of fundamental VPN tunnel concepts, troubleshoot a site-to-site or certificate-based VPN on a corporate gateway using IKEView, VPN log files and commandline debug tools.

Optimize VPN performance and availability by using Link Selection and Multiple Entry Point solutions.

Manage and test corporate VPN tunnels to allow for greater monitoring and scalability with multiple tunnels defined in a community including other VPN providers.

Advanced VPN Concepts and Practices

- IPsec
- Internet Key Exchange (IKE)
- IKE Key Exchange Process
- Phase 1/ Phase 2 Stages

Remote Access VPNs

- Connection Initiation
- Link Selection

Multiple Entry Point VPNs

- How Does MEP Work
- Explicit MEP
- Implicit MEP

Tunnel Management

- Permanent Tunnels
- Tunnel Testing
- VPN Tunnel Sharing
- Tunnel-Management Configuration
- Permanent-Tunnel Configuration
- Tracking Options
- Advanced Permanent-Tunnel configuration
- VPN Tunnel Sharing Configuration

Troubleshooting

- VPN Encryption Issues

VPN Debug

- vpn debug Command
- vpn debug on | off
- vpn debug ikeon |ikeoff
- vpn Log Files
- vpn debug trunc
- VPN Environment Variables
- vpn Command
- vpn tu
- Comparing SAs

Lab 5: Configure Site-to-Site VPNs with Third Party Certificates

- Configuring Access to the Active Directory Server
- Creating the Certificate
- Importing the Certificate Chain and Generating Encryption Keys
- Installing the Certificate
- Establishing Environment Specific Configuration
- Testing the VPN Using 3rd Party Certificates

Lab 6: Remote Access with Endpoint Security VPN

- Defining LDAP Users and Groups
- Configuring LDAP User Access
- Defining Encryption Rules
- Defining Remote Access Rules
- Configuring the Client Side
Auditing and Reporting

Objectives:

Create Events or use existing event definitions to generate reports on specific network traffic using SmartReporter and SmartEvent in order to provide industry compliance information to management.

Using your knowledge of SmartEvent architecture and module communication, troubleshoot report generation given command-line tools and debug-file information.

Auditing and Reporting Process

- Auditing and Reporting Standards

SmartEvent

- SmartEvent Intro

SmartEvent Architecture

- Component Communication Process
- Event Policy User Interface

SmartReporter

- Report Types

Lab 7: SmartEvent and SmartReporter

- Configure the Network Object in SmartDashboard
- Configuring Security Gateways to work with SmartEvent
- Monitoring Events with SmartEvent
- Generate Reports Based on Activities
To ensure success in Check Point CCSE R81 certification exam, we recommend authorized training course, practice test and hands-on experience to prepare for Check Point Security Expert (156-315.81) exam.