Check Point Software Technologies Ltd. designs information security products for enterprises, small and medium-sized businesses, service providers and users. The company's products incorporate firewalls, VPN security gateways, endpoint security software and hardware/software solutions.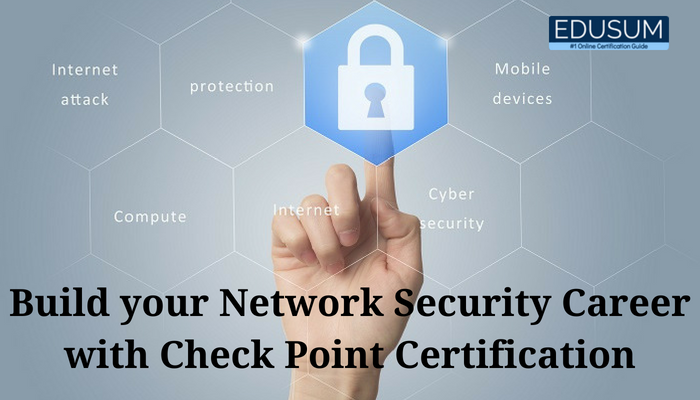 Information security is a growing concern for organizations of every size. As the need for IT security professionals grows exponentially, the need for certifications related to the security field expands. The Check Point certification equips learners to start up, configure, and manage daily operations of Check Point Security Gateway and Management Software Blades systems on the GAiA operating system. Roles typically affiliated with the Check Point certification include security engineer, senior network engineer, security analyst, and more.
Products of Check Point:
Network security

Mobile security

Data security

Document security

Security management

Endpoint security

Virtual system for security
Check Point certification proposes to be expert in technology that secures your internet from any security threats. One of the most important advantages of having check Point certification you can sell the products of checkpoint and company gives secure knowledge database access for two years with the advanced product documentation access also.
Check Point Certifications:
Check Point Certified Security Administrator (CCSA) Certification
CCSA stands for Certification in Control Self-Assessment. It is the certification for control self-assessment practitioners. It measures a candidate's knowledge of important CSA fundamentals, processes, and related topics such as risk, controls, and business objectives.
Check Point CCSA certification is the very important for IT admins who manage the day to day operations of Checkpoint solutions. Here you will get expertise in the startup, manage and configure day to day Check Point installations with R80. The course covers how to install R80 security gateway in a distributed environment, configure rules and defines a policy for security, how to work with multiple administrators and how to set permission profiles.
After completion of this certification you will be expert in to keep your network secure, you will be expert in evaluating existing security policy, you will be able to manage multiple user access to organization LANs, you will be expert in to monitor any suspicious activities over the internet and you can analyze security attacks better, implement backup for Check Point.
Check Point Certified Security Expert (CCSE) Certification
Check Point CCSE certification, will improve your knowledge of how you should backup your server and security gateway, how to develop, test and troubleshoot a security gateway, how to configure and manage security acceleration solutions. After completion of certification you will be able to build, test and troubleshoot some networks, you will be able to implement advanced techniques to troubleshoot Check Point security systems, you will be able to manage external and internal access to enterprise resources.
The CCSE Certification is designed to help you learn how to secure information networks, and create secure communication channels for your organization. The CCSE certification is a great certification to further your career and become a more successful Security Expert in Networking.
Check Point Certified Security Master (CCSM) R80
The Check Point Certified Security Master (CCSM) certification is Check Point's most superior technical credential, which confirms the ability of applicants to use advanced commands to troubleshoot, configure and optimize Check Point Security Systems. IT experts seeking this credential should be able to troubleshoot ClusterXL and SecureXL, identify encryption failure sources and misconfigured VPNs, and address issues with intrusion prevention system false positives.
CCSM certification is a global qualification for professionals and administrators handling going to handle team-lead or supervisory constraints in the Customer Service function. The fact is that customers and clients feel more confident working with CCSM™ professionals who are well trained in their craft and work domain.
Why should you choose checkpoint certification over other security certification?
CCSA certified engineers are in higher demands than other security vendor professionals in IT industry. If you are Check Point certified engineer, then you will be recognized as you have the most advanced skills to implement the latest network security techniques and you will be accepted by Check Point certified community which is the most demanding and reputed certification in the world.
Having Checkpoint Certifications validates your network security skills in checkpoint environment. You will have the profiles of Checkpoint certified security administrator after getting CCSA certification whereas you will be rewarded by Checkpoint certified security engineer after getting CCSE certification.
According to the survey conducted by popular job portal, there are enormous demands for Checkpoint certified professionals in the world. Many organizations are using Checkpoint security firewalls, and they need the expert certified professionals.