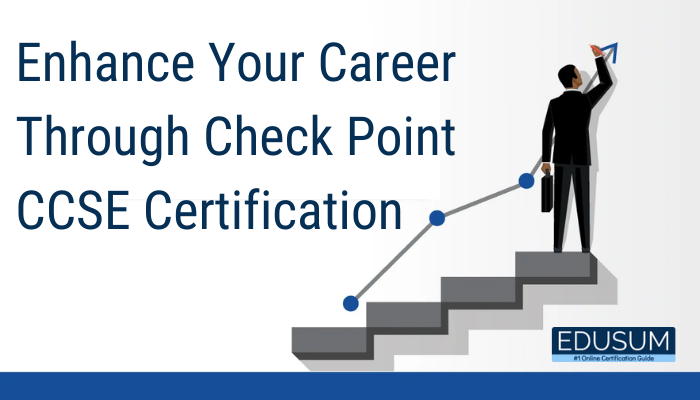 The Check Point Certified Security Expert (CCSE) is Check Point's intermediate-level certification. A CCSE executes Check Point's Security Gateway, Smart Reporter, Management Server, Smart Workflow, Smart Provisioning, High Availability, SSL VPN, and Smart Event products. Applicants must know how to execute advanced user management throughout a VPN, upgrade management servers and troubleshoot VPNs, optimize VPN performance, firewalls, and servers.
Advantages of Check Point CCSE Certification
According to the U.S. Bureau of Labor Statistics (BLS), job opportunities are predicted to increase by 12% in the next year for systems administrators and networking technicians.

Check Point CCSE certification is a globally renowned IT certification that increases the value and allows networking professionals to boost their careers.

According to a survey, networking professionals holding Checkpoint networking administration skills can expect to earn 9% higher salaries in the field.
Check Point CCSE Exam Details
The CCSE exam comprises 100 questions of multiple-choice questions type. The applicant will be given 90 minutes to complete the CCSE R80.X. Check Point Certified Security Expert certification cost is $250.
Target Audience
System engineers

System analyst

Security consultants

Security analyst

Network security administrators

Network administrators
Check Point CCSE Exam Preparation Guide
The preparation tips which are vital to successfully crack the Check Point Certified Security Expert (CCSE R80) exam are:
1. Visit Official Check Point Website
Exploring the CheckPoint official website is essential for the Check Point Certified Security Expert exam. The official site provides a lot of trustworthy information and resources, which is very beneficial for thorough exam preparation. The study resources incorporate a blueprint, study guide, sample papers, whitepapers, brochures, documentation, faqs, etc. The applicant can find all such essential information on the official page.
2. Make a Realistic Study Plan
The next step is to create a study plan for exam preparations. Have the CCSE exam syllabus and the time left for the actual exam in mind as you chart out your study plan. Remember to begin by focusing on your weak areas. Make sure you cover all the study topics. Sticking to your study plan will help you stay uniform and evade distractions. The key to success is to start early, so get started and stay inspired.
3. Understand All the CCSE Exam Syllabus Topics
The applicant's exam preparation journey is better spent with a comprehensive CCSE exam syllabus because they already understand what to study. Considerably, this is the most important step in the preparation guide.
4. Enroll in a Training Course
Official CCSE official advanced three-day course qualifies you on how to modify, build, deploy, and troubleshoot Check Point Security Systems on the GAiA operating system. Practical lab exercises teach how to debug firewall processes, upgrade Management Servers, and optimize VPN performance.
5. Participate in a Study Group
It is vital to associate with people who have a common objective in life. Participating in study groups is an ideal way to completely immerse yourself in the Check Point Certified Security Expert certification exam. Study groups will keep you updated on the most advanced changes or modifications to the exam. Additionally, both freshers and professionals are members of such groups. Online communities broaden your knowledge and deliver a thorough knowledge of Check Point Certified Security Expert exam syllabus topics, and they also go over exam structures and policies. As a result, preparing with an online training course will help you learn better.
6. Take CCSE Practice Exam
Practice exams are the one that assures the applicant about their preparation. The CCSE practice exam will help the applicants to identify their weak areas so that they can work on them. There are many CCSE practice exams available presently, so the exam takers can decide which they want. Edusum.com provides the CCSE practice exam that is very useful for those who are studying for the exam.
Benefits of Taking CCSE Practice Exam
Builds confidence

Better your time management skills

CCSE practice exam makes you familiar with the exam structure

Track your progress

Reduce exam day stress
At the End
To pass the Check Point Certified Security Expert exam, you'll require to make and follow a study plan that covers all of the exam topics, includes the CCSE practice exam to boost your preparation. Likewise, it would be best to concentrate on all of the vital aspects to enhance your preparation level. So, start your preparation now!!