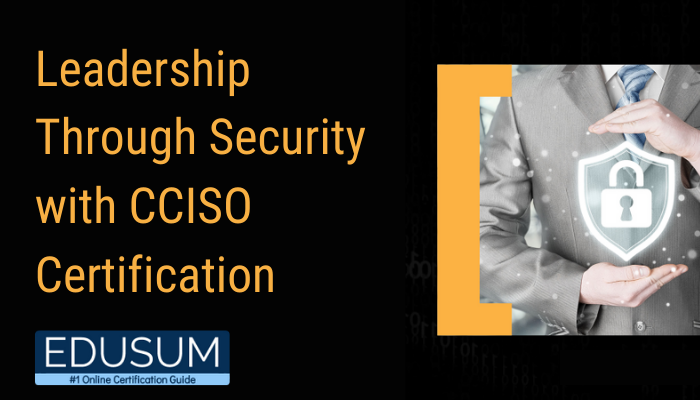 The CCISO certification analyzes and transfers to the applicant the experience, the experience required for success in the career of information security, even at the uppermost levels. The EC-Council CCISO exam is designed for executives contemplating to sharpen their skills & master to better align their information security programs to organizations' goals and budding CISOs.
Roles and Responsibilities of CCISO- Certified Chief Information Security Officer
CCISOs are responsible for protecting their organizations' proprietary data and intellectual property; CISOs maintain their overall security. CISOs know their organizations' information technology systems and security demands as prime information security professionals.
CCISOs figure out loopholes within ongoing information security programs and technologies. By means of collaborations with management and teams of information technology security specialists, these professionals generate security strategies and information protection methods. They propose new technologies, supervise education programs, and implement leadership and guidance to personnel.
Supplementary responsibilities incorporate planning budgets and financial calculations for security developments and resources. CCISO also allot capital resources, set up investigative and data recovery efforts, perform risk assessments and audits, and assure accordance with applicable regulations and laws.
CCISO employs information technology security experts, forming teams to execute their organizations' strategic plans. Certified Chief Information Security Officers also formulate reports and deliver technical information to put individuals and computer-savvy colleagues associated. So, these professionals should own effective communication skills, adaptability, and problem-solving and analytical thinking capabilities.
Why Should You Pass CCISO Exam?
The CCISO is a cutting-edge certification that acknowledges the real-world experience essential to be successful at the topmost executive levels of information security. Bringing together all the elements needed for a C-Level position, the CCISO exam blends governance, audit management, IS controls, human capital management, strategic program development, and the financial expertise essential to execute a highly successful IS program.
The CCISO exam syllabus requires a top-notch understanding of technical concepts and doesn't spend much time on rigidly technical information but rather on applying technical understanding to an information security executive's everyday work. The CCISO exam intends to fill up the gap between the executive management knowledge CISOs require and the technical understanding that many prospective CISOs have. This can be a vital gap as a practitioner shifts from mid-management to upper executive management positions. Much of this is commonly learned as on-the-job training. Still, passing the CCISO exam can be the key to a successful transformation to the highest positions of information security management.
EC-Council CCISO Exam Details
Prerequisites for the course and eligibility for the exam
To be eligible for the CCISO exam, an applicant must satisfy the following requirements:
At least five years of work experience in each of the 5 CCISO Domains, which must be confirmed by presenting an Exam Eligibility Application and endorsed by the EC Council;
OR
Attending an approved training course, and
at least five years of work experience in three of the five CCISO Domain, which must be evidence by submitting an Exam Eligibility Application and endorsed by the EC Council;
EC-Council CCISO Exam Structure
The exam is administered online on the ECC Exam Portal at an authorized testing center.

The exam duration is 150 minutes (two and a half hours), comprising 150 multiple-choice questions.

The results are disclosed right away, and a hard copy thereof is given at the center. Certificate can be downloaded from EC Council's Aspen portal site in 7 to 10 days.

The CCISO exam passing score is 72%.
CCISO Domains:
Domain 1 – Governance, Risk, Compliance

Domain 2 – Information Security Controls and Audit Management

Domain 3: Security Program Management & Operations

Domain 4: Information Security Core Competencies

Domain 5: Strategic Planning, Finance, Procurement, and Third-Party Management
Tips for Passing EC-Council CCISO Exam
1. Get All the CCISO Exam Information
The first in exam preparation is to know what the CCISO exam is all about. Know about the exam domains, prerequisites, exam structure, and study resources.
2. CCISO Practice Test
Performing the CCISO practice test helps you become familiar with the exam structure and CCISO exam questions. You will also acquire skills to tackle the exam questions.
3. Enroll in an Online Training Course
A training course helps you learn the exam topics and those topics that may be apparently difficult for you. Your instructor may also share tips to ease your exam preparation and their experience with the actual exam.
4. Participate in Online Communities
Online communities are a place where the partition of information happens. It works as an excellent resource for exam preparation. Through these discussions, you get to understand topics better and learn new ways of answering questions.
Upgrade your skills and Secure your potential with CCISO Certification!!