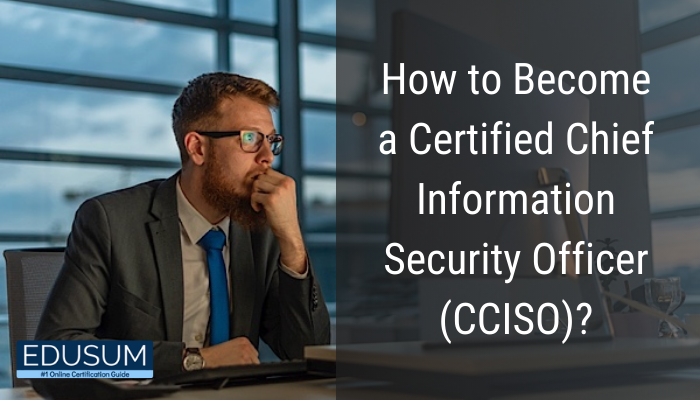 The EC-Council Certified Chief Information Security Officer (CCISO) program is created to bring middle managers up to the level of Executive Leaders. The CCISO certification was designed to train the next generation of leaders. The CCISO does not emphasize technical knowledge but on the application of information security management policies from an executive management perspective. The certification was created by sitting CISOs for current and promising CISOs.
What is the role of an EC-Council Certified Chief Information Security Officer (CCISO)?
The CISO position turns up globally as a designation of executive leaders who can address the emerging threats to information security by developing and keeping a strict information security strategy. CISOs – with the experience, leadership, communication skills, and cutting-edge strengths are born to resolve the ever-expanding information security threats. The CISO of the future will play an essential role in formulating effective and dynamic processes and will lead a team of technically-skilled professionals to protect the core interests of their organization.
Why should you Obtain the CCISO Certification?
Following are the reasons to obtain CCISO certification:
1. CCISO Certification is Created by SMEs
Expert advice is very vital in any field. The executive board of this program comprises security experts from known universities, counseling firms, and tech giants. They have shared their expertise information for making the Certified Chief Information Security Officer program more valuable.
2. All-in-one
It combines financial management, technical knowledge as well as executive management. The CCISO program focuses on all types of control along with the knowledge that is explicit for the information security program.
3. It Offers the Importance of a Real-World Experience
For being a chief information security officer, one should have the basic knowledge to perceive what should be expected in the real world of this field.
Tips for EC-Council CCISO Exam Preparation
Before you start your exam preparation, it is prudent that you first visit the official certification webpage. Go through the CCISO exam objectives, exam structure, requirements, and other relevant information available on the site. This will promote the preparation process and let you know what to concentrate on throughout your studies.
1. Obtain the CCISO Study Guide
A revision guide is created to help you properly allocate your time throughout your preparation phase. It emphasizes the major topics you need to pay more attention to and helps you to span out your study plan and time accurately. Learning from the study guide, you won't dig into other irrelevant resource materials because the study guide explains all you require to learn.
2. Join a Recognized Study Group
You may be able to study on your own, but you cannot go too far without the support of your colleagues or fellow applicants. That is why you are greatly recommended to look for a study group and join it. They allow you to receive help from others. With a study group, you are connected to specific people who are in the same situation as you – preparing for the CCISO certification exam. In these groups, you get to share what you have studied so far and ideas to solve several challenges confronted. For any applicant waiting to take a certification exam, teamwork is the foundation of success. Whereas learning on your own may make you feel alone, a study group ensures you that many others like you give the required motivation to receive a certification.
3. Makes Notes Whenever Required
While studying for the CCISO exam, be sure to highlight the most important points. Write them down apart, as you will be able to read them later while revising the topics. This method also makes the information easy to remember, even the most difficult questions. So, keep a notebook and a pen for writing down essential concepts during your study.
4. Take CCISO Practice Test
The more you practice, the more convinced you feel about your performance in the actual exam. So, practice as many questions as possible. EC-Council CCISO Practice tests are fantastic to get you used to the exam layout and set you up for the sort of questions and points you'll look at in the actual exam. It's an excellent method to benchmark your learning and identify gaps in your preparation. Edusum.com offers updated and reliable practice tests for the CCISO exam.
Conclusion
The industry welcomes successful Certified Chief Information Security Officers with open arms since businesses look upon certified professionals. If you aim to pass the EC-Council CCISO exam, make use of practice tests and other relevant resources to help you in ways that you can't believe! Take advantage of all the resources available and become accepted in the industry with your EC-Council certification.