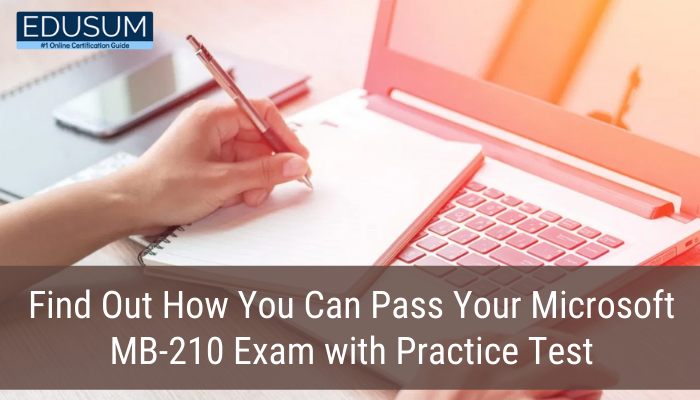 Microsoft Certified: Dynamics 365 Sales Functional Consultant Associate is one of the most prevalent and coveted certifications in the IT field. A lot of professionals work hard to get it in order to prove their skills in sales. These professionals carry out the tasks of implementing solutions that strengthen the entire life cycle of the business sales. They assure that all the operations are running efficiently and adequately to satisfy any organization's income, objectives, and strategies. In this blog, our focus will be on Microsoft Dynamics 365 Sales MB-210. Here we will discuss its details, the topics you need to study, preparation options and how it can be beneficial to your IT career. So, let's explore.
Who Should Obtain Microsoft MB-210 Certification?
The target audience for Microsoft MB-210 exams is the functional consultants. They are responsible for identifying, employing the subject matter experts and stakeholders, seizing requirements, configuring applications and solutions, and translating requirements. These professionals are those who execute solutions utilizing codeless extensibility, out-of-the-box competencies, and application together with service integrations.
Microsoft MB-210 Exam Details
The MB-210 certification exam comprises of 40-60 questions. These questions are in various types such as multiple-choice, active screen, case study, best answer or short answer, build list, hot area, or even drag and drop. Though, they must be answered in 2 hours, and you are required to score at least 700 marks out of a maximum of 1000 marks to pass this exam. MB-210 certification exam fee is $165.
Microsoft MB-210 Exam Syllabus Topics
The core requirement for this Microsoft exam is to have a solid knowledge of its syllabus topics. This becomes possible after exploring all the areas noted in these topics. So, let's look at the topics that you require to study:
Perform configuration (25-30%)

Manage core sales tables (45-50%)

Configure additional tools and services (20-25%)
How to Get Ready to Ace Microsoft MB-210 Exam?
For any Microsoft certification exam preparation, you need to go through all the available study materials. The easiest way to begin this research is to go through the official Microsoft website. For the MB-210 exam preparation there are plenty of options available such as free self-paced courses and instructor-led training course. Also, you can explore Amazon, YouTube, and IT forums to get more knowl.
Certainly, you can depend on the official study resources, but wrapping up your studies with MB-210 practice tests is never a bad idea but be adamant to find trusted ones. For instance, you can visit the Edusum.com website and get best practice questions.
5 Reasons to Prepare for MB-210 with Practice Tests
Passing the Microsoft Dynamics 365 Sales MB-210 certification exam demands dedication and thorough learning. So, you should take advantage of various learning materials to pass the related MB-210 exam. After exploring the Microsoft official website, visit Edusum.com to get the most accurate and updated practice tests.
Performing the practice tests from this website, you obtain various benefits that are explained below:
1. MB-210 Practice Test Offers the Best Level of Accuracy
Practice test on Edusum website is updated and valid. MB-210 practice test are scrutinized and verified by specialists. So, you won't experience any problems when tackling the real and updated exam questions.
2. They Work as the Best Exam Prep Resources
While practice test resemble memorization tools, that's not how you should take up them. By all means, you can explore the right answers and understand the concepts from scratch. But they will be more effective if you've already used various learning materials and grasped some fundamental understanding of the exam. In this case, the practice test may work as revision materials to help you find out what topics still require your attention.
3. They Allow You to Practice Before Handling the Actual Exam
When planning to prepare and pass the exam, practice is important. Even when you've mastered everything from other learning materials and conversant with the exam topics, you must learn to apply the obtained skills. Practicing every day on the things you've been studying will help you remember them. Moreover, practice test help you to know your weak areas. So, you'll get a chance to work on them before taking the actual test. Working with numerous questions and updated answers will improve your self-confidence in tackling and passing the main exam.
4. Practice Test Allow You to Practice Before Handling the Actual Exam
If you're busy professional, or you have other important projects, and your schedule is busy, creating an easy-to-implement study plan is not viable. However, you need not worry: practice test are meant to help you learn with ease. These materials help you grasp the essential insights just when taking your exam, and with enough commitment, you can be ready for your exam within a few days, even when your time is confined.
5. Practice Test Are Economical for Everyone
You can get full and mini practice test at very economical price on Edusum.com. If you are low on budget, you can still have a chance to go for practice test on this site. Along with low price, practice test on this site also comes with great features. One of the best things about using practice tests on this site is how you can practice until you're satisfied with your score.
Benefits of Passing Microsoft MB-210 Certification Exam
Microsoft MB-210 is a popular exam among IT professionals that brings many benefits not only to them but also to their organizations. Let's look at some of the benefits you will enjoy by passing this certification exam.
1. You Obtain the Popular Certification From an Industry Leader - Microsoft
Passing Microsoft MB-210 exam makes you a certified functional consultant. To receive a certificate from this vendor, a leader in IT technologies, helps unlock numerous opportunities for your career growth. The certification confirms that you are highly skilled and you can work in any organization all across the globe.
2. You Own Verified Skills
Throughout the preparation for the Microsoft Dynamics 365 Sales MB-210 exam, you will study how to apply the Microsoft Dynamics 365 application to maintain current and potential clients effectively, automate best practices, track data against sales goals, learn from the collected data, and much more. These are not just common skills, and not everyone has them, except those who have gone through the certification process. With this skill, you will have what it takes to work better and more efficiently in your position. You will have proof that you have indeed acquired the necessary skills to perform the tasks given to you.
3. MB-210 Certification Draws Attractive Salary
Passing MB-210 exam and earning the related certification can open doors to receive attractive salaries. The Microsoft certified functional consultants normally get more money than their non-certified peers. When you hold a Microsoft certification, your current or potential organization will ready to offer you a higher paycheck because they will believe that you can deliver excellent results following the organization's expectations.
At the End
If you want to be skilled in using the Dynamics 365 products and prove your skills, one take into account taking the Microsoft MB-210 exam. Now that you know what this certification exam involves, you may think starting your preparation so you can pass it and get your certificate as soon as possible.