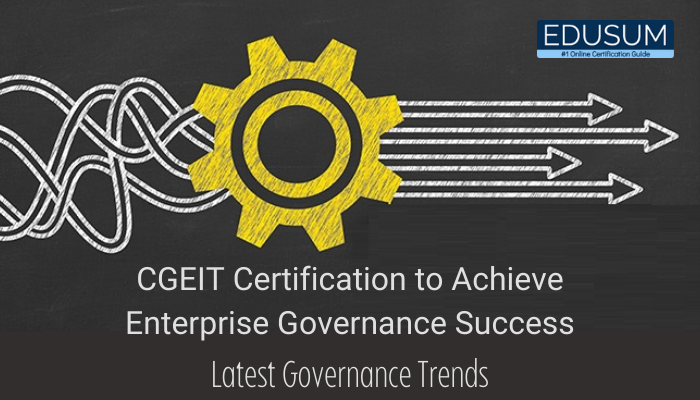 Information Technology has turn out to be the ruler in enhancing the operations of business enterprises throughout the world. With the growing demand for IT professionals globally across significant industries, organizations realize the significance of enterprise governance in IT. The Certified in the Governance of Enterprise IT, CGEIT Certification has become a demand for IT professionals interested in establishing their careers in corporate governance.
A successful enterprise relies on its streamlined IT governance system to generate the coveted outcomes. Thus the role of an IT professional holding CGEIT Certification has a lot of advantages for the enterprise. The CGEIT Certification has many prerequisites. It is of the utmost influence to have at least five years of experience in the IT governance domain, which comprises a year of managing and managing an enterprise governance system. Business enterprises and government agencies engage these proficient professionals because of their verified experience in IT governance frameworks to improve their productivity.
The CGEIT, Certified in the Governance of Enterprise IT certification, is offered by the ISACA (Information Systems Audit and Control Association), an international body of IT professionals concerned in system auditing, IT governance, risk, and security management.
The CGEIT certification is one of the most sought-after IT certifications provided by the ISACA, along with CISM (Certified Information Security Manager) and CISA (Certified Information Systems Auditor).
The certification has many advantages for IT consultants who want to advance their careers further and increase earning potential. IT governance professionals and executives with few years of experience will also perceive that CGEIT Certification is worth time and effort.
The CGEIT certification confirms an IT professional's knowledge of understanding the fundamental concepts of enterprise IT governance. The CGEIT certification examination administered by ISACA measures an applicant's knowledge and application of the enterprise IT governance standards and practices.
This certification is acknowledged universally by organizations in all industrial sectors like banking, services, networking, finance, government, etc.
What is IT Governance?
IT governance concentrates on the alignment of the information technology systems of an enterprise to enhance the techniques and add value to the enterprise. It involves risk management and resource optimization to meet the business intentions and goals.
IT professionals well-versed in the concept of governance of enterprise IT is very worthwhile for their organization's mission and vision.
The CGEIT certification examination evaluates IT professionals in the following four major domains:
Domain 1- Framework for Governance of Enterprise IT

Domain 2- IT Resources

Domain 3- Benefits Realization

Domain 4- Risk Optimization
To achieve the CGEIT Certification, you require to pass the four-hour examination consisting of 150 multiple choice questions that you need to answer. The certification examination evaluates the IT professional's knowledge in the four domains of IT governance listed above.
CGEIT Certification Examination Preparation
When you have determined to prepare for the CGEIT certificate examination, this CGEIT study guide is correct. This guidebook states the essential information to pass the exam on the first try.
1. Have the CGEIT Review Manual
You can get the CGEIT review manual from ISACA official website. The exam manual will equip you with complete information regarding the CGEIT exam. Moreover, it comprises a list of training courses and essential advice, for instance, exam structure, languages and period, etc. So, to avail of accurate info, take a look at the Passin1day site and download the CGEIT exam questions.
2. Attain Appropriate Examine Material
Obtaining suitable analysis material for your CGEIT examination is difficult. However, the applicant must be careful to receive adequate study resources for exam preparation. Furthermore, the applicant may learn more about the state site since a few unexplained guides and books are furnished.
3. Enroll in ISACA Instruction Curriculum
Working out management is a vital portion of the prep guidebook. ISACA offers its training apps, hence locating probably the most reliable origin has gotten less complex. You can come across many programs that can be easily accessible on the Internet, offering learning resources and training materials for your CGEIT exam. Even the CGEIT examination training applications will allow the possibility of quickly grasping all domain names and their specific sub-topics. Thus, they won't face any challenges from the examination.
4. Attempt CGEIT Practice Test
The most crucial part of CGEIT exam preparation is to gauge your preparedness level. Attempting CGEIT practice tests will make you familiar with your weak and strong areas.
Working on weak areas will enhance your performance in your actual exam. Furthermore, attempting CGEIT practice tests will better your time management skills, which will be very useful in real exams. So, take as many CGEIT practice tests as possible.
Top 6 Benefits of ISACA CGEIT Certification
A CGEIT Certification confirms an IT professional's understanding and skills in managing and executing an IT governance framework in the enterprise. Hence making them highly worthwhile to their organization.
It will help IT professionals fill the gap to satisfy the increasing need for skilled IT governance professionals in the field.

With the CGEIT Certification, such professionals can better the business system by improving the knowledge of IT governance in the enterprise.

Achieving the ISACA Certified in the Governance of Enterprise IT certification will help IT professionals acquire a cutting edge over their non-certified colleagues in the recruiting process.

An internationally recognized CGEIT certification presents IT professionals with extremly high esteem in the enterprise.

Using the certification, IT professionals can further advance their enterprise governance career and receive a higher salary.

Certified in the Governance of Enterprise IT professionals are the highest paid professionals and enjoy tremendous career advancement.
These professionals commonly work in the role of senior directors and executive IT managerial profiles. These IT governance managers and executives have an essential role in managing their enterprise's IT governance and aligning the IT system to the objectives.
These professionals are skilled in using the IT governance framework and enhance the business processes of their enterprise. The Certified in the Governance of Enterprise IT certification is an excellent way to prove these IT professional's skills and expertise. It also helps organizations hire the right professional to manage their workflow efficiently. Thus, it can be concluded that earning a CGEIT Certification is very advantageous for present IT professionals and would-be professionals who aspire to work in IT governance.
Are You Ready to work in an IT Governance field?
IT governance is important for the future and present of just about every organization. For that purpose, do not ignore the occasion to turn into a successful event inside this area and work up your with CGEIT Certification.