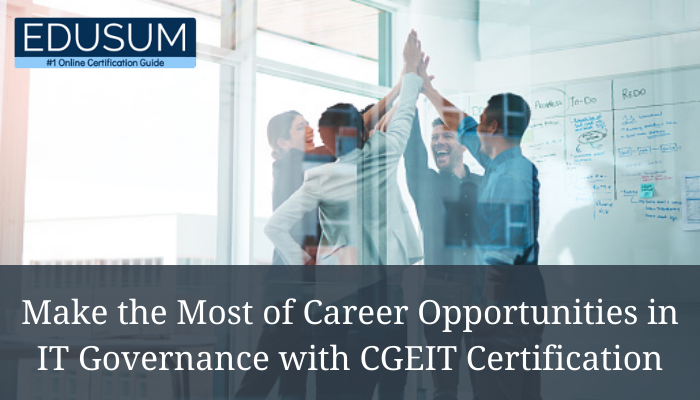 The role of IT has developed down the years. At the same time, some are geared towards minutes of latest technologies, tools, platforms and are more captivated by what can be achieved by the technology; some view technology and IT as a resource to supplement organizational objective and try to figure out how IT can be utilized not just to carry out impressive tasks but to frame these task to provide a better result to the clients. The ISACA CGEIT certification is intended for professionals who have management or advisory duties related to IT governance. Study shows that enhance governance of information and technology favorably influence business results and add value to organizations.
CGEIT acknowledges a broad range of professionals for their understanding and application of enterprise IT governance standards and practices. Becoming a CGEIT certified professional, you confirm that you are prone to carrying IT governance into an organization—that you perceive the difficult subject comprehensively, and therefore, improve value to the enterprise.
Why Make a Career

in IT Governance?
Apart from allowing you to become one of the most desired professionals in an organization, having a career in IT governance brings various benefits.
1. Well-Established and Long Term Career
The need for experienced IT governance professionals won't be decline any time shortly. In fact, corresponding fields such as cybersecurity are expected to undergo shortfall by 2021. Hence, your knowledge and skill will always be in demand.
2. Important Position at Organization
Not only will you have a job, but you'll be an influential participant to the company's heart of the matter. Not only will you lessen outsourcing expenses, but you'll also help improve customer confidence, aid business continuity, and assure legal compliance.
3. Recognition by Organization
As a main contributor to the organization's IT governance and security, you can expect your administration to recognize your efforts through rewards, in particular higher pay and promotion.
And these are just some of the perks of starting out a career in IT governance. You can expect more confidence in the jobs you choose.
Key Benefits of CGEIT Certification
There are a lot of benefits to taking into consideration before, during, and after earning the CGEIT certification. However, here we are focusing on the core benefits of CGEIT certification.
1. Improved Efficiency
Any certifications added to your resume presents you as a much more skilled. You're updated on the governance of enterprise IT (GEIT) and how it implements to definite parts of enterprises. It provides for an updated, basic vocabulary approach for addressing industry-shaking problems.
2. Credibility
Being acquainted with all new methods, standards, and policies helps build a firm foundation for your organization's reputation. With thorough CGEIT Certification exam preparation, you and your business will only strengthen your solid background and stand amongst the other framework specialists.
3. Networking Opportunities
A CGEIT certification places a professional on the same platform with other certified professionals throughout the world. This provides an opportunity for networking and interaction with other professionals and organizations that have or are seeking to implement IT governance structure.
4. CGEIT Certification Makes IT Professionals Stand Out
In an IT governance role, the professional with CGEIT certification will set him/her apart from the others and confirms his/her distinct level of dedication to the profession. The certification equips the participants with peerless understanding in the form of principles, concepts, and methods. This knowledge is vital in implementing and assessing IT governance. Furthermore, commitment to CGEIT exam preparation supports the professional to be on the cutting edge of expertise and practice.
Overview of ISACA CGEIT Certification Exam
The CGEIT certification is designed for professionals who play an important role in administering, advising, and/or ensuring IT governance. Common job roles involve senior security analyst and chief information security officer – the organization chart's upper level.
Professionals at this level line up IT with business strategies and objectives, oversee IT investments to increase return on investment, aim for perfection in IT operations and governance, and foster more prominent efficiency and productiveness in IT while reducing risk.
ISACA's CGEIT exam comprises four domains that address several aspects of IT governance and risk management: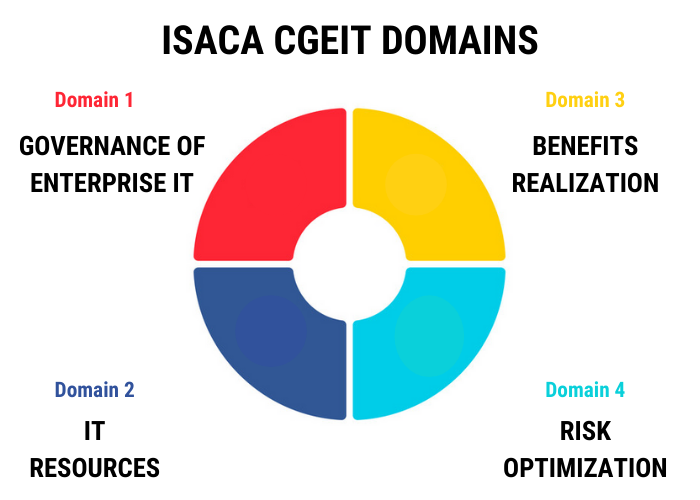 Who Should Obtain CGEIT Certification?
CGEIT is explicitly developed for IT and business professionals who have substantial management, advisory, or assurance position concerning the governance of enterprise IT and for those and who own experience in the following areas:
IT Governance Framework

Risk Management

Resource Management

Performance Measurement

Strategic Alignment

Value Delivery
Preparation Guide for CGEIT Certification Exam
As you have made up your mind to take the CGEIT certification exam, then this preparation guide is for you. This guide provides the information required to pass the exam.
1. Obtain the official Exam Guide
The Exam guide is the blueprint which the applicant easily obtains from the ISACA official page. The exam guide will give you complete information about the CGEIT exam. Moreover, it comprises the course outline and essential information like languages, format, duration, etc. Thus, to avail of authentic information, visit the official page, and download the CGEIT exam guide.
2. Obtain Appropriate Study Material
Finding the correct study material for the CGEIT exam is challenging, but the applicant has to look out for the effective study material for exam preparation. Moreover, the applicant can explore the official site as there are some authenticate books and guides provided.
3. Enroll in ISACA Training Program
The training program is a vital part of this preparation guide. ISACA presents its own training programs, so finding the most reliable source has become easier. Along with official training, there are many platforms available on the Internet that offer the training for the CGEIT exam. The CGEIT exam training programs will allow the candidate to perceive all the domains and its subtopics very quickly so that they will not face any problem in the exam.
4. Attempt CGEIT Practice Tests
The final step is to gauge your learning. This can be done by taking practice tests. Taking CGEIT Practice tests will help you examine your hard work and also make out your weak areas. Working on them helps you score well in the actual exam. Moreover, attempting multiple practice tests will enhance your time management skills, which will come helpful during the actual exam. Thus, attempt multiple practice tests and strengthen your confidence.
So, Are You Ready for a Career in IT Governance?
IT governance is vital for the present and future of every organization. Therefore, don't miss the chance to become an influential player in this field and work your way up with CGEIT Certification.