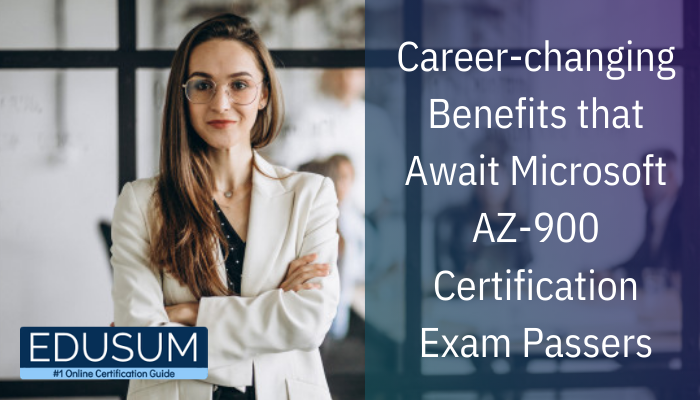 With Microsoft's career-based certifications, professionals won't have difficulty determining what they wish to do with their careers. Instead, they can now easily set-up their career goals with the help of these role-based certifications. And if you're on a new start with Azure, the best way to begin your journey is through Microsoft Certified Azure Fundamentals. This fundamental certification is awarded once you pass the Microsoft AZ-900 exam.
Microsoft Azure Fundamentals: AZ-900 Exam Information
Whether you are a fresher in the industry or want a career change, you must have something that provides you a solid foundation in Azure. And you can obtain it by preparing and completing Microsoft AZ-900. This entry-level exam, however, isn't something you can study for just a night. This certification exam's value is essential as it serves as a core foundation of your Azure comprehension. It establishes and confirms your understanding of critical cloud concepts, necessary Azure services, support, pricing, and more. That is why you require to exert more effort to study and ensure that you have included all topics.
AZ-900 Exam Topics
Describe cloud concepts (20-25%)

Describe core Azure services (15-20%)

Describe core solutions and management tools on Azure (10-15%)

Describe general security and network security features (10-15%)

Describe identity, governance, privacy, and compliance features (20-25%)

Describe Azure cost management and Service Level Agreements (10-15%)
Prerequisites of Microsoft Azure AZ-900 Exam
When compared with other role-based exams, Azure AZ-900 is comparatively easy. The exam itself doesn't need programming experts or experienced cloud professionals to perform. However, it's advantageous for people involves in the buying and sale of cloud services. It's also crucial to note that even people from a non-technical background avail significantly from this exam.
Whatever the case, it's worthwhile to take the AZ-900 exam after obtaining some general IT knowledge or experience. This exam should help to validate your skill in Microsoft Azure's fundamental concepts. Moreover, it will make you competent enough to participate in future Azure certification endeavors.
Target Audience
Even though Microsoft Certified: Azure Fundamentals is an entry-level certification, any individual trying to achieve this certification should have a limited experience with the technology and be conversant with the Azure interface.
Microsoft Azure Fundamentals AZ-900 Exam Preparation
Studying for an AZ-900 exam can be daunting, but not if you have created a realistic and practical study plan. Understand the topics straight-out and then design a study plan that emphasizes when you should begin and end one topic. Since there are four core topics for Microsoft AZ-900, you should develop a guide that will include all key areas.
One excellent way to assure that you study all the AZ-900 exam objectives is by enrolling in both self-paced and instructor-led courses. These training courses are an excellent alternative to traditional books. Additionally, these are incredibly interactive that makes learning more enjoyable. The self-paced course is provided free of charge yet comes with all the information you require to know about the exam. It emphasizes 11 vital modules that are split into separate videos. This way, you won't have a difficult time understanding all subjects in one sitting. Simultaneously, the instructor-led course is appropriate for studying at their own chosen time and place. Though this is a paid course, this is exceptionally beneficial as it's a one-on-one training personalized for you.
To verify if you have done your part efficiently, don't ignore to take the AZ-900 practice tests. Apart from Microsoft's official practice tests, you can also take up practice tests from edusum.com. Practice questions for the AZ-900 exam on this site compiled by the professionals. The more you practice, the more you perceive what your preparation is lacking. Practice tests point out your weaknesses so that you can work on them and excel in the Microsoft AZ-900 exam without a second thought. So, there's no need to ferret around and look for the best AZ-900 practice test because Edusum.com has it all.
AZ-900 Exam Tip
You should answer all the AZ-900 exam questions as there is no negative marking for your incorrect answers. If you don't know the answer to a specific question, make a wise guess instead of letting it unanswered. Don't hurry to send your answers. Take time to review them and click the 'Submit' button only when you're sure you've given your best.
On the successful passing of the Microsoft AZ-900 exam, you will be awarded plenty of career benefits that you'll indeed look forward to.
Benefits of Microsoft AZ-900 Microsoft Azure Fundamentals Certification
1. Confirms Your Hold on Azure Subjects
Completing the AZ-900 exam signifies that you have entirely validated your core knowledge of the vital Azure subjects. You are now a skilled Azure professional who knows how to prepare for difficult yet important topics. Through this Microsoft exam, you already know the significance of cloud services, the difference between IaaS, PaaS, and SaaS, and the value of Azure network connectivity, architectural security, and much more.
2. AZ-900 Certification Adds Credibility to Your Professional Career
If you've done everything you could to secure your dream job or obtain that promotion, but nothing still took place. You better spend your money, time, and effort to get a Microsoft Azure Fundamentals certification. Prepare for its requisite exam Microsoft AZ-900 and see how hiring managers fall head over heels with your resume. Indeed, this certification confirms your efficiency and effectiveness as a professional, much needed among organizations. So, if you want something that will add credibility to your professional career, then you're acquiring a lot of benefits when you pass the exam.
3. Unlocks Associate-Level Certification
Before you jump into associate certifications, it's hugely recommended to outfit yourself first with basic knowledge. This way, you won't have trouble addressing more profound topics and more intricate issues. Microsoft Azure Fundamentals certification through Microsoft AZ-900 qualifies you for advanced and expert-level certifications. This is such a fabulous achievement for those who already have set their certification targets.
4. Awards a Great Paycheques
Did you know that earning Microsoft certification is a way to boost your financial worth? Yep, and you will surely love the financial perks you'll obtain once you pass the Microsoft AZ-900 exam. When you apply for a job, hiring managers will consider not just your work experience but also your list of certifications. And having a role-based Aure certificate in your profile demonstrates your skill as a professional.
5. It Gives You Access to the Microsoft Community
As the first step into the Azure certification track, Microsoft AZ-900 explains the world of Azure professionals, who share the same career outline as yours. Upon passing this foundational exam, you will gain meaningful knowledge and essential skills and become part of the Microsoft community. What an accomplishment to be called a Microsoft-certified professional, right?
Conclusion
Since Microsoft is rapidly restructuring its certification program, it's best, to begin with the foundational certification. The Microsoft Azure Fundamentals certification is meant for those who want to evaluate the Azure domain's waters. So, confirm your essential comprehension of cloud service with Microsoft AZ-900!