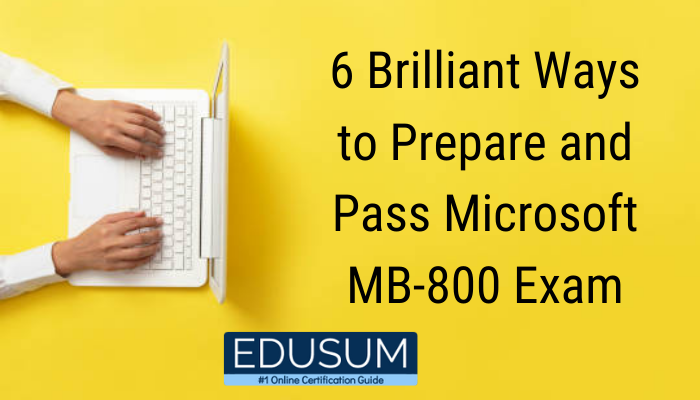 Microsoft MB-800 certification is best suited for a functional consultant who executes essential Microsoft Dynamics 365 Business Central setup processes for small and medium-scale businesses. You require to have experience configuring Dynamics 365 Business Central role centers, along with cues, action tiles, adapting insights, reports, and charts. And you should be able to expand Business Central by utilizing Microsoft Power Platform components.
You must have practical knowledge of Business Central, and you should perceive priorities, standards, industry terminology, methodologies, and best practices. If you own this valuable knowledge and work as a DevOps developer, UX designer, solution architect, administrator, quality assurance, the Microsoft Dynamics 365 Business Central Functional Consultant MB-800 certification could be the best option.
MB-800 Exam Details
Microsoft Business Central Functional Consultant MB-800 exam consisting of approximately 40-60 questions answerable in 50 minutes. The exam question type can vary from multiple choice to sequences and drag and drop options. Also, you will be required to look at a customer case study and answer with advice based on the scenario.
Why Obtain MB-800 certification?
If you think about why you need to obtain MB-800 certification, then there are several benefits this certification brings. Below are a few of them,
MB-800 certification will give you complete knowledge and understanding of essential concepts.

You will prove your compliance knowledge with this certification.

MB-800 exam preparation equips you with more vital consultancy skills and extends your knowledge of setting up and configuring central business financials, sales, purchasing, and operations.

It proves your commitment to professional development and constant learning.

It will help you to advance in your work and get a salary hike.

It adds value to businesses and clients that are looking for information security in their organization.

Microsoft Dynamics 365 Business Central Functional Consultant certification will help you perceive things more distinctly concerning data loss prevention, content classification, governance, and security rules and laws.

It helps you come up with more trustworthy solutions to obstacles and makes you ahead of the competition in the job market.
How to Pass Microsoft Dynamics 365 Business Central Functional Consultant MB-800 Exam?
Any exam requires rigorous preparation and planning. Moreover, passing the Microsoft exam is difficult without a definite structure. This article includes a complete list of all the tips and tactics you'll require to pass the MB-800 exam. So, let's find them out:
1. Make a Study Plan
Studying without a proper study plan is not going to help you in any way. So, better preparation requires appropriate study materials. And for appropriate study resources, you need to carry out some analysis for exam-related topics. Everything is readily available online. Most importantly, it would help if you concentrated on a few things. You should have a solid frame of mind about earning this certification. There should be no confusion about anything.
2. Understand the MB-800 Exam Concepts
It is essential to have a robust foundation when preparing for any exam. The basics of syllabus topics must be understood. For MB-800 exam preparation, you will find all the essential information on the official Microsoft website. First of all, you need to understand the topics covered in this exam. Below is a list of MB-800 exam syllabus topics:
Set up Business Central (20-25%)

Configure financials (25-30%)

Configure sales and purchasing (10-15%)

Perform Business Central operations (30-35%)
3. Join an Instructor-Led Training
To score well in the Microsoft MB-800 exam, instructor-led training is a must. The applicants can locate the "MB-800T00-A: Microsoft Dynamics 365 Business Central Functional Consultant" instructor-led training course on the Microsoft official website.
4. Participate in an Online Communities
A discussion is always helpful, despite where it takes place—the possibilities of finding a solution increase significantly when many people become engaged in a problem. To solve this purpose, online forums are excellent for developing the type of community needed to know others—interacting with people who have the same goals as yours will help you achieve them.
5. Gauge Your Learning with MB-800 Practice Exam
Take as many practice exams as possible, particularly later after learning all the exam topics. MB-800 practice exam is an excellent way for measuring your preparation level. MB-800 practice exam is taken online and tests you with practice questions that mimic the same format as an actual exam. Take the Microsoft MB-800 practice exam to deal with the timing and pressure. After taking the exam, you can identify the topics you need to concentrate on for improvement.
6. Ace the MB-800 Exam with Calm Mind
This is one of the essential tips for the Microsoft exam. Clear your mind during the exam and remain focused. Answer all the questions. Don't spend too much time on a single question.
Final Say
Microsoft certification exam journey is not easy, and the strict & tedious structure of the MB-800 certification exam makes it a hard nut to crack. Though, the right approach carved after following the tips as mentioned above can crash it. So, make sure you follow the above tips and pass the exam with a flying score. Best of luck!