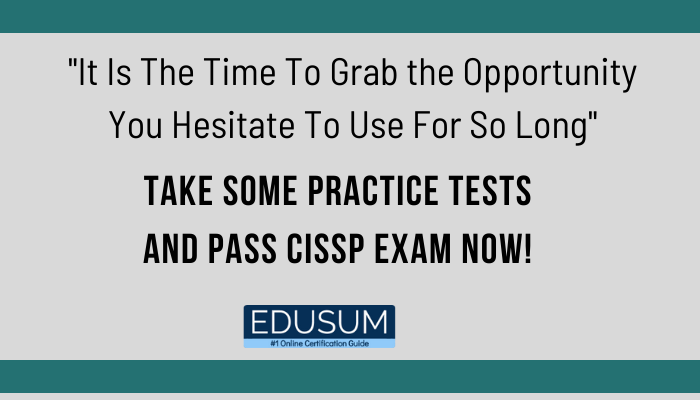 The CISSP certification is one of the most sought-after and is administered by ISC2, a nonprofit organization. This certification is best for professionals holding at least five years of experience in the field or who've worked as managers and executives in cybersecurity or information technology. A professional who receives the ISC2 CISSP certificate has knowledge in security and risk management, security architecture, asset security and engineering, communication and network security, and security operations, among other domains. This post will talk about CISSP exam details, tips, benefits of the CISSP practice exam, and benefits of passing the exam.
Achieving the CISSP demonstrates you have what it requires to design, implement and operate a best-in-class cybersecurity program competently. With a CISSP, you prove your skills and become an (ISC)² member, opening a wide range of exclusive resources, educational tools, and networking opportunities.
Essential Information About ISC2 CISSP Exam
The CISSP is the only exam needed to achieve your CISSP certification. This exam evaluates an applicant's proficiency in 8 domains, which include:
Communications and Network Security

Security and Risk Management

Asset Security

Software Development Security

Security Engineering

Security Assessment and Testing

Security Operations

Identity and Access Management
The exam comprises 250 multiple-choice and advanced innovative questions, which exam-takers have 180 minutes to finish. You must receive a score of 700/1000.
Targeted Audience
The CISSP is absolute for seasoned security practitioners, managers, and executives involved in demonstrating their broad understanding range of of security practices and principles, comprising those in the following positions:
Chief Information Security Officer

Chief Information Officer

Director of Security

IT Director/Manager

Security Systems Engineer

Security Analyst

Security Manager

Security Auditor

Security Architect

Security Consultant

Network Architect
Tested Methods to Prepare for ISC2 CISSP Certification Exam
1. Be Familiar With CISSP Syllabus
This is the ultimate thing you should always take into account before you even think of learning any concept concerning the ISC2 CISSP exam. Exam objectives give you a distinct guideline of what you should master before taking the real exam. Therefore, ensure the CISSP syllabus outline is always at your fingertips.
2. Enroll in a Training Course
A training course is the best resource because it lets you perceive the CISSP syllabus in detail. Isc2 offers online self-paced training.
3. CISSP Practice Exam
An essential part of your study plan is the CISSP practice exam. You must spend time taking them to become familiar with the exam structure and the likely questions that you will face during your actual certification exam. The CISSP practice exam mimics the real examination environment, giving you an exact picture of what to anticipate. Apart from getting familiar with exam structures, the CISSP practice exam will also help you identify your knowledge gaps and be able to put more effort into doing better in each area.
4. Revision
Before the exam day approaches, you have to prove whether you have completed all the CISSP syllabus topics. If you have forgotten some CISSP syllabus topics, go back to your initial training resources and learn every topic that you are not familiar with.
Why Take the CISSP Practice Exam?
A reliable and authentic CISSP practice exam can give you valuable knowledge to ace the actual exam and help you get an understanding of what to expect in the upcoming exam. That is why this approach to exam preparation is among the most favored by applicants all over the world. But it is essential to get real and updated resources from a reliable platform.
Among the providers of the CISSP practice exam, the edusum website is the most preferred website by industry experts. It is a trustworthy online platform that constantly updates its practice questions, confirming that exam-takers can get the best quality materials at any certain time.
Top Reasons to Use CISSP Practice Exam
1. CISSP Practice Exam Makes You Relaxed
Knowing what to expect during the exam puts your mind relaxed. Using the CISSP practice exam allows you to identify the possible errors that are likely to be made and corrected in time. This means that while entering the exam room, you hold total control over your own emotions and so be calm and reserved during the exam. Being psychologically prepared goes a long way in relieving stress and anxiety!
2. CISSP Practice Exam Boosts Confidence
As you review the questions several times, you can keep more certain and determined. This indicates that you master all the CISSP syllabus topics in detail and proceed faster in your preparation. As an outcome, confidence increases each day you use the CISSP practice exam.
3. You Get Acquainted with Question Types
In working with actual exam questions, you can familiarize yourself with all the question types to be used in the actual exam. Keeping this in mind, do your best with the ISC2 CISSP practice exam. Furthermore, you acquire skills to deal with any question that you'll meet at the exam.
Major Benefits of Passing ISC2 CISSP Certification Exam
The following are the five major benefits of passing the CISSP exam and earning the certification.
1. Higher Salary
The average CISSP salary is $131,030 per annum. The CISSP certification requires many prerequisites to be eligible for the exam, comprising significant cybersecurity learning and four years of paid work in the field. Employers value the CISSP certification as it raises their confidence in you.
2. Brilliant career Opportunities
With over 2.9 million males and females in the cyber workforce across the world, now is the time to enter this domain than now. With no standard cyber security course eligibility, it becomes more straightforward to create a better base for a career in this field.
More so when you have the (ISC)² Cybersecurity Workforce Study to help you; moreover, the CISSP concentrations (CISSP-ISSEP for Engineers, CISSP-ISSMP for Management, and CISSP-ISSAP for Architects) allow you to develop your understanding of the CISSP, broadening your knowledge base of this ISC2 certification.
3. Profound Knowledge of the Cybersecurity Field
The CISSP is sometimes named a "mile wide and an inch deep." However, this sought-after phrase is technically wrong. The CISSP approaches the basic ideas of cybersecurity – from security and risk management to communication and network security to security testing and operations – in its totality. Beyond the standard elements of information security, a certified individual comprehends how the components of the information security environment blend with the organization's whole ecosystem.
4. Hands-on Cybersecurity Experience
To crack the CISSP exam, you must have at least four years of working experience in cybersecurity. Moreover, you must prove similar to four years of full-time experience to pass. Along with a present ISC2 certification confirming your skills and integrity, an existing ISC2 certification holder who may certify your ability and integrity is needed. Certified Information Systems Security Professionals must complete an ongoing professional education course with 120 credits every three years to maintain their certification.
5. CISSP Certification Makes You Stand Out From the Others
Professional certification in IT security, like the CISSP, is noteworthy since it was developed through years of study and research. The actual information security certification to satisfy the stringent standards set forth by ANSI/ISO/IEC 17024 was the CISSP.
In addition, the CISSP is vital for two DoD-accredited 8570 IASAE Level III certifications: ISSEP (ISC) and ISCSP-ISSAP (ISC). The CISSP is also a requisite for the Australian Government Information Security Registered Assessors Program (IRAP), an official government certification program. Hence, this certification is well respected by the EC Council also.
Conclusion
CISSP certification is the benchmark certification for information security professionals. Achieving this certification will prove that you have mastered the most advanced information security theory and practice. There are many benefits of employing ISC2 Certified Information Systems Security Professionals. First, certified professionals have demonstrated their competence and skills in an increasingly competitive job market; second, organizations that employ certified professionals relish significant payoffs via decreased cybercrime losses and compliance fines.