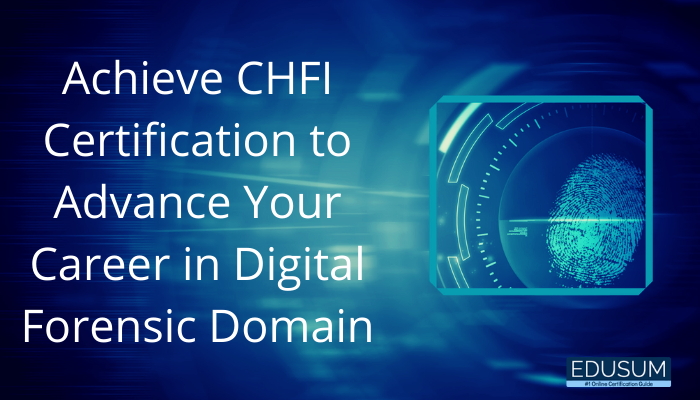 The CHFI, Computer Hacking Forensic Investigator certification, delivers digital forensics' security domain from a vendor-neutral outlook. CHFI is a comprehensive certification including significant forensic investigation scenarios. The certification allows applicants to obtain essentaial hands-on experience with several forensic investigation capabilities and standard forensic tools required to successfully implement a computer forensic investigation resulting to the prosecution of perpetrators.
Computer forensics is merely the application of computer investigation and analysis methods to determine prospective legal evidence. Evidence might be desired in a broad range of computer crime or misapplication, comprising but not confined to theft of trade secrets, theft of or exterminating of intellectual property, and fraud. CHFI specialists can draw on a wide range of methods for finding out data that resides in a computer system, or restoring encrypted, deleted, or damaged file information known as computer data recovery.
The CHFI certification equips candidates with the required skills to carry out a great digital forensics investigation. CHFI gives a systematic approach to computer forensics, including searching and seizing, acquisition, chain-of-custody, preservation, analysis, and reporting of digital evidence.
Who Should Obtain CHFI Certification?
The CHFI certification is created for all IT professionals concerned with computer forensics, information system security, and incident response.
Target Audience
Defense and Military personnel

e-Business Security professionals

Police and other law enforcement personnel

Systems administrators

Legal professionals

Banking, Insurance and other professionals

Government agencies

IT managers
Prerequisite to take up the CHFI certification:
There are no prerequisites to be eligible for the CHFI certification exam. However, it is advised to obtain CEH certification before CHFI and in this instance, it is not necessary to pass the CEH v10 exam.
Career Prospects for a Computer Hacking Forensic Investigator
There is a huge need for CHFI-certified professionals across industries. CHFI-certified individuals are being employed not only by IT and IT security companies but also by defense and military sectors, legal practices, law enforcement agencies, banking, and insurance businesses.
The CHFI certification confirms a applicant's skills to gather the required evidence of theft to prosecute in a court of law. Entry-level salaries in the field can reach as high as $85,000 to $120,000. According to Payscale.com, on an average, a Computer Hacking Forensic Investigator (CHFI) earns around $86,000 annually in the U.S. Top employers include Sentek Global, Paylocity, Northrop Grumman Corporation, and U.S. Navy.
Certified CHFI professionals can pursue the following roles:
Computer Forensics Analyst

Information Security Analyst

Malware Analyst

Network Security Specialist

Security Administrator

IT Security Consultant

Ethical Hacker

Penetration Tester

IT Auditor

Homeland Cyber Security
How to Prepare for CHFI v9 Certification Exam
EC-Council exams aren't easy for professionals to pass. EC-Council has kept the standards of education high to find only skilled professionals and representatives who shall be professionals in their field when EC-Council certifies them for the same.
There's no simple way to pass any EC-Council certification exam; there's always something you can do to pass the exam with flying colors. And all starts with preparation. But how do you prepare for an exam like CHFI v9?
Here's a complete preparation guide you can keep on path of to assure that you won't be losing your time while studying new insights.
Get the Curriculum Outline
Apart from becoming familiar with the core CHFI v9 syllabus topics. It is also essential to get a syllabus outline because it emphasises even the subtopics and the sylllabus of every specific main topic. Moreover, it is only through the CHFI v9 syllabus outline that you can manage to fix the limits of our learning. Besides, we can end up using inappropriate materials that will help us no good.
Avail All the study Materials Available
You should make sure that you obtain at least 3-4 study resources to study the exam objectives thoroughly. This will help you have several approaches towards understanding the important concepts that require to be handy. The broader the variety of study materials you have, the quickly and thoroughly you can understand the topics of the certification test. According to your way of learning, you will be able to avail from the study resource that suits your learning style. When it comes to passing this CHFI v9 exam, there is no better way to do it rather than devoting your time to learning.
Avail CHFI practice tests
The importance of practice tests in your certification exam preparation cannot be overlooked. There's no better way to evaluate your understanding and hold over of the exam content than taking the CHFI practice test. Taking practice tests for EC-Council 312-49 exam could help increase your confidence eventually and acknowledge your strong and weak points.
Find Mistakes
By reviewing the result of practice tests, you can discover your mistakes and correct them. Therefore you can be assured that you don't make the same mistakes again and again. But you require to be accurate during this approach and not only memorize the right answer but also examine the failed concept once again to grasp it entirely.
Join Online Communities
To improve your CHFI exam prep, it is worth joining an online communities and forums and learning from the same minded people. Online communities help you understand the concepts as you share your knowledge with that of other candidates or seasoned professionals. Be sure that you also check out the study resources which your online community group members have been taking advantage of.
Final Hacks for CHFI v9 Exam
Here are some specific and proven tips. If you follow them, they will be beneficial to you.
When studying for Computer Hacking Forensic Investigator exam, try to study each exam objective already given by EC-Council. It is essential since the exam content is in regard to the topics, which will be explored.

Do not dwell on only one source but acquire more by studying from various platforms and books. Only then can you be able to answer without any flaws if you have total command and expertise over a particular topic.

You can explore an ocean of information by reading books. Hence, try to absorb as much as you can and understand it thoroughly.

The best way to prepare for the CHFI exam is to write the essential notes down or create flashcards, which, when you use it at a later time, will help you in revision.

First, fix a target for your study plan and then try to work for it. Immediately after you find your pace, make targets that you must accomplish by the end of the day/week.

You will be examined a variety of questions from easy to complicated ones. It must also include case studies, which will evaluate your knowledge. Therefore, try to include that during preparation.

Register for your exam well in advance to evade any accidents by the end. Give your best, and do not be afraid of failure.
Conclusion
You must pass the CHFI exam to become an expert Computer Hacking Forensic Investigator. You need to be armed yourself with the top resources and study them to the best of your aptitude. Do not be afraid of failing but instead give the exam your best and hope for the best. All the Best!