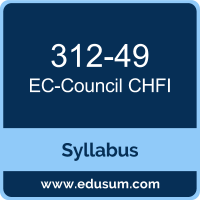 Use this quick start guide to collect all the information about EC-Council CHFI (312-49) Certification exam. This study guide provides a list of objectives and resources that will help you prepare for items on the 312-49 EC-Council Computer Hacking Forensic Investigator exam. The Sample Questions will help you identify the type and difficulty level of the questions and the Practice Exams will make you familiar with the format and environment of an exam. You should refer this guide carefully before attempting your actual EC-Council CHFI v9 certification exam.
The EC-Council CHFI certification is mainly targeted to those candidates who want to build their career in Cyber Security domain. The EC-Council Computer Hacking Forensic Investigator (CHFI) exam verifies that the candidate possesses the fundamental knowledge and proven skills in the area of EC-Council CHFI v9.
EC-Council CHFI Exam Summary:
EC-Council 312-49 Exam Syllabus Topics:
Topic
Details
Weights

Forensic Science

- Computer Forensics Objective and Need
- Forensics Readiness
- Cyber Crime
- Web Applications and Webservers Attacks
- Email Crimes
- Network Attacks
- Forensics on Mobile Devices
- Cyber Crime Investigation
- Computer Forensics Investigation Methodology
- Reporting a Cyber Crime
- Expert Witness

15%

Regulations, Policies and Ethics

- Searching and Seizing Computers with and without a Warrant
- Laws and Acts against Email Crimes
- Laws pertaining to Log Management
- Policies Pertaining to Mobile Forensics
- Laws and Acts against Email Crimes
- General Ethics While Testifying

10%

Digital Evidence

- Digital Evidence
- Types of Digital Evidence
- Rules of Evidence
- Electronic Evidence: Types and Collecting Potential Evidence
- Electronic Crime and Digital Evidence Consideration by Crime Category
- Computer Forensics Lab
- Understanding Hard Disks
- Disk Partitions and Boot Process
- Understanding File Systems
- Windows File Systems
- Linux File Systems
- Mac OS X File Systems
- RAID Storage System
- File Carving
- Image Files
- Analyze Logs
- Database Forensics
- Email Headers
- Analyzing Email headers
- Malware Analysis
- Mobile Operating Systems

20%

Procedures and Methodology

- Investigating Computer Crime
- Computer Forensics Investigation Methodology
- Digital Evidence Examination Process
- Encryption
- First Responder
- First Response Basics
- Roles of First Responder
- Data Acquisition and Duplication
- Defeating Anti-forensics Techniques
- Log Management and Event Correlation
- Network Forensics (Intrusion Detection Systems (IDS))
- Computer Forensics Reports and Investigative Report Writing

20%

Digital Forensics

- Recover Data
- File System Analysis
- Windows Forensics
- Linux Forensics
- MAC Forensics
- Recovering the Deleted Files and Partitions
- Steganography and Image File Forensics
- Steganalysis
- Application Password Crackers
- Investigating and Analyzing Logs
- Investigating Network Traffic
- Investigating Wireless Attacks
- Web Attack Investigation
- Investigating Email Crime and Violation
- Mobile Forensic Process
- Cloud Forensics
- Malware Forensics
- Defeating Anti-Forensic Techniques

25%

Tools/Systems/ Programs

- First Responder Toolkit
- Windows Forensic Tools (Helix3 Pro, X-Ways Forensics, Windows Forensic Toolchest (WFT), Autopsy, The Sleuth Kit (TSK), etc.)
- Data Acquisition Software Tools UltraKit Forensic Falcon, etc.)
- Tools to defeat Anti-Forensics
- Steganography Tools
- Database Forensics Tools
- Password Cracking Tools
- Network Forensics Tools
- Web Security Tools, Firewalls, Log Viewers, and Web Attack Investigation Tools
- Cloud Forensics Tools
- Malware Forensics Tools
- Email Forensics Tools
- Mobile Forensics Software and Hardware Tools
- Report Writing Tools

10%
To ensure success in EC-Council CHFI v9 certification exam, we recommend authorized training course, practice test and hands-on experience to prepare for EC-Council Computer Hacking Forensic Investigator (312-49) exam.