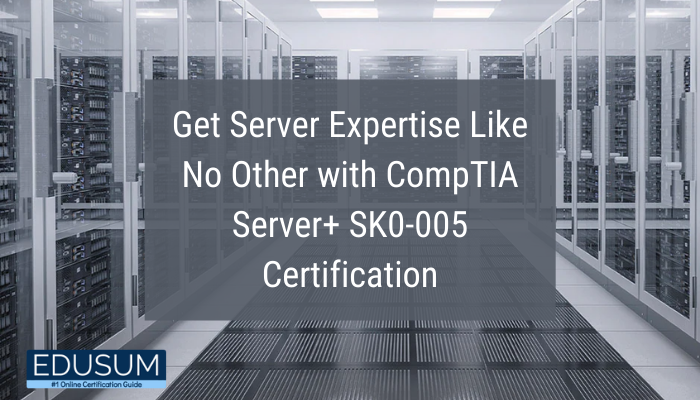 CompTIA Server+ SK0-005 certification is CompTIA's hidden gem. It's a fundamental certification, aiming at IT professionals within their first two to four years of experience. Though not being as famous as other CompTIA certifications, like A+, Network+, and Security+, achieving a Server+ certification will surely add value to your CV.
CompTIA Server+ SK0-005 is the only vendor-neutral server certification available presently, basically contesting against vendor-specific certs like Microsoft Server Administrator and CCNP Data Center. While these latter certifications concentrate on their products and executions, CompTIA Server+ shrinks the size to a more expansive scale, aiming for server and networking basic principles.
Essential Information about CompTIA Server+ SK0-005 Certification
CompTIA Server+ SK0-005 confirms the practical skills of IT professionals who manage, install, and troubleshoot servers in data centers and on-premise and hybrid environments.
CompTIA Server+ SK0-005 exam includes the following objectives:
Server Hardware Installation & Management

Server Administration

Security & Disaster Recovery

Troubleshooting
CompTIA SK0-005 Exam Information:
Number of Questions: 90 Multiple Choice Questions

Time Duration: 90 Minutes

Pass Rate: 750 (on a scale of 100 - 900)

Language: English
Targeted Audience
Systems Administrator

Data Center Technician

Server Administrator

Network Administrator

Field Service Technician or Engineer

IT Technician

Data Center Engineer
Why Obtain CompTIA Server+ SK0-005 Certification?
From small scale to Fortune 500 companies, businesses and organizations depend on servers to maintain considerable amounts of data, host applications and accumulate records of their most essential information. These systems are important to their business, and that's why leading tech organizations like IBM, Dell, HP, Intel, and Lenovo demand Server+ certification when employing IT professionals to handle and troubleshoot their servers.
Four Reasons to Work Hard for Comptia Server+ SK0-005 Certification Exam:
Infinite Growth: With the immense scope available presently, cybersecurity conveys before us a significant boost both in the future path and in the field. A robust server security professional shortly recognizes that learning will never stop. The contemporary workload has made the team scale up and out.

A large Number of Variations: The growth opportunities are tied up to different technologies with which the specialists have to deal—the certification hints at providing diverse possibilities in dealing with the requirements. Server management has multiple career opportunities, and one can earn a reputed badge in server analysis.

The Capability to Solve Puzzles: The server analysis has some regulations, but that changes day after day. And there's a unique puzzle to be always solved. Each problem that occurs appears to be a unique puzzle, and new opportunities surface to the challenge. An applicant with Server+ certification can tackle the issues smoothly.

The Job has a Real Impact: Server security matters and effects that develop beyond the digital world. It has managed to restrict actions by monitoring different operations with the server facilities.
Tips for Passing CompTIA Server+ SK0-005 Certification Exam
To pass the CompTIA Server+ SK0-005 certification exam, there are a few things you must put into action before and throughout the exam. All these will help bring out all your best means and enhance focus in dealing with the exam questions. Below are a few tips to make your CompTIA Server+ SK0-005 exam preparation easy.
Before opting for a CompTIA certification exam, you must be prepared to improve your odds of success. The following are helpful tips and resources to help you study for your SK0-005 certification exam.
1. Make a Study Plan
Give yourself some structure for exam preparation, and prioritize your study time. If you don't, it'll be way too easy to ignore or delay what you are expected to do.
Find out when you can soak up the new concepts the best. When will you have negligible distractions? For example, if you have kids, it might be the most comfortable to study after they've gone to bed or before they get up - early morning.
2. Know the CompTIA Server+ SK0-005 Objectives
CompTIA certification exams are comprehensive — so much so that even extremely skilled professionals have failed. The questions are meant to assess your knowledge, so it's not prudent to assume and hope for the best.
You can start your preparation by knowing the exam objectives on the official website. Each SK0-005 objective will also have a set of skills you're going to be evaluated on, so go through the exam objectives as many times as possible until you're well-versed with it.
3. Obtain Relevant Study Resources
You can get study resources for the CompTIA Server+ SK0-005 exam on the Internet. You can take find training courses, study guides, study forums, and practice tests.
4. Make Short Notes While Studying
Make a note of every technical detail you notice while studying for the CompTIA Server+ SK0-005 certification exam. As SK0-005 is very detailed, this could be a lifeguard. Moreover, at the time of the revision, these notes will help you a lot.
5. Acquire Hands-On Experience
Hands-on experience will be valuable as you take the SK0-005 exam. Rather than trying to answer questions about a theoretical practice you've only read about, you'll have real-life knowledge of what a task does. But not everyone has access to technology like a sandbox data center to experiment with.
6. Take CompTIA Server+ SK0-005 Practice Test
One of the most useful things you can do to prepare for your actual exam is to take the CompTIA Server+ practice test. Treat the practice tests like actual exams so that you comprehend what your approach should be in the actual exam. With the result of the practice test, identify your strong and weak areas. Start taking the CompTIA Server+ practice test now!!
7. Relax
The best thing you can do a day before the exam is to relax! Acing the exam with stressed and overwhelming will improve your chances of failure.
Conclusion
A CompTIA Server+ SK0-005 certification can be a decisive factor in receiving your current job or getting a new job elsewhere. But remember: to earn a CompTIA certification, readying yourself for the exam will give you a superb chance of success.