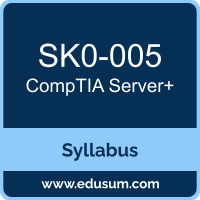 Use this quick start guide to collect all the information about CompTIA Server+ (SK0-005) Certification exam. This study guide provides a list of objectives and resources that will help you prepare for items on the SK0-005 CompTIA Server+ exam. The Sample Questions will help you identify the type and difficulty level of the questions and the Practice Exams will make you familiar with the format and environment of an exam. You should refer this guide carefully before attempting your actual CompTIA Server Plus certification exam.
The CompTIA Server+ certification is mainly targeted to those candidates who want to build their career in Infrastructure domain. The CompTIA Server+ exam verifies that the candidate possesses the fundamental knowledge and proven skills in the area of CompTIA Server Plus.
CompTIA Server+ Exam Summary:
CompTIA SK0-005 Exam Syllabus Topics:
Topic

Details

Server Hardware Installation and Management - 18%

Given a scenario, install physical hardware.

- Racking

Enclosure sizes

Unit sizes
- 1U, 2U, 3U, etc.
Rack layout
- Cooling management
- Safety
1. Proper lifting techniques
2. Rack balancing
3. Floor load limitations
- Power distribution unit (PDU)
- Keyboard-video-mouse (KVM) placement
- Rail kits

- Power cabling

Redundant power
- Uninterruptible power supply (UPS)
- Separate circuits
- Separate providers

Power connector types

Cable management

- Network cabling

Redundant networking

Twisted pair

Fiber
- SC
- LC
- Single mode
- Multimode

Gigabit

10 GigE

Small form factor pluggable (SFP)

SFP+

Quad small form factor pluggable (QSFP)

Cable management

- Server chassis types

Tower

Rack mount

Blade enclosure

- Server components

Hardware compatibility list (HCL)

Central processing unit (CPU)

Graphics processing unit (GPU)

Memory

Bus types

Interface types

Expansion cards

Given a scenario, deploy and manage storage.

- RAID levels and types

0

1

5

6

10

Just a bunch of disks (JBOD)

Hardware vs. software

- Capacity planning
- Hard drive media types

Solid state drive (SSD)
- Wear factors
1. Read intensive
2. Write intensive
Hard disk drive (HDD)
- Rotations per minute (RPM)
1. 15,000
2. 10,000
3. 7,200

Hybrid

- Interface types

Serial attached SCSI (SAS)

Serial ATA (SATA)

Peripheral component interconnect (PCI)

External serial advanced technology attachment (eSATA)

Universal serial bus (USB)

Secure digital (SD)

- Shared storage

Network attached storage (NAS)
- Network file system (NFS)
- Common Internet file system (CIFS)
Storage area network (SAN)
- Internet small computer systems interface (iSCSI)
- Fibre Channel
- Fibre Channel over Ethernet (FCoE)

Given a scenario, perform server hardware maintenance.

- Out-of-band management

Remote drive access

Remote console access

Remote power on/off

Internet protocol keyboard-video-mouse (IP KVM)

- Local hardware administration

Keyboard-video-mouse (KVM)

Crash cart

Virtual administration console

Serial connectivity

Console connections

- Components

Firmware upgrades

- Drives
- Hot-swappable hardware

Drives

Cages

Cards

Power supplies

Fans

- Basic input/output system (BIOS)/Unified Extensible Firmware Interface (UEFI)

Server Administration - 30%

Given a scenario, install server operating systems.

- Minimum operating system (OS) requirements
- Hardware compatibility list (HCL)
- Installations

Graphical user interface (GUI)

Core

Bare metal

Virtualized

Remote

Slip streamed/unattended
- Scripted installations
- Additional drivers
- Additional applications and utilities
- Patches
Media installation type
- Network
- Optical
- Universal serial bus (USB)
- Embedded
Imaging
- Cloning
1. Virtual machine (VM) cloning
2. Physical clones
3. Template deployment
4. Physical to virtual (P2V)

- Partition and volume types

Global partition table (GPT) vs. master boot record (MBR)

Dynamic disk

Logical volume management (LVM)

- File system types

ext4

New technology file system (NTFS)

VMware file system (VMFS)

Resilient file system (ReFS)

Z file system (ZFS)

Given a scenario, configure servers to use network infrastructure services.

- IP configuration
- Virtual local area network (VLAN)
- Default gateways
- Name resolution

Domain name service (DNS)

Fully qualified domain name (FQDN)

Hosts file

- Addressing protocols

IPv4
- Request for comments (RFC) 1918 address spaces

IPv6

- Firewall

Ports

- Static vs. dynamic

Dynamic host configuration protocol (DHCP)

- MAC addresses

Given a scenario, configure and maintain server functions and features.

- Server roles requirements

Print

Database

File

Web

Application

Messaging

Baselining
- Documentation
- Performance metrics

- Directory connectivity
- Storage management

Formatting

Connectivity

Provisioning

Partitioning

Page/swap/scratch location and size

Disk quotas

Compression

Deduplication

- Monitoring

Uptime

Thresholds

Performance
- Memory
- Disk
1. Input output operations per second (IOPS)
2. Capacity vs. utilization
- Network
- Central processing unit (CPU)
Event logs
- Configuration
- Shipping
- Alerting
- Reporting
- Retention
- Rotation

- Data migration and transfer

Infiltration

Exfiltration

Disparate OS data transfer
- Robocopy
- File transfer
- Fast copy
- Secure copy protocol (SCP)

- Administrative interfaces

Console

Remote desktop

Secure shell (SSH)

Web interface

Explain the key concepts of high availability for servers.

- Clustering

Active-active

Active-passive

Failover

Failback

Proper patching procedures

Heartbeat

- Fault tolerance

Server-level redundancy vs. component redundancy

- Redundant server network infrastructure

Load balancing
- Software vs. hardware
- Round robin
- Most recently used (MRU)
Network interface card (NIC) teaming and redundancy
- Failover
- Link aggregation

Summarize the purpose and operation of virtualization.

- Host vs. guest
- Virtual networking

Direct access (bridged)

Network address translation (NAT)

vNICs

Virtual switches

- Resource allocation and provisioning

CPU

Memory

Disk

NIC

Overprovisioning

Scalability

- Management interfaces for virtual machines
- Cloud models

Public

Private

Hybrid

Summarize scripting basics for server administration.

- Script types

Bash

Batch

PowerShell

Virtual basic script (VBS)

- Environment variables
- Comment syntax
- Basic script constructs

Loops

Variables

Conditionals

Comparators

- Basic data types

Integers

Strings

Arrays

- Common server administration scripting tasks

Startup

Shut down

Service

Login

Account creation

Bootstrap

Explain the importance of asset management and documentation.

- Asset management

Labeling

Warranty

Leased vs. owned devices

Life-cycle management
- Procurement
- Usage
- End of life
- Disposal/recycling
Inventory
- Make
- Model
- Serial number
- Asset tag

- Documentation management

Updates

Service manuals

Architecture diagrams

Infrastructure diagrams

Workflow diagrams

Recovery processes

Baselines

Change management

Server configurations

Company policies and procedures
- Business impact analysis (BIA)
- Mean time between failure (MTBF)
- Mean time to recover (MTTR)
- Recovery point objective (RPO)
- Recovery time objective (RTO)
- Service level agreement (SLA)
- Uptime requirements

- Document availability
- Secure storage of sensitive documentation

Explain licensing concepts.

- Models

Per-instance

Per-concurrent user

Per-server

Per-socket

Per-core

Site-based

Physical vs. virtual

Node-locked

Signatures

- Open source
- Subscription
- License vs. maintenance and support
- Volume licensing
- License count validation

True up

- Version compatibility

Backward compatible

Forward compatible

Security and Disaster Recovery - 24%

Summarize data security concepts.

- Encryption paradigms

Data at rest

Data in transit

- Retention policies
- Data storage

Physical location storage

Off-site vs. on-site

- UEFI/BIOS passwords
- Bootloader passwords
- Business impact

Data value prioritization

Life-cycle management

Cost of security vs. risk and/or replacement

Summarize physical security concepts.

- Physical access controls

Bollards

Architectural reinforcements
- Signal blocking
- Reflective glass
- Datacenter camouflage

Fencing

Security guards

Security cameras

Locks
- Biometric
- Radio frequency identification (RFID)
- Card readers
- Mantraps
- Safes

- Environmental controls

Fire suppression

Heating, ventilation, and cooling (HVAC)

Sensors

Explain important concepts pertaining to identity and access management for server administration.

- User accounts
- User groups
- Password policies

Length

Lockout

Enforcement

- Permissions and access controls

Role-based

Rule-based

Scope based

Segregation of duties

Delegation

- Auditing

User activity

Logins

Group memberships

Deletions

- Multifactor authentication (MFA)

Something you know

Something you have

Something you are

- Single sign-on (SSO)

Explain data security risks and mitigation strategies.

- Security risks

Hardware failure

Malware

Data corruption

Insider threats

Theft
- Data loss prevention (DLP)
- Unwanted duplication
- Unwanted publication
Unwanted access methods
- Backdoor
- Social engineering
Breaches
- Identification
- Disclosure

- Mitigation strategies

Data monitoring

Log analysis
- Security information and event management (SIEM)
Two-person integrity
- Split encryption keys tokens
- Separation of roles
Regulatory constraints
- Governmental
- Individually privileged information
1. Personally identifiable information (PII)
2. Payment Card Industry DataSecurity Standard (PCI DSS)
Legal considerations
- Data retention
- Subpoenas

Given a scenario, apply server hardening methods.

- OS hardening

Disable unused services

Close unneeded ports

Install only required software

Apply driver updates

Apply OS updates

Firewall configuration

- Application hardening

Install latest patches

Disable unneeded services, roles, or features

- Host security

Antivirus

Anti-malware

Host intrusion detection system (HIDS)/Host intrusion prevention system (HIPS)

- Hardware hardening

Disable unneeded hardware

Disable unneeded physical ports, devices, or functions

Set BIOS password

Set boot order

- Patching

Testing

Deployment

Change management

Summarize proper server decommissioning concepts.

- Proper removal procedures

Company policies

Verify non-utilization

Documentation
- Asset management
- Change management

- Media destruction

Disk wiping

Physical
- Degaussing
- Shredding
- Crushing
- Incineration

Purposes for media destruction

- Media retention requirements
- Cable remediation

Power

Networking

- Electronics recycling

Internal vs. external

Repurposing

Explain the importance of backups and restores.

- Backup methods

Full

Synthetic full

Incremental

Differential

Archive

Open file

Snapshot

- Backup frequency
- Media rotation
- Backup media types

Tape

Cloud

Disk

Print

- File-level vs. system-state backup
- Restore methods

Overwrite

Side by side

Alternate location path

- Backup validation

Media integrity

Equipment

Regular testing intervals

- Media inventory before restoration

Explain the importance of disaster recovery.

- Site types

Hot site

Cold site

Warm site

Cloud

Separate geographic locations

- Replication

Constant

Background

Synchronous vs. asynchronous

Application consistent

File locking

Mirroring

Bidirectional

- Testing

Tabletops

Live failover

Simulated failover

Production vs. non-production

Troubleshooting - 28%

Explain the troubleshooting theory and methodology.

- Identify the problem and determine the scope.

Question users/stakeholders and identify changes to the server/environment.

Collect additional documentation/logs.

If possible, replicate the problem as appropriate.

If possible, perform backups before making changes.

Escalate, if necessary.

- Establish a theory of probable cause (question the obvious).

Determine whether there is a common element or symptom causing multiple problems.

- Test the theory to determine the cause.

Once the theory is confirmed, determine the next steps to resolve the problem.

If the theory is not confirmed, establish a new theory.

- Establish a plan of action to resolve the problem.

Notify impacted users.

- Implement the solution or escalate.

Make one change at a time and test/confirm the change has resolved the problem.

If the problem is not resolved, reverse the change, if appropriate, and implement a new change.

- Verify full system functionality and, if applicable, implement preventive measures.
- Perform a root cause analysis.
- Document findings, actions, and outcomes throughout the process.

Given a scenario, troubleshoot common hardware failures.

- Common problems

Predictive failures

Memory errors and failures
- System crash
1. Blue screen
2. Purple screen
3. Memory dump
- Utilization
- Power-on self-test (POST) errors
- Random lockups
- Kernel panic

Complementary metal-oxide-semiconductor (CMOS) battery failure

System lockups

Random crashes

Fault and device indication
- Visual indicators

Light-emitting diode (LED)

Liquid crystal display (LCD) panel readouts
- Auditory or olfactory cues
- POST codes

Misallocated virtual resources

- Causes of common problems

Technical
- Power supply fault
- Malfunctioning fans
- Improperly seated heat sink
- Improperly seated cards
- Incompatibility of components
- Cooling failures
- Backplane failure
- Firmware incompatibility
- CPU or GPU overheating
Environmental
- Dust
- Humidity
- Temperature

- Tools and techniques

Event logs

Firmware upgrades or downgrades

Hardware diagnostics

Compressed air

Electrostatic discharge (ESD) equipment

Reseating or replacing components and/or cables

Given a scenario, troubleshoot storage problems.

- Common problems

Boot errors

Sector block errors

Cache battery failure

Read/write errors

Failed drives

Page/swap/scratch file or partition

Partition errors

Slow file access

OS not found

Unsuccessful backup

Unable to mount the device

Drive not available

Cannot access logical drive

Data corruption

Slow I/O performance

Restore failure

Cache failure

Multiple drive failure

- Causes of common problems

Disk space utilization
- Insufficient disk space

Misconfigured RAID

Media failure

Drive failure

Controller failure

Hot bus adapter (HBA) failure

Loose connectors

Cable problems

Misconfiguration

Corrupt boot sector

Corrupt filesystem table

Array rebuild

Improper disk partition

Bad sectors

Cache battery failure

Cache turned off

Insufficient space

Improper RAID configuration

Mismatched drives

Backplane failure

- Tools and techniques

Partitioning tools

Disk management

RAID and array management

System logs

Disk mounting commands
- net use
- mount

Monitoring tools

Visual inspections

Auditory inspections

Given a scenario, troubleshoot common OS and software problems.

- Common problems

Unable to log on

Unable to access resources

Unable to access files

System file corruption

End of life/end of support

Slow performance

Cannot write to system logs

Service failures

System or application hanging

Freezing

Patch update failure

- Causes of common problems

Incompatible drivers/modules

Improperly applied patches

Unstable drivers or software

Server not joined to domain

Clock skew

Memory leaks

Buffer overrun

Incompatibility
Insecure dependencies
Version management
Architecture

Update failures

Missing updates

Missing dependencies

Downstream failures due to updates

Inappropriate application-level permissions

Improper CPU affinity and priority

- OS and software tools and techniques

Patching
- Upgrades
- Downgrades

Package management

Recovery
- Boot options
1. Safe mode
2. Single user mode
- Reload OS
- Snapshots
Proper privilege escalations
- runas/Run As
- sudo
- su

Scheduled reboots

Software firewalls
- Adding or removing ports
- Zones
Clocks
- Network time protocol (NTP)
- System time
Services and processes
- Starting
- Stopping
- Status identification
- Dependencies
Configuration management
- System center configuration manager (SCCM)
- Puppet/Chef/Ansible
- Group Policy Object (GPO)

Hardware compatibility list (HCL)

Given a scenario, troubleshoot network connectivity issues.

- Common problems

Lack of Internet connectivity

Resource unavailable

Receiving incorrect DHCP information

Non-functional or unreachable

Destination host unreachable

Unknown host

Unable to reach remote subnets

Failure of service provider

Cannot reach server by hostname/fully qualified domain name (FQDN)

- Causes of common problems

Improper IP configuration

IPv4 vs. IPv6 misconfigurations

Improper VLAN configuration

Network port security

Component failure

Incorrect OS route tables

Bad cables

Firewall (misconfiguration, hardware failure, software failure)

Misconfigured NIC

DNS and/or DHCP failure

DHCP server misconfigured

Misconfigured hosts file

- Tools and techniques

Check link lights

Confirm power supply

Verify cable integrity

Check appropriate cable selection

Commands
- ipconfig
- ip addr
- ping
- tracert
- traceroute
- nslookup
- netstat
- dig
- telnet
- nc
- nbtstat
- route

Given a scenario, troubleshoot security problems.

- Common concerns

File integrity

Improper privilege escalation
- Excessive access

Applications will not load

Cannot access network fileshares

Unable to open files

- Causes of common problems

Open ports

Services
- Active
- Inactive
- Orphan/zombie

Intrusion detection configurations

Anti-malware configurations

Improperly configured local/group policies

- Improperly configured firewall rules

Misconfigured permissions

Virus infection

Malware

Rogue processes/services

Data loss prevention (DLP)

- Security tools

Port scanners

Sniffers

Telnet clients

Anti-malware

Antivirus

File integrity
- Checksums
- Monitoring
- Detection
- Enforcement
User access controls
- SELinux
- User account control (UAC)
To ensure success in CompTIA Server Plus certification exam, we recommend authorized training course, practice test and hands-on experience to prepare for CompTIA Server+ (SK0-005) exam.