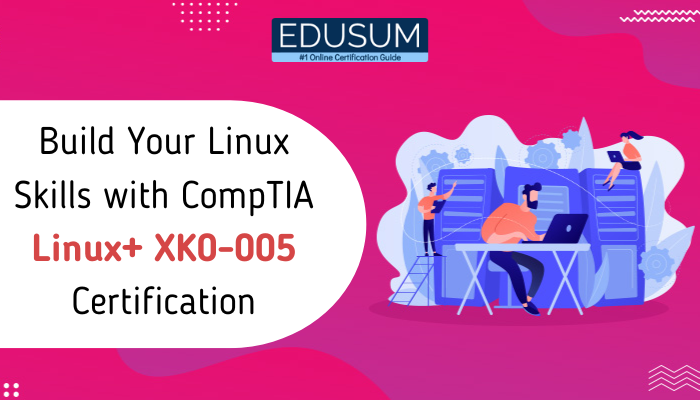 In almost all the devices of our everyday lives, Linux is one of the most-utilized operating systems worldwide. With such comprehensive use, there are many opportunities available to those aspiring to put the time and effort into learning how Linux works. Getting certified is ideal for demonstrating your worth as a Linux systems administrator. There is an apparent demand for Linux skills, and certification exams can help set you apart from other job candidates. One such hugely famous Linux certification is the CompTIA Linux+ XK0-005 certification.
Overview of CompTIA Linux+ XK0-005 Certification
The CompTIA Linux+ XK0-005 certification provides the basic skills and knowledge you require to work with Linux systems. It is often regarded as the foundation certification for Linux users. Linux+ certification includes the command line, installation, configuration, and basic networking applications. And also provides critical knowledge for Linux systems maintenance.
CompTIA Linux+ XK0-005 certification is appropriate for someone who has restricted knowledge of Linux systems or is a newbie to the field of expertise. Achieving this certification is a perfect starting point for those who plan to earn other Linux certificates.
CompTIA Linux+ XK0-005 Exam Details
For the CompTIA Linux+ XK0-005 exam, you must appear for an examination that lasts 90 Minutes. The exam comprises 125 Multiple-choice and performance-based questions, and the passing score is 720 (on a scale of 100 to 900). The validity of the exam is for three years and would cost USD 348.
Recommended Experience
Twelve months of hands-on experience working with Linux servers as a junior Linux support engineer or junior cloud/DevOps support engineer job profile. CompTIA A+, Network+, and Server+ or similar certifications and knowledge are also recommended.
Objectives Covered in CompTIA Linux+ XK0-005 Exam
System Management (32%)

Security (21%)

Scripting, Containers, and Automation (19%)

Troubleshooting (28%)
Step-by-Step Guide for CompTIA Linux+ XK0-005 Exam Preparation
Here is a step-by-step process to prepare you for the CompTIA Linux+ XK0-005 certification exam.
Let's start!
Step 1: Make a Study Plan
Planning is the first step of studies. Consider the study resources and the time left before the exam while creating a study plan. Keep in mind to begin by concentrating on weak areas, focusing on challenging exam topics that carry more weight-maintaining uniformity, and avoiding distractions by sticking to a study plan. Get going and stay motivated since getting things going on track is essential.
Step 2: Master CompTIA Linux+ Study Guide
This is the official study guide provided by the CompTIA official website. This is the perfect starting point for your preparation, and this can be used when you are ready to learn all the CompTIA Linux+ syllabus topics. This study guide will find everything needed for the CompTIA XK0-005 exam preparation.
Step 3: Enroll in an Instructor-Led Training
It is a paid course that professional faculties will conduct. They will teach you about all the CompTIA Linux+ XK0-005 concepts and syllabus topics and solve doubts about the exam aspects. You need to focus on and get the knowledge they convey.
In this course, they will not just guide you about the examination but also revise the prerequisite concepts for you. Catching those concepts will help illuminate them, as they are essential for mastering other topics.
Step 4: Join Online Communities
A lively discussion is always helpful, no matter where it takes place. When many people face one problem, the odds of finding a solution increase significantly. The study becomes more thorough as an outcome of these discussions. Forums are excellent for creating the kind of community that is needed to understand others, and communicating with others with the same goals will help you accomplish them.
Step 5: CompTIA Linux+ XK0-005 Practice Test
Putting what you have learned into practice to measure your progress is essential. Practicing may enhance your exam-taking skills and save a lot of time. After studying all the exam topics, you should take the CompTIA Linux+ practice test.
Step 6: Register for the XK0-005 Examination
This is the last step of your CompTIA XK0-005 exam preparation! To pass this examination, you must be comprehensively prepared to acquire confidence in your skills and expertise. Once you have gained that confidence, you can register for the exam.
Why Get CompTIA Linux+ XK0-005 Certified?
Earning CompTIA Linux+ XK0-005 certification has the potential to enhance your career prospects and salary.

CompTIA Linux+ Certification exam qualifies you to compete in real-world tasks.

Getting certified is evidence that you have the skills that open-source enterprises want.

Linux+ certification validates the IT professionals skilled to take on the most challenging projects w.r.t. developing technology challenges.
Conclusion
Now, you know briefly how to approach the CompTIA Linux+ exam. So, if you desire to pass the XK0-005 certification exam, enrolling in the official training course and practice tests offered by edusum.com will give your preparation a new edge. Don't think much; start your preparation right now!