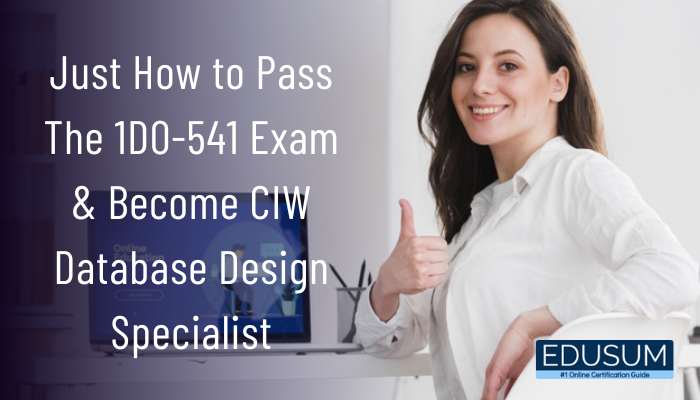 The CIW Database Design Specialist certification is an entry-level vendor-neutral certification for individuals seeking product-focused database specialization. The CIW Database Design Specialist 1D0-541 certification confirms the skills and knowledge of Application Programmers in utilizing database applications. CIW certified professionals are expected to have superb customer service and communication skills to work with clients.
CIW Database Design Specialist 1D0-541 Exam Details
Certification Name: CIW Database Design Specialist

Exam Code: 1D0-541

Number of Questions: 50

Passing Score: 75%

Time Limit: 90 minutes
This CIW certification is designed for individuals who plan to conduct product-focused database specialization utilizing products that include DB2, Oracle Database 11g, SQL, and MySQL.
These certification is best suited for:
IT managers/directors

Application developers

Web development professionals

Software programmers

Enterprise developers

Database developers

Database administrators
Preparation Tips for CIW Database Design Specialist 1D0-541 Exam
There are some tips to help you prepare and crack your CIW 1D0-541 exam, such as:
Register for Your CIW 1D0-541 Exam in Advance
Registering and scheduling the exam and keeping two to three months for exam prep helps you to organize your study appropriately. Focus on your studies, but also make sure you balance your studies and your other essential responsibilities.
Know All About CIW Database Design Specialist Exam
Know all the essential details of the CIW 1D0-541 exam. Explore the official website and research all that the exam is all about. Know the objectives and the goal of the exam. Don't make the mistake of starting the study before you comprehend them well.
Chart Out Study Plan
Charting out a proper study plan will help carry out structured preparation. There's a chance that you may get preoccupied with other stuff that is not of importance to you. Take into account all your responsibilities, so you won't have to overlook other essential aspects of your life. Make sure you follow it diligently.
Explore CIW Official Website
For the exam syllabus and structure and other study resources, make sure you obtain updated information for the exam from the CIW certification official website.
Buy CIW Instructor-Led course Kits
CIW Instructor-Led course kits are accessible in three formats, Instructor Guide, Academic Student Guide, and Student Guide. These training options will also make you familiar with what to expect in the exam and have a profound understanding of the exam.
Watch YouTube Videos
Learning by watching youtube videos is a powerful way to have a solid grasp of exam concepts. You can also come across some exam tips and tricks in YouTube videos.
Use CIW 1D0-541 Practice Test
There are many websites that provide CIW certification practice tests. Practice tests are the best means to gauge your preparation level, revealing the areas you still need to work on.
Advantages of CIW Database Design Specialist 1D0-541 Practice Test
Keeps track of your exam performance

Improves accuracy & speed

Evolves a practical exam-taking approach

Fast and successfully deal with CIW 1D0-541 exam questions

Indicates self-control many times before the actual exam to reduce anxiety.

Analyze your weak and strong areas to help you score well.
Why Go for CIW Database Design Specialist Certification?
It is a developing field in the present job market, presenting ample opportunities for those with the appropriate knowledge, skills, and certifications. The CIW Database Design Specialist salary is around $77,000 per annum.
CIW certification is the definitive businesses, academic institutions, and governments look to when aspiring database design specialists and other web technology employees. CIW's industry acknowledgment comprises such corporations as Raytheon, Cisco, General Northrop Grumman, Dynamics, BAE Systems, HP, and Citibank, along with the US National Security Administration.
Contemporary organizations overwhelmingly desire professionals with CIW certification when they employ IT positions of all kinds.
Conclusion
Passing the CIW Database Design Specialist 1D0-541 exam will be a cakewalk if you organize your study time and follow some of the tips mentioned. Solving practice tests helps you identify the knowledge gaps in your exam preparation, so you know what to put first and can take a timely step.
So, to accomplish your objectives, you need to study smartly and give the best you can in the CIW 1D0-541 exam.