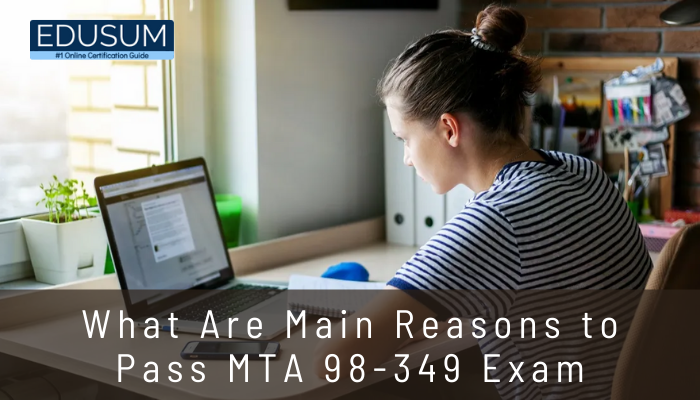 Microsoft has retained its prominence as a leading provider among the lots when it comes to software development and IT certifications. The organization has produced various product portfolios and services that have become an essential feature of every business. Achieving a Microsoft certification validates one's skills and knowledge needed to acquire up job profiles within the space of Microsoft product and service solutions. This prestigious vendor presents many role-based certifications, and Microsoft Technology Associate (MTA) - Windows Operating System Fundamentals with exam coded 98-349 is one of them.
In this article, the emphasis will be on the Microsoft 98-349 exam. So, why should you journey on this path in the first place? Before we go ahead to dive into the reasons why you should earn Microsoft 98-349 to earn your Microsoft Technology Associate (MTA) - Windows Operating System Fundamentals certification, let's look at what this exam involves.
Overview of MTA 98-349 Exam
This Microsoft exam is meant for professionals who aspire to earn a certificate. They are the administrators with the expertise to secure, manage, monitor, deploy, and configure client applications and devices in an enterprise environment. They also can oversee policies, updates, apps, identity, and access. Moreover, the professionals may partner with the Microsoft 365 Enterprise administrators to develop and execute a device strategy that implements modern IT firms' business requirements. The individuals must be familiar with Microsoft 365 workloads and have competence in configuring, sustaining, and developing non-Windows and Windows 10 technologies & devices.
There are definite skills that are evaluated in MTA 98-349 exam. It is vital to understand the details of the topics that are included in the exam before attempting to improve one's possibility of success. The certification exam will evaluate the applicant's skill in the following areas:
Understanding operating system configurations (15–20%)

Installing and upgrading client systems (15–20%)

Managing applications (15–20%)

Managing files and folders (15–20%)

Managing devices (15–20%)

Understanding operating system maintenance (15–20%)
The 98-349 exam consists of 40 to 60 questions of various formats, comprising multiple-choice, single choice, drag, and drop, build the list, review screen, and so on. To take up this exam, you have to register with Microsoft and Pearson VUE accounts. You will also be needed to pay the fee of $165. Passing this certification exam demands that you develop proficiency in the areas mentioned above. You can do this by picking the right study materials.
Reasons to Crack the MTA 98-349 exam and Obtain the Associated Microsoft Technology Associate (MTA) - Windows Operating System Fundamentals Certification.
Achieving a Microsoft certification is the way to go when it comes to strengthening your career potential in the IT field. The Microsoft Technology Associate (MTA) - Windows Operating System Fundamentals certification is intended to give you an advantage in the industry, especially if you are new to this field and want to get an enriching job profile. In this section, we share some reasons why you should consider earning this MTA 98-349 certification. Let's take a look at them.
1. MTA 98-349 Certification Brings Validation and Credibility
It may be a little challenging for many new IT professionals to obtain the job they dream of, given that they have no experience and there is nothing that could prove their expertise to keep the coveted position. Though, with Microsoft certification, you obtain credibility and proof of your skills and understanding. Achieving the associate-level certification is undoubtedly an excellent way to launch a worthwhile career in the IT field.
2. An Added Advantage in the Marketplace
The job market is flooded with professionals who wish to change their jobs or take up new job profiles. With an MTA 98-349 certification, you will make your resume stand out and boost your marketability. The hiring managers are looking for those professionals who have certain skills and expertise. The best way you can confirm that you have this competency is to get any IT certification. After earning one, for instance, Microsoft Technology Associate (MTA) - Windows Operating System Fundamentals will boost your opportunity in the job market.
3. Improves Your Chances for Promotion
You don't have to wait until you are about to switch jobs before you achieve certification. It is a well-known fact that it can stimulate your progress even in your contemporary place of employment. According to the survey, employees with a Microsoft certification are more likely to be promoted than their non-certified employees. So, even if you don't want to switch your job, you should still go-ahead to earn a certification. With it, you can improve your chance of being promoted in your present job profile.
How to Ace the MTA 98-349 Certification Exam?
To ace Microsoft 98-349, it is important to be skilled in the concepts and features of Windows Operating System Fundamentals. The proven way to do this is to take advantage of the best resources available to polish your skills and expertise.
You can find a broad range of study resources to help you succeed in the MTA 98-349 exam. You can avail of video tutorials, study guides, practice tests, MTA 98-349 questions and answers pdf, and many other resources for Microsoft 98-349 and other exams. The Microsoft Learning platform is the best platform for your preparation. You should begin your preparation journey from this website before you move to other third-party platforms. The study resources from Microsoft will lead you in the right direction and will strengthen the skillset you obtain.
Conclusion
Finally, it is essential to commit sufficient time to attempt MTA 98-349 practice tests. You need to understand the types of questions, and the best way to get a clear idea is precisely through this type of prep tool. Take time to go through all the resources and get ready to pass your certification exam on the first try.