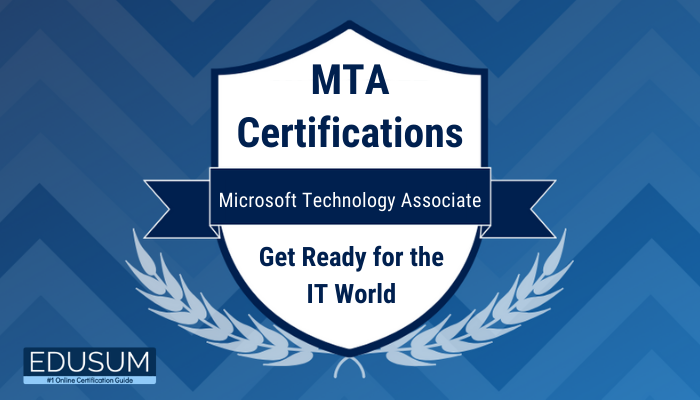 It doesn't matter whether you are just beginning in the IT industry or you are halfway through your career, Microsoft certifications are always a benefit worth having. They help you to distinguish from other applicants when applying for a position, create new opportunities, help you to demand a higher salary, increase the possibilities of promotion and give you an improved variety of options when it comes to shifting the path of your career. Based on the whole of the Microsoft certifications available, the Microsoft Technology Associate (MTA) is one of the most relevant. If you are starting your career in the IT industry for the first time as a fresher, the Microsoft MTA is necessary.
What is a Microsoft MTA Certification?
As reported by Microsoft, the MTA certification is the basic certification for anyone who is either looking to start a career in the IT field or shifting their career in the IT industry. It's a well-known beginning point to enter into the technological field. As the MTA certification provides a lot of different paths and options, it is an excellent way to determine which career direction you would like to take. A wide array of topics, concepts, and knowledge is incorporated. It's not merely a case of privileging on one key aspect of technology; it's about developing a diverse core technical knowledge. The MTA certification has been intended for beginners looking to learn the basics of the industry. Irrespective of whether you are just beginning your IT career or you want to change from one area of expertise to another, the MTA certification will equip you with the basic skills and knowledge to do so. With the MTA, you will acquire the core principles of the industry, and these can be carried out or developed as your career progresses.
Why is an MTA Certification Beneficial for IT Beginners?
If you have spent your time looking at the various jobs available for Microsoft Certified Professionals, you will know that there is definitely no breach. Microsoft Certified Professionals are in high demand, and that is improbable to modify in near future. However, it does mean that standing out as a beginner is crucial if you want hiring managers to take careful notes. If you are a novice in the IT field, it's important to remember that several Microsoft Certified Professionals began their careers by earning an MTA certification.
The MTA is an entry-level certification that helps beginners, to differentiate themselves in the eyes of hiring managers. By passing the Microsoft MTA, you have shown the skill to understand the basic concepts within the world of IT. Rather than merely stating your understanding of your CV, having an MTA certification points out your distinct skills. There is no reason for a recruiter to question whether or not you completely understand everything you claim to. Even if you already have experience of working in the IT industry, gaining an MTA certification can be greatly beneficial when it comes to changing career paths insignificantly or trying a new area of expertise. With an MTA, your basic knowledge and understanding are apparent.
Developing Your Basics with MTA Certification
As with any beginner-level certification, an MTA is the first stage towards many more specialty certifications that you will pursue as you develop your career. Moreover, to confirm your knowledge and skills, having your MTA certification also reveals enthusiasm and drive.
MTA certification can also serve as a significant springboard if you want to change gears a little bit in your IT career path. There are some specialization options that you can choose on the basis of your distinct advantages.
For example, if you are more prone to studying databases, you can choose a track more emphasized on that, or if you are interested in software development, you can pursue a software track. Whichever path you select, MTA certification can help decide the direction of your budding IT career with a strong foundation.
What Does Gaining an MTA Certification Include?
There are a few different MTA certifications to select from, but many beginners decide to emphasize those that help with the profession. With a certification proving a specialization, it is a lot simpler to highlight IT interests and knowledge in a particular area to recruiters. Though there is no lack of certifications to choose from, three of the most prominent are the MTA IT Infrastructure Windows Server, MTA Database SQL Server, and MTA Intro to Programming.
MTA IT Infrastructure Windows Server
This certification provides you with the skills and knowledge essential for Windows server installation and management. It addresses things such as infrastructure, network hardware, installation, protocol, and performance.
MTA Database SQL Server
This certification includes the basics of working with an SQL server. It comprises a variety of topics such as creating databases, altering databases, understanding databases, and database storage.
MTA Intro to Programming
This certification is usually chosen by those who are interested in software. It probes software development, object-oriented web applications, programming, and desktop applications.
All MTA (Microsoft Technology Associate) Certifications
As you can perceive, there is no denying that a Microsoft MTA Certification is an essential part of being a beginner in the competitive world of IT. Instead of starting in the industry or shifting your career path with no proof of your expertise, you can apply for jobs and feature your knowledge with a recognized certification. As an IT beginner, it is important to show hiring managers how you differ from other qualified applicants. In such a competitive field, it isn't just enough to have dedication and interest in what you are doing, experience, and basic understanding is vital. If a similar applicant is showcasing a similar experience, a Microsoft MTA Certification could be what sets you apart.