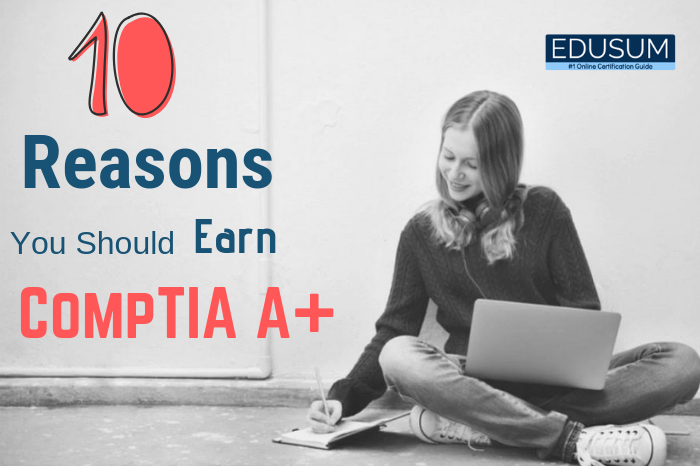 You can begin building a career that promises better pay and benefits than you may have now with CompTIA A+. It's a fantastic way to get into an IT career and grow. Here's why.
CompTIA A+ Certifications
220-1001 Exam details
220-1002 Exam details
1) CompTIA A+ is the Key to Your IT Career
Being CompTIA A+ certified means that you understand the cutting-edge fundamentals of computer software and hardware. You will learn how to troubleshoot a broad range of devices, from computers to smartphones. CompTIA A+ is an excellent starting point for any career in IT; it can help you get your first job in IT, and set you on a path to IT success.
2) CompTIA A+ Allows You to Go Anywhere
There's no limitation to what you can do with CompTIA A+ Certification. Since the certification doesn't focus on vendor-specific software and hardware, it allows you to focus on making your foundation of tech knowledge and to become close with the technical vocabulary you require on your career path, no matter which path you take. The paths toward in-demand areas such as cybersecurity and computer networking in any vendor environment are spacious open with CompTIA A+. Plus, A+ holds ISO/ANSI accreditation status, which means that your A+ certification is trusted by employers globally.
3) CompTIA A+ Enables You to Work From Anywhere
Many jobs in IT today don't need employees to work at an office or another specific location anymore. With CompTIA A+, you can get access to careers that allow you to work from any location, no matter if that is an employer's office or your home.
4) CompTIA A+ Can Open the Door to Better Pay
Jobs in IT are among the best paying in our time, and there are many available, with new ones being created every day. While getting a job depends on many factors, CompTIA A+ Certification is a respected and powerful that companies trust and can get you hired for your first job in IT. Staying on your path, additional certifications, collecting experience, and education will provide you the opportunity to thrive in your career and gain your income goals.
5) CompTIA A+ Leads the Way to a Better Work-Life Balance
Getting into IT with CompTIA A+ puts you in charge of your work–life balance. Moving from a stressful, physically demanding or unsatisfying career into IT could provide your life new meaning. Many careers in IT come with easy stress levels, a sense of accomplishment, ways to increase your physical and mental health and opportunities for promotion. Not to mention you will still have sufficient time for meaningful relationships with friends and family.
6) CompTIA A+ Is Created by IT Industry Experts
The CompTIA A+ certification is made and continuously updated by a group of IT industry experts in different industries and professions. When you get your CompTIA A+ certified, you know that your knowledge matches the expectations actual companies are setting for their IT staff today. It means that those who breathe and live IT at the pulse of change every day are confident that you have the expertise to get the job done.
7) CompTIA A+ Is Held By More Than 1 Million People
When you obtain your CompTIA A+ certification, you join more than 1 million other IT experts who have made their IT career on this certification.
8) CompTIA A+ Is a Big Achievement
Clearing your CompTIA A+ exams requires, in most cases, training and learning effort. Depending on what you already know, depending on how close you are with computer hardware and computer software, and depending on how quickly you can obtain new knowledge, it may take days or weeks to get ready for the two exams that lead to a CompTIA A+ certification. When you receive your A+ certification, you will not only have a powerful professional credential, but also an award of completion and achievement that you can showcase with pride.
9) CompTIA A+ Shows That You Are Serious About Your Career
Once you are CompTIA A+ certified, CompTIA makes it simple for you to renew your certification and update your knowledge with recertification. Staying on this path is proof of your commitment to your career and your persistence to keep up with the newest improvements in the IT industry.
10) CompTIA A+ Makes You Part of a Community
CompTIA A+ certification holders have formed a strong community you can learn from, communicate with, ask for advice from and give back to. Find your peers in social networks such as LinkedIn, Facebook, and Reddit – or person with CompTIA's IT professional association, AITP, which you can join on a local and national level to grow your career.
Are you looking for Preparation? Edusum.com Provides Best CompTIA A+ Practice test with More than 1800 Questions. We provide you the access to brace online tests which are designed by our experts. These online Practice tests match the level of difficulty as well as the types of questions asked in the final CompTIA Exam.