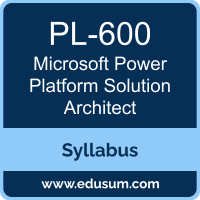 Use this quick start guide to collect all the information about Microsoft Power Platform Solution Architect (PL-600) Certification exam. This study guide provides a list of objectives and resources that will help you prepare for items on the PL-600 Microsoft Power Platform Solution Architect exam. The Sample Questions will help you identify the type and difficulty level of the questions and the Practice Exams will make you familiar with the format and environment of an exam. You should refer this guide carefully before attempting your actual Microsoft Power Platform Solution Architect certification exam.
The Microsoft Power Platform Solution Architect certification is mainly targeted to those candidates who want to build their career in Microsoft Power Platform domain. The Microsoft Certified - Power Platform Solution Architect Expert exam verifies that the candidate possesses the fundamental knowledge and proven skills in the area of Microsoft Power Platform Solution Architect.
Microsoft Power Platform Solution Architect Exam Summary:
Microsoft PL-600 Exam Syllabus Topics:
Topic

Details

Perform solution envisioning and requirement analysis (35-40%)

Initiate solution planning

- Evaluate business requirements
- Identify Microsoft Power Platform solution components
- Identify other components including existing apps, AppSource apps, third-party components, and components from independent software vendors (ISV)
- Identify and estimate migration and integration efforts

Identify organization information and metrics

- Identify desired high-level organizational business processes
- Identify business process improvement opportunities
- Assess an organization's risk factors
- Review key success criteria

Identify existing solutions and systems

- Evaluate an organization's enterprise architecture
- Identify data sources needed for a solution
- Define use cases and quality standards for existing data
- Identify and document an organization's existing business processes

Capture requirements

- Refine high-level requirements
- Identify functional requirements
- Identify non-functional requirements
- Confirm that requirements meet an organization's goals
- Identify and document an organization's desired business processes

Perform fit/gap analyses

- Determine the feasibility of meeting specific requirements
- Evaluate Dynamics 365 apps and AppSource options to solve requirements
- Address functional gaps through alternate solutions
- Determine the scope for a solution

Architect a solution (40-45%)

Lead the design process

- Design the solution topology
- Design customizations for existing apps
- Design and validate user experience prototypes
- Identify opportunities for component reuse
- Communicate system design visually
- Design application lifecycle management (ALM) processes
- Design a data migration strategy
- Design apps by grouping required features based on role or task
- Design a data visualization strategy
- Design an automation strategy that uses Power Automate
- Design environment strategy

Design the data model

- Design tables and columns
- Design reference and configuration data
- Design relationships and relationship behaviors
- Determine when to connect to external data versus import data
- Design data models to address complex sets of requirements

Design integrations

- Design collaboration integrations
- Design integrations between Microsoft Power Platform solutions and Dynamics 365 apps
- Design integrations with an organization's existing systems
- Design third-party integrations
- Design an authentication strategy
- Design a business continuity strategy
- Identify opportunities to integrate and extend Power Platform solutions by using Microsoft Azure
- Design Robotic Process Automation (RPA)
- Design networking

Design the security model

- Design the business unit and team structure
- Design security roles
- Design column and row level security
- Design security models to address complex sets of requirements
- Determine security model management policies and processes
- Identify Azure Active Directory groups and app registrations required to support a solution
- Identify data loss prevention (DLP) policies for a solution
- Determine how external users will access a solution

Implement the solution (15-20%)

Validate the solution design

- Evaluate detail designs and implementation
- Validate security
- Ensure that the solution conforms to API limits
- Assess the solution performance and impact on resources
- Resolve automation conflicts
- Resolve integration conflicts

Support go-live

- Identify and resolve potential and actual performance issues
- Troubleshoot data migration
- Resolve any identified issues with deployment plans
- Identify factors that impact go-live readiness and remediate issues
To ensure success in Microsoft Power Platform Solution Architect certification exam, we recommend authorized training course, practice test and hands-on experience to prepare for Microsoft Power Platform Solution Architect (PL-600) exam.