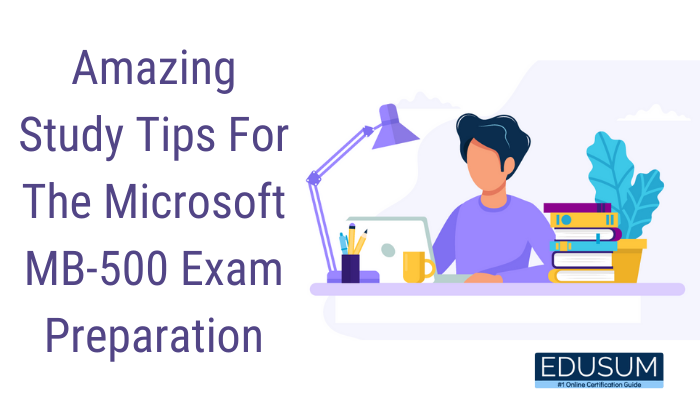 Microsoft Certified - Dynamics 365 - Finance and Operations Apps Developer Associate certification is an excellent way to prove the skills of IT professionals for generating practical solutions for businesses using standard application coding patterns, extensible features, and external integrations. To obtain this certification, individuals need to pass Microsoft MB-500 exam.
The MB-500 Microsoft Dynamics 365 Finance and Operations Apps Developer exam is meant for Developers who deal with Finance and Operations apps in Microsoft Dynamics 365 to execute and expand applications to fulfill the requirements of the business.
This exam is a launching pad to become a Microsoft Certified Associate. In this article, we will discuss all the required resources to pass the exam at the first attempt.
MB-500 Exam Information
The exam measures the following skills:
Plan architecture and solution design (10-15%)

Apply developer tools (10-15%)

Design and develop AOT elements (20-25%)

Develop and test code (10-15%)

Implement reporting (10-15%)

Integrate and manage data solutions (10-15%)

Implement security and optimize performance (10-15%)
The Microsoft MB-500 exam comprises approximately 40-60 questions that need to be complete in 120 minutes. The exam questions are multiple-choice. The passing score is 70%, and the Microsoft MB-500 exam cost is $165.
How To Prepare For the Microsoft MB-500 Exam?
You can become Microsoft Certified - Dynamics 365 - Finance and Operations Apps Developer Associate by passing the MB-500 exam. When it comes to exam preparation, you can learn from different options as follows:
1. Microsoft Official Resources
Microsoft offers two types of resources. They can take up free. Self-paced courses or paid instructor-led training. This second alternative gives an ultimate advantage to applicants as they can ask trainers immediately any question they have. Though, it requires trainees to adjust their schedules according to each session's program. For some applicants, this can be a problem as they might be busy with their jobs or other responsibilities.
2. YouTube Videos
Nowadays, this training option is very popular among Microsoft exam takers. You can get plenty of videos related to the MB-500 exam free of cost. These videos are uploaded by instructors or successful applicants who want to bestow their knowledge on how to pass the MB-500 exam. This study resource is great for mobile listeners and prefers using audio stuff rather than reading.
3. Online Forums
You can engage in Microsoft official forums to solve your questions on the MB-500 exam. These resources give you the opportunity to interact with other potential applicants and also learn from those who have already passed the exam. Forums are great communication tools where you can ask your questions and get answers freely.
4. MB-500 Practice Test
Practice tests are some of the best study materials as they give you a great penetration into the actual exam. This is because practice test includes the same exam structure, type of questions and exam environment. You can take the MB-500 practice test on Edusum.com at a very affordable price. Moreover, this is a trusted website that contains updated exam questions to boost your preparation.
Important MB-500 Exam Preparation Tips
Preparing for the MB-500 exam with the above-mentioned resources demands you to be totally focused. You'll also have to assign ample time that will assure you thoroughly master all the exam syllabus topics and concerning topics.

You should also create a study plan that involves how to cover each one of the required exam topics successfully and how much time you need to assign to each topic. How to carry out revision and practice tests.

Moreover, become familiar with every minute detail of the exam and important steps that will lead to successful scores in the exam and earning your certification.

As the last point, be calm and go through each of the tools to enable you to master all the required resources. This is especially helpful if there are topics in the exam you find difficult to understand from the first time, so, by studying the difficult concepts again and again, you will ultimately find them easy and grasp the concept.
Conclusion
All the above-listed resources will surely help you strengthen your skills. To improve the odds of success in the exam, you should learn from all the available trusted and updated resources: the study guides and instructor-led training course from Microsoft's official website, practice test from Edusum.com, etc. And once you pass the MB-500 exam, many excellent career opportunities will be available for you.