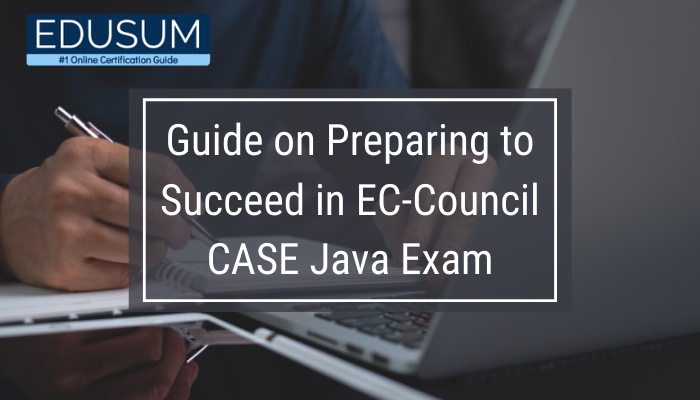 Application Security is becoming one of the most sought-after skills within the industry at a rapid pace. Without it, organizations risk losing millions because of security compromises that may emerge through every step of application development. Luckily, you can enhance your knowledge and add quick credibility to your CV with the EC-Council CASE Java certification for Java validates candidates' skills in generating highly secure, robust Java applications.
Unlike other application security certifications, EC-Council CASE certification outstripping just the guidelines on secure coding practices and involves safe requirement gathering, strong application design, and managing security issues in the post-development phases of application development.
EC-Council CASE Java Exam Details
Number of Questions: 50

Test Duration: 2 Hours

Test Format: Multiple Choice

Passing Score: 70%

Exam: EC-Council Porftal
Who Is Target Audience for EC-Council CASE Java Certification?
Java Developers with at least two years of experience and individuals who want to become application security engineers/analysts/testers

Individuals engaged with testing, developing, managing, or protecting a wide area of applications.
The Core Objective of CASE Certification Is
To assure that application security is no longer a second thought but a leading one.

To put the foundation needed by all application developers and development organizations to build secure applications with more excellent stability and fewer security risks to the consumer, making security a prime thought.

To make sure that the organizations reduce the risk of losing millions because of security damage that may come up with every step of the application development procedure.

To help individuals evolve the practice of assigning importance to security sacrosanct of their job role in the SDLC, unlocking security is the primary domain for testers, developers, network administrators, etc.
Benefits of EC-Council CASE Java Certification
Instant Credibility: The CASE certification validates that you are certainly a master in application security. It also confirms the skills that you hold for organizations throughout the world.

Relevant Knowledge: Through the CASE certification and training program, you will expand your application security knowledge.

Multifaceted Skills: CASE can be applied to various platforms, such as web applications, mobile applications, IoT devices, and much more.

An Integrated Outlook: Varying from pre-deployment to post-deployment security methods, including every aspect of secure – software development life cycle, CASE equips you with the necessary skills to build a specific application.

Superior Protect and Defend: By forming an application more secure, you are also helping secure both organizations and individuals around the world. As an EC-Council Application Security Engineer, it is in your hands to secure and defend and eventually help build a safer world.
How to Get Ready to Ace EC-Council CASE Java Certification Exam?
Before we come to the real discussion, it's vital to perceive that exams are professional exams directed in a particular area of a profession or a domain. So, of course, while studying for an exam, you need to prepare sincerely.
Here Are A Few Tips That Will Truly Help You Pass EC-Council CASE Java Certification Exam:
1. Create A Solid Study Plan
One of the crucial components of your preparation for the EC-Council CASE Java exam is to have a solid study plan in place, and most prominently, follow it. EC-Council CASE Java exam preparation demands a huge amount of commitment and persistence, breaking apart best of all.
Though, you mustn't be too strict with yourself as well. Make sure you craft out such a plan to give time for not just studying for the exam but also to give proper rest to your mind and body.
2. Be Sure You Get Hold Of Some Exclusive Study Resources
Once a practical and achievable study plan has been designed, it is high time to purchase the study material for the exam. EC-Council CASE Java certification official website must be the first platform to visit. They offer training courses and study guides for exam preparation and will surely assist you to ace the exam easily.
3. Take EC-Council CASE Java Practice Test
After studying for the exam, it is important to take up as many practice tests as possible. Not only will such exams give you a feel of the real exam, but they will also help you point out any potential weak spots which you might require to work upon. Ensure that you use the practice exams provided on trusted websites only; else, you never know if those sites are a fraud!
4. Give Your Brain a Break Before Exam Day
Once you are done with studying and performed enough practice tests, the exam day is nearer. It is important to give your brain a break before the exam day as it is a tough exam to attempt. The questions which you could expect will be rather difficult and will require you to be at your best to crack this exam truly.
At the End
We think that EC-Council CASE Java is an excellent choice for applicants that want to become valuable Certified Application Security Engineer. Though, you must take into consideration that only hard work will help you to get through this EC-Council certification exam. Avail of the resources from trustworthy websites, and you'd pass the exam in the first shot. Good luck!