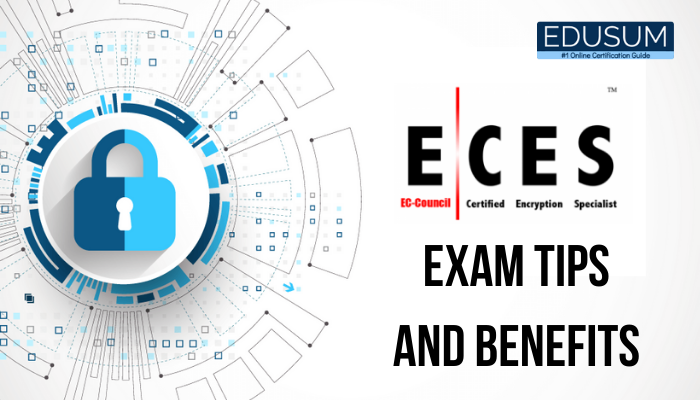 There is a massive demand for Cyber Security professionals; the EC-Council Certified Encryption Specialist (ECES) certification introduces you to the field of cryptography. EC-Council Certified Encryption Specialist, ECES certification, and training help information security professionals to obtain a far-reaching knowledge of cryptography. The exam syllabus provides an understanding of the core concepts of futuristic key and symmetric cryptography and a comprehensive understanding of algorithms including DES, AES, and Feistel networks.
Why is Earning ECES Certification Important?
Understanding cryptography lets you make informed choices

A person passing this exam will be able to choose the encryption standard that is most helpful to their organization and perceive how to deploy that technology efficiently

Without explaining cryptography in some depth, people are restricted to the only marketing promotion of information security solutions

Understanding cryptanalysis is very helpful for ethical hackers and penetration testing professionals as most penetration testing certifications skip cryptanalysis entirely.
Target Audience
Penetration Testers and Computer Forensics experts

Cloud Security architects, designers, and developers

People involved in selecting and implementing VPNs or digital certificates, Information Security Operations

Individuals involved in developing Operating Systems, Cryptography Systems, Blockchain-based solutions, etc.
ECES Exam Information
The ECES certification demands the applicant to have one year of work experience in the Information Security field. It should be able to provide proof of the same is verified through the application process unless the applicant attends official training.
Exam Title: Certified Encryption Specialist

Exam Code: 212-81

Number of Questions: 50

Test Duration: 2 Hours

Test Format: Multiple Choice

Passing score: 70%
Steps to Follow for EC-Council ECES Exam Preparation
To smooth your preparation to pass this EC-Council exam, here are few steps that you can follow in your EC-Council Certified Encryption Specialist exam preparation. These steps are surely helpful to you, so take a look around them.
1. Set a Deadline for the ECES Exam
This is of most eminence, as there are no definite exam dates, and you might end up postponing your exams for a far long time without even completing them. Fixing a deadline will help you chat out your studies correctly. Once you have registered for your exam, you can begin preparing for each subject. Some people like to begin with the most challenging subject. Still, it is advisable to start with the one topic that you are well versed with; that way, when you pass your ECES exam, it will improve your confidence level and make you more resolute to study hard for the exam.
2. Know the ECES Exam Syllabus
Though all the exam syllabus topics are not given equal weight, you need to learn all the topics. Having a definite understanding of your syllabus and the weightage of different topics will surely help you to determine how much time you should devote to each section. Understanding the exam syllabus will help your study plan.
3. Training Courses
As a part of the exam preparation tool, training courses for the ECES exam improve your engagement and help you increase the chances of achieving the coveted result in the EC-Council ECES exam. Training with prep videos by EC-Council allows applicants to learn the content in its depth and makes their learning easy. Moreover, you can find such training videos on the YouTube platform.
4. Take the ECES Practice Test
Practicing is the best way to get mastery on anything. And of course, it is applicable for exam preparation also. Answer a lot of EC-Council ECES questions from practice tests on Edusum.com, and repeating them all over again will help you learn all the essential topics and determine if you've improved. You will also come across many questions from the same concept, thus evaluating your knowledge from different approaches. This assures you have a solid base on the principles taught. As time management is important while taking the exam, keep an eye on the timer to help you clear the ECES exam.
5. Get your Doubts Solved
Never store your doubts; you must get them solved either by reading the books of the relevant topic, searching online, from colleagues or industry experts, or from the instructor. In VGLD classes, there will be Q&A sessions where you can ask your doubts. Keep in mind, explanation of doubts is vital as it helps you evade repeating your mistakes.
Additional Tips for EC-Council ECES Exam
1. Find a Good and Quiet Place
Sitting in a room surrounded by many people isn't a good place to study. Locate some peaceful places for ECES exam preparation. Make sure you have all the preparation resources handy.
2. Take Small Breaks During ECES Exam Prep
Don't study for long hours. Take a small break every one hour, go around, drink water, and energize yourself. Taking breaks will help you feel fresh and active to start your preparation again. However, don't take too many study breaks. Be sure to keep them within reason and avoid disturbances so you can get back to the task of preparing for the EC-Council ECES exam with a clear mind.
3. Detach Yourself from Social Media
Detach yourself from using social media for some time. Avoid spending sleepless nights socializing with the world. Once you pass the EC-Council Certified Encryption Specialist exam, the same media can be used to tell your success story.
4. Stay Motivated
Find a way to stay motivated. A good way to stay motivated is to do the things that make you happy. Here are some tips for how to motivate yourself to study:
Split the exam objectives into smaller sections.

Establish mini-goals.

Make a study schedule.

Make studying a habit.

Take breaks.

Try various approaches.
Benefits of EC-Council Certified Encryption Specialist (ECES) Certification
A Mark of Achievement: Your knowledge and skills are equally confirmed against an approved set of Encryption standards and technology.

Evidence of Skills: You pass an EC-Council ECES exam proving that you have the basic knowledge in the specific area to succeed in that field.

A Competitive Advantage: You have an advantage compared to non-certified peers when you are ready to take your career to the next level or explore new opportunities.

A Better Living: You can improve your career prospects and ability to make a good living with a good salary to have a luxurious life.

A Dedication to Growth: You prove your active pursuit of opportunities to learn and perform better each day by practicing the skill sets and technical expertise you have obtained.
Conclusion
Certifications are a necessity in these times. And having one is even more crucial if you're trying to take a job in the field of IT. And now you are aware of the benefits of ECES certification; this should be the motive for you to work hard for this certification. If you follow the tips mentioned in this article, you too can pass your EC-Council ECES exam with flying colors.