Becoming a respected penetration tester or a certified ethical hacker is an excellent career goal. With the ever-present threat of cybercriminals and fast evolution of attack techniques, many companies have realized one of the best tactics for keeping data secure is testing their systems against the same methods used by hackers and cybercriminals.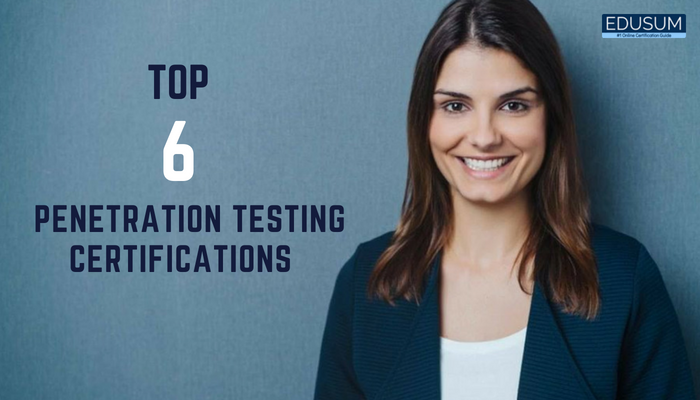 The actual performance of a penetration test is a highly technical task. It also requires proper, ethical conduct and excellent report writing/communications skills. Many professionals become pentesters on their own, developing hacking skills through self-study and trial and error. While that can take care of the technical skill part of the job, in today's market, it may not be sufficient to secure a good paying job.
A good alternative that will let professionals develop their technical skills, adhere to an ethical code of conduct, and even show they can create meaningful reports is earning an ethical hacker certification.
Here are six penetration certifications that will help you stand out in your field.
1. Global Information Assurance Certification Penetration Tester (GPEN)
The Global Information Assurance Certification (GIAC) was founded in 1999 to verify the skills of information security professionals. The GPEN certification confirms your expertise in assessing target networks and systems to find security vulnerabilities. GPEN topics involve penetration-testing methodologies, legal issues surrounding penetration testing, how to properly manage a penetration test and best-practice technical and non-technical techniques specific to penetration testing.
The GPEN certification is for security personnel whose job responsibilities contain assessing target networks and systems to find security vulnerabilities. Certification objectives contain penetration-testing methodologies, the legal issues surrounding penetration testing and how to properly conduct a penetration test as well as best practice technical and non-technical techniques mainly to conduct a penetration test.
To pass this exam, you must show the fundamental concepts associated with pentesting, including utilizing a process-oriented approach to pentesting and reporting. You also must demonstrate skills in Attacking password hashes, Password attacks, advanced password attacks, exploitation fundamentals, penetration testing using PowerShell, Initial target scanning, metasploit, etc.
2. GIAC Certified Incident Handler (GCIH)
Incident handlers manage security incidents by understanding common attack techniques, vectors and tools as well as defending against and/or responding to such attacks when they occur. The GCIH certification focuses on detecting, responding, and resolving computer security incidents and covers the following security techniques:
The steps of the incident handling process

Detecting malicious applications and network activity

Common attack techniques that compromise hosts

Detecting and analyzing system and network vulnerabilities

Continuous process improvement by discovering the root causes of incidents
3. EC-Council Certified Ethical Hacker (CEH)
EC-Council (The International Council of E-Commerce Consultants) certifies individuals in various e-business and information security skills. The CEH certification organizes and governs the minimum standards for professional ethical hackers. It also strengthens the fact ethical hacking is a unique and self-regulating profession.
The vendor-neutral CEH certifies individuals in the specific network security discipline of ethical hacking. CEH (Practical) credential holders are proven to be able to:
Perform network scanning to identify live and vulnerable machines in a network.

Demonstrate the understanding of attack vectors

Perform OS banner grabbing, service, and user enumeration.

Perform system hacking, steganography, steganalysis attacks, and cover tracks.

Perform packet sniffing.

Identify and use viruses, computer worms, and malware to exploit systems.

Handle a variety of web server and web application attacks including directory traversal, parameter tampering, XSS, etc.

Perform different types of cryptography attacks.

Perform vulnerability analysis to identify security loopholes in the target organization's network, communication infrastructure, and end systems, etc.

Perform SQL injection attacks.
4. GIAC Exploit Researcher & Advanced Penetration Tester (GXPN)
A more superior certification than the GPEN, the GXPN is designed for professionals who must validate the knowledge, skills, and ability to manage advanced penetration tests. It also shows you understand how to model the skills of an advanced attacker, how to find significant security flaws in systems, and also how to identify the business risks associated with these flaws.
For this certification, you must validate advanced skills in areas such as Accessing the network, Advanced fuzzing techniques, Advanced stack smashing, Client exploitation and escape, Crypto for pen testers, Exploiting the network, Fuzzing introduction and operation, Hands-on advanced network attacks and lateral movement, Hands-on Linux system and memory exploitation, etc.
5. EC-Council Licensed Penetration Tester (LPT) Master
The LPT is the capstone to EC-Council's entire information security track, going well beyond the simple consolidation of the knowledge needed for the CEH and CySA certifications. It is the ultimate test of your practical skills as a penetration tester.
To get this certification, you are needed to conduct a full black-box penetration test of a network provided to you by EC-Council. This means following the entire process (reconnaissance, gaining access and maintaining access, scanning,) and then actually exploiting vulnerabilities.
Sound like a tough challenge? It does not stop there! You still must fully document your actions in a complete, professional penetration test report. Your report will also be rated by other penetration testing professionals that already have EC-Council's LPT credential.
LPT (Master) certified professional can:
Validate a repeatable and measured approach to penetration testing

Implement advanced techniques and attacks to identify SQL injection, Cross-site scripting (XSS), RFI, LFI vulnerabilities in web applications

Exploit vulnerabilities in Operating systems such as Windows, Linux

Submit a professional and industry admitted report that obtains management and technical buy-in

Get access to proprietary EC-Council penetration testing methodologies

Write exploit codes to get access to a vulnerable system or application

Perform privilege escalation to gain root access to a system

Ensure the integrity and value of the penetration testing certification, in a completely online, remotely proctored certification exam

Demonstrate 'Out-of-the-box' and 'lateral' thinking.
6. Offensive Security Certified Professional (OSCP)
The OSCP is yet another best ethical hacking certification. The focus here is teaching penetration testing methodologies and the use of the tools involved with the Kali Linux distribution. The OSCP is a 100% hands-on penetration testing certification, expecting holders to successfully attack and penetrate various live machines in a controlled environment. This is one of the more technically focused ethical hacking certifications and is one of the few that requires evidence of practical penetration testing skills.