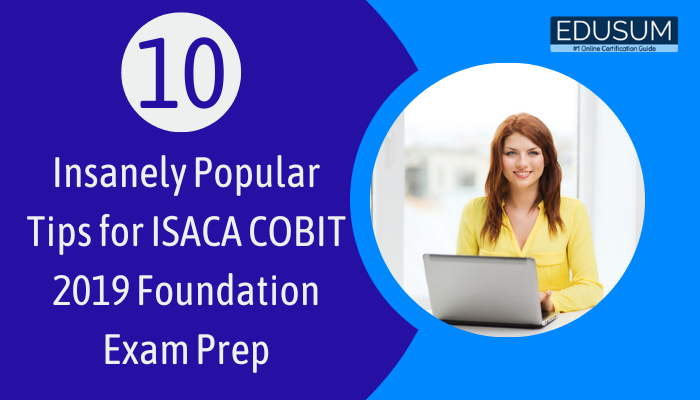 COBIT is an IT governance framework for businesses that desire to monitor, implement, and enhance best practices of IT management. COBIT is the abbreviation of Control Objectives for Information and Related Technologies. ISACA developed the COBIT framework to fill the significant gap within business risks, technical issues, and control requirements. The ISACA COBIT 2019 Foundation certification delivers the perfect introduction to COBIT.
Overview of COBIT 2019 Foundation Certification
The COBIT 2019 Foundation certification comprises eight core areas: framework introduction, governance system, and components, principles, performance management, governance and management objectives, designing a tailored governance system, business case, and implementation.
COBIT 2019 Foundation Exam Details
This is an online, closed-book, distantly proctored exam. The exam includes eight domains and comprising of 75 questions. The number of questions in each domain is according to the domain's assigned weight. Candidates will be given two hours to finish the exam. And Candidates need to obtain a score of 65% or more to pass the exam. The COBIT 2019 Foundation exam cost is $175.
Target Audience
The COBIT Foundation course is designed for:
Business Executives responsible for IT Governance

Professionals and Managers of IT Service Providers

Risk and Security Practitioners

Auditors / Assurance Professionals

Quality Professionals

Consultants, Service Managers, and Project Managers
Top 10 Tips to Pass the ISACA COBIT 2019 Foundation Exam
While it may seem quite easy to pass ISACA COBIT 2019 Foundation exam and achieve the certification, the fact is that it will demand thorough learning on your part if you want to pass the exam on the first attempt. Here are some tried and tested tips that will help you get ready to ace the exam:
1. Plan Ahead and Prepare
Setting aside an ample amount of time and designing your study plan according to your familiarity with exam domains is vital for ISACA COBIT 2019 Foundation exam preparation. If you are already a busy working professional and have other commitments, starting exam preparation 3 – 4 months before the scheduled exam is the best way to ensure that you are all prepared to ace the exam. You should spare at least one hour or two to study.
2. Enroll in a Training Course
Though it is not mandatory to take up the training course, courses offered by ISACA will greatly help you accomplish your study objectives. ISACA offers self-paced and instructor-led training courses to prepare for the ISACA COBIT 2019 Foundation Certificate exam from your own comfort.
3. Understand the ISACA COBIT 2019 Foundation Exam Domains
This may seem naive to some of you, but it's worth noting regardless; many applicants ignore reading over the exam domains. Anyhow, the COBIT 2019 Foundation syllabus pan out everything that will be included in the exam. Because of this, applicants can assure that they are ready to commence exam preparation and the time they need to assign to each exam topic.
4. Take Practice Tests
It is vital to evaluate yourself throughout exam preparation. And the most productive way to do it is to start with the COBIT 2019 Foundation practice test. This will not help you in enhancing your time management skills. Though, it will allow you to identify and learn about your weak areas. Furthermore, getting familiar with the actual exam environment is even more important. Edusum website offers verified and accurate ISACA COBIT 2019 Foundation practice exams to keep you updated on the exam topics.
For a quick overview of your preparedness, take free sample questions right away!
5. Understand the Terminology
One of the difficulties with rightly answering questions on immensely technical exams like the ISACA COBIT 2019 is the words and definite terminology. According to your experience and the study resources you have, you may work with different words and need an explanation. To avoid this circumstance, take some time to study the ISACA COBIT terminology to learn the different terms and how they implement to your own experience and study resources.
6. Don't Stress
One more time, a basic point that might be overlooked by many applicants: If you don't understand a question or can't remember something on the day of the exam, be at ease! Keep it for a later review, and answer it in the end. Time is running, and you can't spend too much time on one question. Moreover, there is always a chance that you might feel like running out of time.
7. Be a Broad Minded
Regarding COBIT 2019 Foundation, professionals with experience in CISA or other ISACA certifications ought to keep one thing clear in their mind: neglect everything they think you know and tackle your study session with a broad mind. The IT field is ever-evolving, and the COBIT is created around the sheer forefront.
8. Sharpen Your Verbal Reasoning Skills
For hopeful applicants taking the ISACA COBIT 2019 Foundation exam in a language other than their native one, more than a few questions on the exam may seem overwhelming. Contextual, analysis-based questions, by and large, demand flawless verbal recognition and analytical skills. Because of this, additional time to reevaluate your English-speaking skills and language understanding will be useful. The same is even dedicated to native speakers!
9. Take Breaks and Sleep Well
Candidates often study for long hours in the last few days and get exhausted. Hence it is good to start exam preparation in advance to ensure that you don't overburden yourself. When you commence exam preparation in advance, you can incorporate the following tips into your study plan.
First of all, include small breaks in between your studies to give your some time to refresh and re-energize. And secondly, having a good sleep is a must. If you don't take enough sleep, there are chances that you will not be able to grasp the exam concepts you are studying. Take at least 7-8 hours of sleep every day.
10. Take the ISACA COBIT 2019 Foundation Exam
Finally, exam day has approached. As a COBIT 2019 Foundation Exam-taker, you need to get prepared for the inevitable. Remain positive throughout the exam and have faith in your preparation.
Conclusion
Passing the ISACA COBIT 2019 Foundation exam requires hard work and time from you. Many individuals have passed this exam in the past, so you can also pass this ISACA certification exam on your first shot. So it's time to venture on your certification journey and bring your goals to completion!