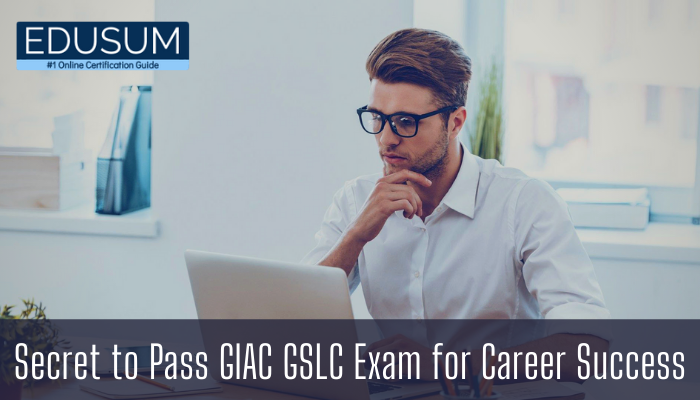 What is GIAC Security Leadership (GSLC) Certification?
The GSLC is a security management certification that confirms that the holder has learned the security essentials necessary to manage the IT project's security component. The GIAC Security Leadership Certification is designed for Security Professionals with managerial or supervisory responsibility for information security professionals.
It is administered by the SANS Institute (SysAdmin, Audit, Network, Security).
Professionals having GSLC certification have proved the understanding of host, application, data, network, and user controls along with crucial management topics that respond to the entire security lifecycle.
Cryptography concepts & applications for managers, networking concepts & monitoring for managers

Administering a security operations center, negotiations and vendors, application security, and program structure

Handling security architecture, security policy, security awareness, and system security

Risk management and security frameworks, incident response, vulnerability management, and business continuity
GIAC GSLC is a single 3-hour exam comprising of 115 questions. A GSLC certification can be a way to a wide spectrum of managerial and supervisory roles in information security.
GIAC Security Leadership (GSLC) Exam Preparation
Most exam applicants throughout the world find GIAC exams very challenging. Passing them is indeed possible but not a walk in the park. What does this mean to you as an applicant? It means that you have to take up the best exam preparation techniques if you want to pass GIAC GSLC on the first try. You need the right frame of mind, appropriate study materials, and dedication to pass your GIAC Security Leadership exam successfully. Here are some tricks and tips on how you can study for and pass this GIAC certification exam:
1. Register and Start Your Exam Preparation Promptly
How long you take to prepare for the GSLC exam decides how ready you'll be when the time to appear for it arrives. It's good to give yourself enough preparation time. A few weeks may not be sufficient to study the exam content. You'll require some time to learn the test topics and go through them in a phased manner. Starting well in advance will save you from the trouble of having to rush through your studies and missing out on important topics.
2. Know What Your GSLC Exam Will Assess You On
The GIAC Security Leadership (GSLC) exam has a few objectives that you must know. These are topics and concepts that you must be familiar with before taking your exam. Moreover, it's not just quite enough to get familiar with the topics; you have to dig deeper to understand them thoroughly. You have to get a solid grasp of all the GSLC exam objectives and expertise required to accomplish certain operations.
To know the objectives included in the GIAC GSLC exam, click here.
3. Obtain Study Guides
Books are an amazing source of exam content and act as depreciable endable guides for certification exam preparation. Preparing from books or study guides helps you optimize your exam performance and strengthen your skills for your job profiles.
4. Utilize GIAC GSLC Practice Test
Practice test is one of the best tools for GSLC exam preparation. With the help of practice tests, you can familiarize yourself with the exam format together with the question types that you should expect in the actual exam. They help you boost your confidence since you understand their structure and format. Practice tests are effective tools for identifying the gaps between what you know and what the real exam will evaluate. And this will go a long way toward becoming well-prepared for the exam.
5. Forums & Study Groups
If you are confronting any doubts or questions regarding GSLC exam preparation or exam topics, online communities or forums are one of the most helpful ways to resolve such doubts. Here, you can find professionals who have experience in taking such an exam from GIAC. They can resolve your doubts about exam structure, passing marks, retaking, exam cancellation, and many more.
6. Take Proper Rest Before Exam Day
Once the preparations and practice tests are done, the exam's big day is almost there. It is essential to rest before the exam day as it is not an easy exam to ace. The GSLC questions, which you could expect, will be rather difficult and will need you to be at your best to pass this exam truly.
Conclusion
Pursuing the required skills and knowledge can de strenuous and difficult. But if you want to accelerate your career, then you must put your best in the GSLC exam preparation. Dreaming alone is not enough to draw success, so take action today and get your GIAC Security Leadership (GSLC) certification by registering a stellar score in your GSLC using a practice test.