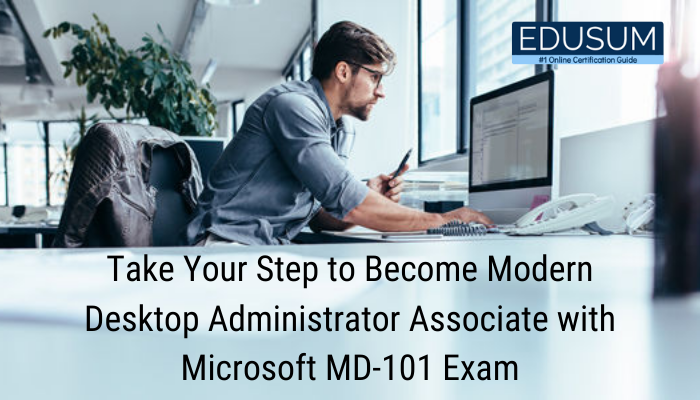 Qualifying individuals for their jobs succeeding in the workplace can never be overstated. With better learning, you will ensure more dependable processes and excellent work. Thorough learning is a fundamental approach to make yourself zealous in the job market. That's why earning the top-ranked Microsoft MD-101 certification is essential. This article provides you the details of the Microsoft Managing Modern Desktops exam and exam preparation tips.
Microsoft Managing Modern Desktops MD-101 Exam Information
Individuals who aspire to take up this certification exam need to be informed about exam objectives. Understanding these domains is essential to your MD-101 exam preparation. MD-101 exam includes the following topics:
Deploy and upgrade operating systems (25-30%)

Manage policies and profiles (20-25%)

Manage and protect devices (30-35%)

Manage apps and data (10-15%)
The exact number of questions asked in this exam is not specified but may range from 40-60 needs to be finished in 120 minutes. The questions are of different types: active screen, short answer, case studies, build list questions, and multiple-choice questions. To pass the exam, you need to obtain a score of 700 out of 1000. MD-101 exam cost is $165.
The tips described below will help you prepare for this Microsoft exam in the best way possible. Let's dive explore them!
Tips for Successful MD-101 Exam Preparation
1. Understand the MD-101 Exam Topics
In Microsoft exams, there is a broad range of skills you will have to demonstrate. This is the reason, before anything else, you should understand the topics covered in the exam. The exam objectives are split into sub-topics. Understanding what the exam emphasis the most will determine which skill areas require your attention the most. Because of that, you will appropriately organize your time to study and ensure that the essential pieces of information are appropriately analyzed before the exam.
2. Create a Realistic Study Plan
With a practical and realistic study plan in your hand, it will be much easier for you to prepare for the MD-101 exam. This indicates that you need to know in advance the amount of time you will spend every day to enhance your knowledge. Before charting out your study plan, it's vital to keep time aside for social responsibilities.
3. Take Advantage of Latest Technology
For Microsoft exams, practical knowledge along with theoretical knowledge is also essential. You will have to obtain the required experience that you can practice in real life. To be precise, that indicates you should have some real-life experience that will help you get through the exam and accomplish your goals.
4. Take Small Breaks
Studying for too long hours in one stretch is not going to be helpful. When you make a study plan, make sure it includes breaks. Taking a small break in the form of a nap will boost your memory. Usually, 15-20 minutes of a power nap after a long study will revive your brain cells.
5. Utilize MD-101 Practice Test
By taking MD-101 practice tests and reviewing your scores helps you with tracking your performance. The practice test enables you to understand what you have grasped and need to read more for the MD-101 exam. The most significant benefit of this exam is that it doesn't imply any risk. It builds the opportunity for success, and the applicant becomes familiar with the topics which require improvement.
Benefits of passing the Microsoft MD-101 exam
If you are still not convinced whether you should opt for this exam or not, go through the benefits listed below:
1. Increase Your Productivity
IT certifications are a launching pad for advantageous careers. With Microsoft MD-101 certification, you can anticipate cracking your interview within no time. This option makes you stand out and helps you receive a job quickly. This is because hiring managers know what you are drawing to the table and how important you can be to their organization. Microsoft MD-101 certified professionals have a 25% higher probability of rapid promotion or salary hikes than their non-certified peers.
2. You Add Great Importance to Your Organization
Management believes that certified professionals present better value and have a direct impact on their organizations. The report affirms that they are about 90% more productive than their non-certified co-workers. Every organization wants to engage high-performing specialists, and with a Microsoft MD-101 certificate on your CV, you can anticipate getting the job of your dreams quickly.
If you deliver value, you will scale up the career ladder faster than usual. This is what Microsoft Certification can give you. While studying for your exam, you will acquire skills and knowledge in the process. As you move forward in your career, you are also bound to constant learning. This provides you space for promotion and helps you accomplish your career goals faster.
Conclusion
Any Microsoft certification is a meaningful addition to your CV. Passing the Microsoft MD-101 is a massive step to earning the associate-level certification in Microsoft 365 for Modern Desktop Administrator. The preparation for it can be challenging, but the most valid and valuable practice tests on Edusum.com will streamline this process.