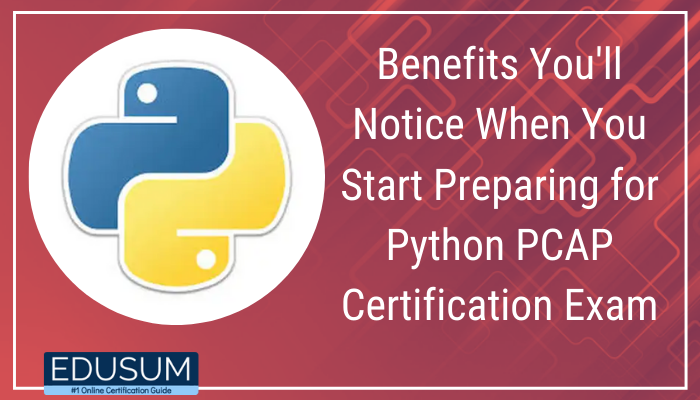 Python is a prevailing and open-source programming language. Certified Associate in Python Programming, PCAP certification is a professional certification that gauges your skills to carry out coding tasks concerning the fundamentals of programming in the Python language and the basic notions and techniques employed in object-oriented programming.
Why Earn Python PCAP Certification?
Almost everything is changing in today's dynamic world so quickly, and the Python language seems to be untouched. Well, this declaration might put you in an astonishing state, but for python developers, this isn't something novel. To reveal the reason behind the same, let's concentrate on the reasons why to obtain Python PCAP certification:
Reason 1: Gives you a sense of Accomplishment
First of all, the sense of Accomplishment of a goal always encourages you to make further efforts. In the same way, obtaining a Python certification provides you the much-required motivation to put your best foot forward. Any learner requires to understand where they stand. Simply put, studying for a PCAP certification not only assesses your expertise but also finds out the areas of advancement.
Reason 2 – PCAP Certification Equips you with a Competitive Advantage
Additionally, studying for the PCAP certification exam and passing it assists you in increasing your knowledge which ultimately equips you with a competitive advantage. As the need for Python programmers is increasing quickly, having a Python certification allows you to excel out of the pack, even though there is a surge in developers, etc., competing for some of the best jobs.
Reason 3: Paves the Road to More Excellent Jobs
Finally and above all, as per data, certified professionals usually receive more than non-certified peers. Hence, once you have a Python certification, you can anticipate a high salary with more creditable job profiles. To conclude up, Python PCAP certification reinforces your position as a specialist.
How to Pass the Python PCAP Certification Exam?
If you have made up your mind to learn the Python language and achieve PCAP certification, adapting time good time management habits will help you a lot. Therefore, here are some ways that can indeed work in your support.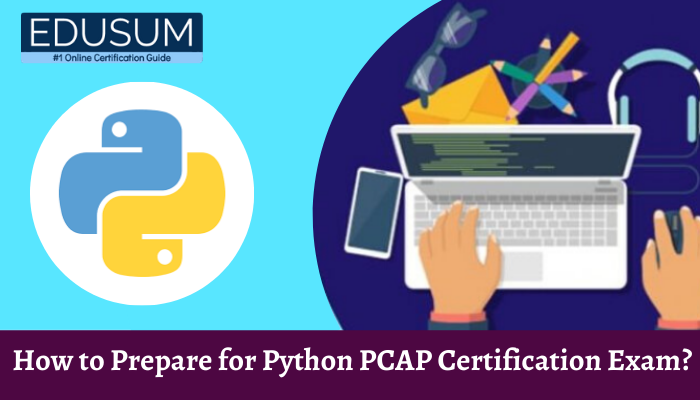 1. Actively Engage in Python Programmers' Community
First of all, by joining like-minded people for help, you stay on track. So, actively involve yourself in communities for python developers. Furthermore, it helps you to ask a question corresponding to the topic you're facing difficulty with. Keep in mind, if you manage to take out your time out a few minutes every day for connecting, you will carry out your coursework with a new skill.
2. Go Through Some Python Books
Most significantly, read python books as much as possible. There are a lot of guides written for general and specific uses of Python, which you can read to dwell more profound in the PCAP certification exams and PCAP certification syllabus. Books are ideal for candidates who want to learn the real-world perspective for the skills.
3. Enroll in PCAP Certification Training Courses
As Python is a popular programing language and many professionals are pursuing PCAP certification, there are many online resources providing training to boost your preparation journey. You will find a lot of study guides online that will promote your preparation.
4. Take PCAP Practice Tests
Once you have complete studying your PCAP certification syllabus, it is time to take practice tests. The only way to get through the exam is to take up PCAP practice tests until you score more than 90% in your PCAP practice test. It goes without saying! You will find many platforms while looking for practice tests. The purpose here is whichever platform you use; your preparation should be thorough in passing the exam in one attempt.
5. Wake Up Early in the Morning
First of all, the best time to study for the PCAP certification exam in a day is in the early morning. Ideally, you bring out the best outcome around the first two hours of early morning. For this, you don't need to sacrifice your sleep; instead, you should go to bed earlier to get up early in the morning.
6. No Netflix
Secondly, by and large, people kill their spare hours watching Netflix and don't even realize the amount of time they spend binging Netflix. So, if you wish to make it to Python, you have to stop your Netflix habit. Furthermore, you can keep in mind those reasons you wanted to obtain your PCAP certification.
7. Use Your Weekends
After that, it is essential to be persistent. Though, there are possibilities when life gets in the way. Yes, we are talking about weekends. Weekends often make you inactive, and you skip your everyday routine. Therefore, to keep things on the trail, book yourself from 5 am to 6 pm every day.
Summary
To sum it up, Python is an excellent way to start the learning experience of coding. Moreover, it is already one of the most sought-after and greatly-paying programming languages across the world. So, it's assuredly Python if there is something you cannot miss with the growing demand for programming and coding. Keep two things in mind, i.e., a reason and a persistent as a mountain. Moreover, you need to vary your resource learning and depend on continuous work.