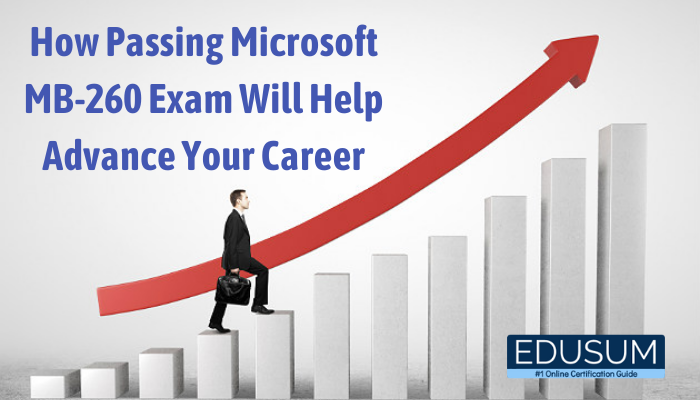 Suppose your profession executes solutions that deliver insight into customer profiles and track engagement activities to help better client experiences and increase client retention. In that case, Microsoft Certified - Customer Data Platform Specialty certification could confirm your skills and help open doors to brilliant career opportunities. You need to pass the Microsoft Customer Data Platform Specialist MB-260 exam to receive this certification. This Microsoft Certification confirms that you have Dynamics 365 Customer Insights skills—whether you're just starting and developing your career, drawing on to utilize your skills to advance, or switching to a new, popular consulting role.
Overview of Microsoft MB-260 Exam
Microsoft MB-260 exam consisting of 40-60 questions needs to be finished in 120 minutess. The exam questions are of different types, such as multiple-choice questions, arranged in the correct order, drag & drop questions, scenario-based single-answer questions, and mark reviews.
An applicant must obtain a score of 700 or higher to pass the exam. Moreover, the Microsoft MB-260 exam cost is $165 and is available in English only.
The MB-260 exam syllabus topics include the technical tasks that will be evaluated during the exam delivery, and it will be almost impossible to prepare for Microsoft MB-260 without understanding them. The applicants need to expand their skills in the following domains:
Design Customer Insights solutions (5-10%)

Ingest data into Customer Insights (10-15%)

Create customer profiles by unifying data (20-25%)

Implement AI predictions in Customer Insights (10-15%)

Configure measures and segments (15-20%)

Configure third-party connections (10-15%)

Administer Customer Insights (5-10%)
Top Secrets of Passing MB-260 Exam
To help you acquire mastery of the MB-260 exam syllabus topics, below are some tips to help you have compelling study and finally achieve success. Let's explore them!
1. Take an Official Training Course
There is no replacement apart from engaging yourself in the official training course led by the instructors. These courses equip you with valuable training and equip you with the hands-on experience required for passing the exam.
2. Use Books
There is nothing more suitable than books for Microsoft exam preparation. You can find the study guide for the MB-260 exam preparation on the Microsoft official website, and you can purchase it from the Microsoft Press Store or Amazon.
3. Actively Participate in an Online Group
What could be better than developing contacts with like-minded people? You can participate in study groups for this. You can easily find relevant study groups with a simple Google search. Joining such groups will help you come across things you have never known earlier. If you have any questions regarding the MB-260 exam, you can ask in the group, and many group members are ready to solve your doubts.
4. Take MB-260 Practice Tests
Practice tests help you become familiar with the exam structure and question types. You can easily identify the types of questions that you will encounter in the actual exam, and with this, you conceive competence and familiarity with the MB-260 exam syllabus topics.
Practice tests also help you identify your weak areas and you can work upon them before the registered exam date. The Edusum.com website provides full and mini practice tests that you can utilize for your preparation.
5. Acquire Hands-On Experience
If you want to ensure that you have a solid grip on the MB-260 exam topics and relevant skills, then you should acquire practical experience by practicing in labs. This will sharpen your practical skills. The outcome of practical experience will grant you the ability to accomplish different tasks regarding Dynamics 365 without any obstacles.
6. Learn From YouTube Videos
Watching relevant videos throughout your preparation journey is an extraordinary way of grasping exam concepts more quickly. Our brain has a tendency to soak up those things that are visually attractive. Thus, you can find numerous lectures on YouTube regarding the Microsoft MB-260 exam.
7. Avoid MB-260 Braindumps
Avoid exam dumps at any cost. They are not only unlawful but not at all useful in forming your career path. Microsoft certifications are created to gauge practical experience and understanding, so if you don't achieve your certification through hard work and skills, this will make a drawback in the job market. Thus, it is best to avoid MB-260 dumps.
Now let's concentrate on the benefits one can get from achieving the Microsoft Certified - Customer Data Platform Specialty certification by passing the MB-260 exam.
Benefits of Getting Microsoft Certified - Customer Data Platform Specialty Certification
The most striking benefits you can get after becoming Microsoft Customer Data Platform Specialist are:
1. Proof of Your Skills
The core objective of the certification is to confirm that you own the skills that qualify you as a professional for a definite job position. Microsoft certifications are completely consistent with that task because they equip you with all essential and relevant skills and knowledge to acutely complete your responsibilities.
2. Accessibility to Better Opportunities
As many job positions for job openings at top-scale organizations list the Microsoft Certified - Customer Data Platform Specialty certification as a requirement, passing the MB-260 exam offers you access to more job opportunities that were not earlier available to you.
3. Passing MB-260 Exam Increases Your Chances of Getting Hired
Because of the prestige Microsoft certifications have, organizations know the worth and approval they hold. Thus, a Microsoft certification holder has a greater chance of getting employed cause having any Microsoft certification on your CV list can grab an interviewer's attention.
4. Desired Salary and Career Advancement
Acquiring more skills through certification makes you qualified for a salary hike or promotion to a job where your skills can be better employed. The annual salary of an MB-260 certified professional is $65,000, so there's always a chance for you to make more.
Conclusion
Achieving Microsoft Certified - Customer Data Platform Specialty certification is the best means to advance your IT career. It fetches amazing career advantages like lucrative job opportunities, promotions, desired salary, respect among peers, and so on. But to earn this certification, you need to pass the MB-260 exam. To prepare for the exam, use the trusted resources from the official website and the MB-260 practice test from Edusum.com. All you need to do is to give your best shot, and acing MB-260 exam will be a breeze.