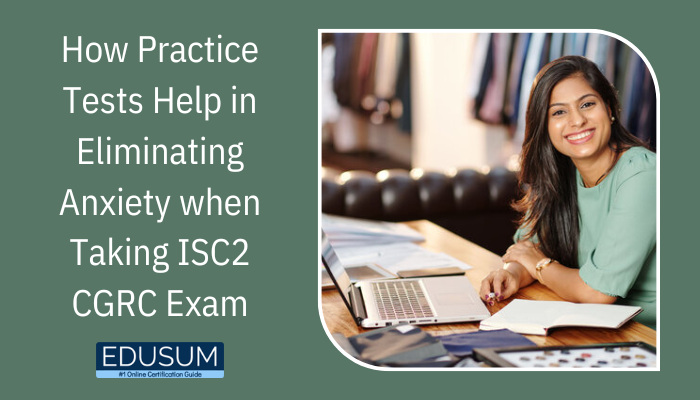 The ISC2 CGRC certification confirms one's proficiency within different risk management frameworks and authenticates the tremendous technical skills and expertise to perceive Governance, Risk, and Compliance (GRC) and can empower and manage information systems using multiple risk management frameworks as best practices, policies, and approaches.
CGRC certification provides you the knowledge about the NIST risk management framework. This ISC2 certification promotes your career opportunities and proves your working knowledge in various risk management frameworks. You are acknowledged as an expert with legal and technical expertise corresponding to governance, risk, and compliance and can approve and support policies and procedures incidental to information systems. If you are an information security manager, cybersecurity or information system analyst, cybersecurity engineer, or information security specialist, this certification best fits you.
ISC2 CGRC Exam Details
ISC2 CGRC is known as a Certified Governance, Risk and Compliance. The CGRC certification exam has 125 questions to be answered in 3 hours. To pass the test, you need to get 700 points. The exam will cost you $ 599, and to register for the exam, you need to sign up with Pearson VUE.
There are lots of things that you should learn to achieve this certification, and you need to own a bunch of relevant skills to pass the required exam. The following are the main objectives of the ISC2 CGRC exam:
Information Security Risk Management Program (16%)

Scope of the Information System (11%)

Selection and Approval of Security and Privacy Controls (15%)

Implementation of Security and Privacy Controls (16%)

Assessment/Audit of Security and Privacy Controls (16%)

Authorization/Approval of Information System (10%)

Continuous Monitoring (16%)
How to Grab Success in ISC2 CGRC Exam?
ISC2 certifications hold great prestige in the Information Technology field. Still, before you relish success in your attempt, you must prepare persistently for the exam. Passing the ISC2 CGRC exam can be an uphill battle if you are not organized and not focused on the preparation methods.
However, there are no magic tips to pass the exam that can assure you success without perseverance and hard work. Understanding that your results rely on your strategic preparation is essential. There have been instances where applicants have prepared for months and failed in the examination, and poor preparation approaches can be held accountable.
For the best learning approach, candidates should first study all available learning materials and determine their learning style. These may be official resources such as instructor-led training, study guide, or online videos for the ISC2 CGRC exam. But you should complement all the help with the ISC2 CGRC practice test.
How ISC2 CGRC Practice Test Helping You Get Through the Exam
Practice tests will give you a distinct picture of the exam structure, helping you direct your techniques in the correct direction.
Unlike the study resources that can offer only theoretical knowledge, practice tests are the most important source of information for the ISC2 CGRC exam. All you require to do is find trustworthy websites that provide authentic practice tests. One of the most reliable websites that you can rely on is edusum.com which will provide you with a practice test for better preparation.
Now, let's take a look at some of the definite reasons why practice tests provided by the edusum website are worth using for ISC2 CGRC exam preparation:
Why Choose Edusum.com Practice Test?
Most Accurate Source of Information
Seasoned professionals and industry experts make practice tests provided by this website. With such entrusted practice tests, you can become familiar with the ISC2 Certified Governance, Risk and Compliance exam structure and the different type of exam questions you will encounter.
ISC2 CGRC Practice Test is Best Mean to Sharpen Your Skills
No matter how hard you study for the exam with all available study material, you must gauge your level of preparation. And practice tests give you such a chance. With the practice test from the edusum website, you can make as many attempts as you need to understand the topics thoroughly.
It Helps in Identifying Strong and Weak Areas
Once you have studied all the topics, you must gauge your preparation level. With practice tests, you can perceive how much practice you require and identify your strong and weak points. Also, you'll get immediate results of your practice test attempts.
Mimics Exam Experience
Practice tests offered by edusum mimic the actual exam environment, be it time limit, exam structure, or kind of questions. This allows you to feel the climate of the real exam.
Helps Overcome Exam Anxiety
Exam anxiety tends to engage a variety of possible issues. For instance, if you are doubtful of what the exam will be like, you may be concerned that you haven't learned enough or don't know the suitable topics. The opportunity to attempt practice tests helps you fill that knowledge gap. You may also be anxious about taking an exam because you must perform quickly. Thinking fast and coming up with an answer is essential to finish the exam on time.
Conclusion
Being an ISC2 Certified Governance, Risk and Compliance in the industry can get you some fantastic career opportunities. The ISC2 CGRC exam is an ideal way to evolve as a promising career. But, to sweep through the exam smoothly, you need to deploy powerful tactics, and practice tests are the most effective way to go about it. So, it's time to start your exam preparation with trusted materials and pass the exam. All the Best!!