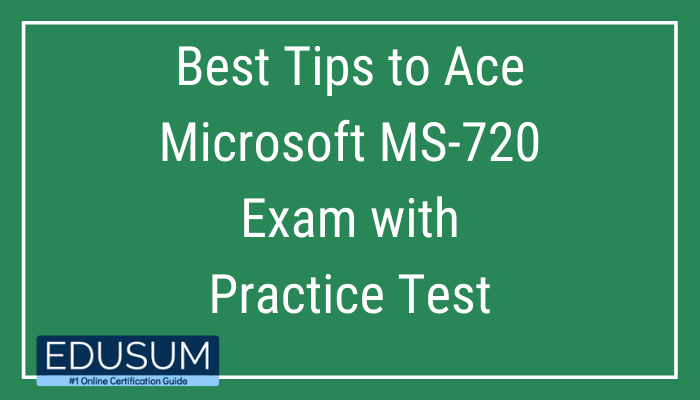 The Microsoft Teams Voice Engineer works with telephony providers and third-party vendors to allow advanced voice traits in Microsoft Teams and works with administrators for other workloads, comprising identity, licensing security, networking, and compliance. Does this represent you? If yes, check put Microsoft 365 Certified: Teams Voice Engineer, Expert certification. To achieve this certification, applicants must pass Exam MS-700: Managing Microsoft Teams along with the MS-720: Microsoft Teams Voice Engineer exam.
Is MS-720 Certification for You?
This certification could be an excellent fit if you have considerable experience designing, planning, maintaining, configuring, and troubleshooting unified communications solutions at organizations and can decode business requirements into technical architecture and designs for communication solutions.
Microsoft MS-720 Exam Details
Microsoft MS-720 exam comprises 40-60 questions in the exam. This Microsoft exam can be taken in the English language and is available at $165. Moreover, to pass the exam, applicants need to obtain a score of at least 700/1000. This exam is a requirement to become Microsoft 365 Certified: Teams Voice Engineer Expert.
Microsoft MS-720 exam objectives:
Plan and configure Microsoft Teams Phone (25-30%)

Optimize network performance (5-10%)

Plan and configure Direct Routing (15-20%)

Configure and manage Microsoft Teams Phone for voice users (15-20%)

Plan and configure Microsoft Teams clients and devices (5-10%)

Monitor and troubleshoot Microsoft Teams Phone (15-20%)
Proven Preparation Tips to Prepare for Microsoft MS-720 Teams Voice Engineer Exam
1. Become Familiar with the Exam Structure
It's impossible to prepare for any certification exam without first going through the details of its syllabus topics. Visit the Microsoft official website and get the exam details. You'll come across everything you require to understand before taking the Microsoft Teams Voice Engineer MS-720 exam.
2. Create a Study Schedule
If you're presently a busy professional, it will be impracticable to leave your work for the Microsoft MS-720 Teams Voice Engineer certification exam. So, you have to plan your preparation accordingly that it won't disturb your work life.
3. Get the Appropriate Study Resources
There are plenty of study resources that will equip you with the essential skills concerning the Microsoft MS-720 Teams Voice Engineer exam. Select your study resources diligently and if you don't know where to begin, visit the Microsoft official website.
4. Take Microsoft MS-720 Practice Test
Beyond using various study tools, such as training courses, video tutorials, study guides, and others, you require to take the MS-720 practice test to prepare for Microsoft Teams Voice Engineer in an effective way. These assure your success in this Microsoft exam and promise you the coveted certification.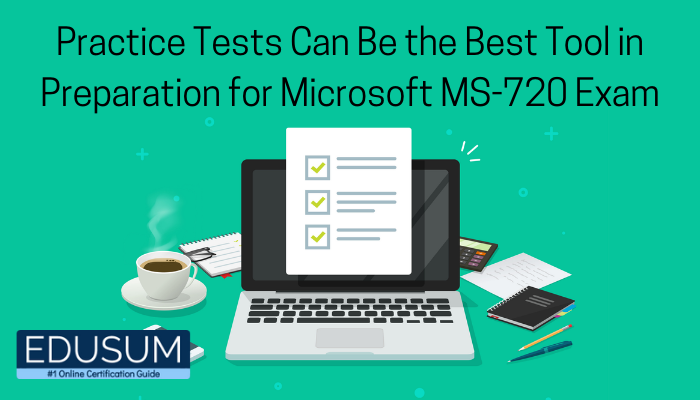 5 Benefits of Using MS-720 Practice Tests for Your Exam Preparation
Before beginning your prep journey, the best way for you is to visit Microsoft's official website. There you'll come across multiple preparation resources. Still, to boost your odds of passing the Microsoft MS-720 Teams Voice Engineer certification exam, take up practice tests from a trusted website such as Edusum.com. Below are some benefits of utilizing practice tests. They are the following:
1. Helps You Identify Weak Areas
After studying for the MS-720 exam, you always feel prepared after taking a lot of time studying for this Microsoft exam. That is why it is important to gauge yourself with an MS-720 practice test to detect that there are topics you learned correctly and comprehensively, and there are the ones you still have difficulty with. Therefore, you will tend to concentrate more on them and, ultimately, will boost your odds of passing the MS-720 exam.
2. Enhance Your Content Retention
Although you have studied completely, there is always an inclination to overlook some essential details. MS-720 practice tests at Edusum.com include all the topics of this exam, and your result shows the content of the information you have acquired. If in a real exam, you forget an answer, you could recall how you answered the MS-720 exam question in the practice test session, which could aid your performance.
3. Tackles Anxiety Issues
Many times, you will feel nervous or frightened any time you are about to ace the Microsoft MS-720 exam. If it is a normal feeling for you, then attempt as many MS-720 practice questions as possible. This will help you chuck out your anxiety. So, all you require to do is to keep practicing. Practicing in a simulated environment will make you even more prepared for the actual Microsoft exam. Therefore, with confidence, you should be able to take the exam with perfect control of the situation.
4. Improves Accuracy
You might know the answer to the MS-720 exam question, but what if you are not good at forming your responses? This knock can hold you from passing your Microsoft MS-720 exam. Practice tests will help you recall the answers clearly and respond to them in the most suitable format.
5. Make Your Exam Tackling Strategy
Any exam requires proper planning. Since the Microsoft exam MS-720 includes different types of exam questions, you'll find a technique to tackle them all successfully by using practice tests. Taking MS-720 practice tests from edusum.com offers you a definite picture of exam structure and environment. You will come to know the exam structure the question types, and by performing the practice test repeatedly, you'll find a way that will get good scores. Thus, for example, your strategy can be beginning with specific sections of your exam or paying more time on some MS-720 exam questions than others.
Career Opportunities
Voice Engineer

Sr. Voice Engineer

Remote Voice Support Desk Systems Engineer

MS Teams Voice Engineer - Intermediate

ITS Voice Design Engineer

Scripting & Automation Engineer - MS Teams
At the End
Hope this article will help you with your MS-720 exam preparation. It will make you familiar with all the vital resources and help you carry out your exam preparation. If you follow the above-mentioned tips with 100% commitment, you will easily crack this Microsoft MS-720 Teams Voice Engineer certification exam.