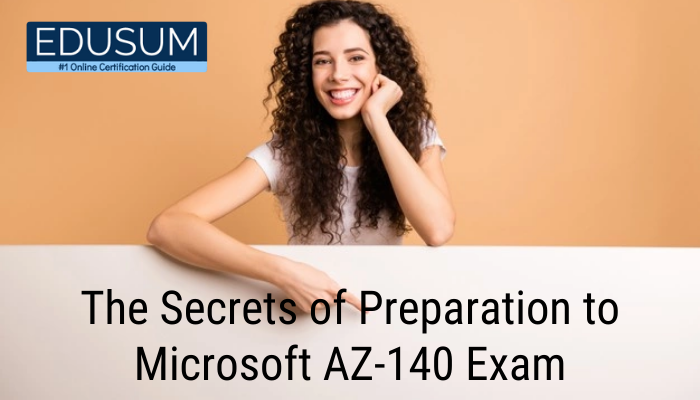 Microsoft AZ-140 exam evaluates the applicant's skill to carry out technical tasks like planning a Windows Virtual Desktop architecture, managing user environments and apps, managing access and security, implementing a Windows Virtual Desktop infrastructure, and monitoring and managing a Windows Virtual Desktop infrastructure. The targeted audience for this exam is Azure administrators with proficiency in delivering, planning, and maintaining virtual desktop experiences and remote apps for any device on Azure.
After successfully passing Configuring and Operating Microsoft Azure Virtual Desktop AZ-140 exam, the applicant will become a Microsoft Certified - Azure Virtual Desktop Specialty.
Important Information About AZ-140 Exam
The Configuring and Operating Windows Virtual Desktop on Microsoft Azure, AZ-140 comprises 40 to 60 questions in Multiple Choice and Multi-Response format. The applicant will get 100 minutes to finish the exam. Furthermore, it is available in the English language only, and they must score 70% to obtain this certification.
Exam Name: Configuring and Operating Windows Virtual Desktop on Microsoft Azure

Exam Code: AZ-140

Exam Duration: 120 minutes

Exam Format: Multiple Choice and Multi-Response Questions

Exam Type: Online and Proctored Exams

Number of Questions: 40-60

Exam Fee: $165

Exam Language: English

Pass Score: 700 (on a scale of 1-1000)
Responsibilities of a Windows Virtual Desktop Specialty
After successfully passing the Microsoft Azure AZ-140 exam, you will become a Microsoft certified: Windows virtual desktop specialty. As a certified Microsoft Windows Virtual Desktop Specialty, you will respond to complete the following job roles.
Deliver applications on Windows virtual desktop by following standard operating procedures and optimizing these applications.

Deployment of virtual desktop and apps to Azure cloud platform

Assure the perfect multi-session virtual environments

Will work together with Azure architect and administrators along with Microsoft 365 administrators.
Tips and Tricks to Prepare for Microsoft AZ-140 Exam
You must know some essential aspects when preparing for your Microsoft exams. Passing your exam also involves making use of helpful revision resources. There are a few steps that you can follow when you study for your Microsoft AZ-140 exam:
1. Understand the AZ-140 Exam Objectives
The first thing you should do is obtain the details of the AZ-140 certification exam. This involves the objectives or skills evaluated and the expected structure. Knowing the skills measured will guide you in choosing the proper materials to utilize in your preparation process. The topics of Microsoft AZ-140 are:
Plan an Azure Virtual Desktop architecture (10-15%)

Implement an Azure Virtual Desktop infrastructure (25-30%)

Manage access and security (10-15%)

Manage user environments and apps (20-25%)

Monitor and maintain an Azure Virtual Desktop infrastructure (20-25%)
2. Prepare with AZ-140 Practice Test
AZ-140 Practice Test will help you know what to expect in the actual exam. Performing the AZ-140 practice test gives you an insight into the exam and how to deal with the questions, and you can easily find out the areas you still require to work upon with them. It's also essential to understand how to identify reliable AZ-140 practice test. Remember that you need to get an updated AZ-140 practice test that includes the exam objectives in depth. You can make use of the most reliable AZ-140 practice test offered by the Edusum website.
3. Make Use of Official Resources
You can register for an instructor-led or self-paced course according to your schedule. Here are some of the most helpful training courses:
4. Watch Online Videos
The advantage of learning from online videos is that you can study at your own pace. You can also replay topics you haven't learned even after arriving at the end of the training course. These are convenient study resources that you cannot neglect.
5. Make Notes Throughout Your AZ-140 Exam Preparation
Taking notes is one way that cannot lead to failure in the AZ-140 exam. As you learn the topics, write each technical information that you can see while revising for your exam. It is easy to recall the answer to a familiar exam question if you have written down the information. You can prefer to write on paper or use digital notebooks like OneNote.
6. Manage Your Time Well
Learn to utilize your time correctly. Assign sufficient time for each Microsoft AZ-140 exam topic and finish your preparation within that time. Time management is also crucial while taking your exam. Don't spend too much time on one AZ-140 exam question. It's always advisable to begin with, familiar questions and go back to the difficult ones later. If you come across a question that you don't know, you can make a guess or move to the next one. This will improve the possibility of passing your Microsoft AZ-140 certification exam as you'll not have to hurry up.
Reasons to Pass AZ-140 Exam And Earn Microsoft Certified - Azure Virtual Desktop Specialty Certification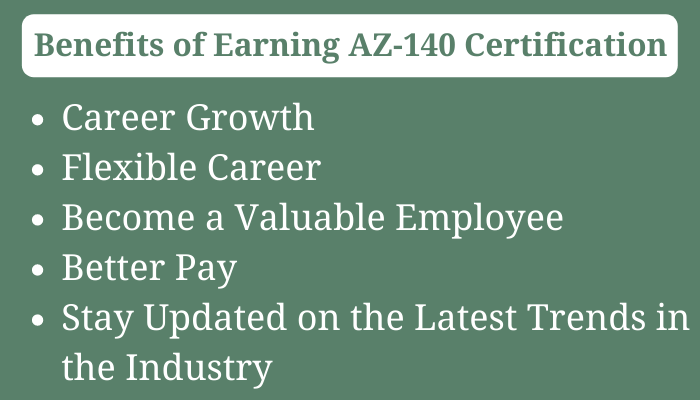 1. Career Growth
You will see an improvement in your income by earning your qualification in this area, as most clients and organizations know when someone has undergone advanced training. After all, it proves they are experts in their profession, and it is always worth it to most organizations to give a more significant salary to professionals with this knowledge.
2. Flexible Career
A Microsoft Azure certification draws a broad array of career opportunities. You may become a cloud engineer, a developer, or an architect of a system. Moreover, the certification helps you work at multiple places in different areas. Organizations are shifting to the cloud in all industries due to their storage, computing, and networking benefits.
3. Become a Valuable Employee
With Microsoft Certified - Azure Virtual Desktop Specialty certification, you could be a valuable asset to any organization. In brief, the benefits of Microsoft Azure certification hold the Azure platform's profitability benefit.
4. Better Pay
The higher salaries and greater brand recognition are other essential factors for earning Microsoft Azure certification. As a specialist certified by Microsoft Azure, your Azure certification proves the expertise you hold. With the higher competition for cloud computing professionals relative to other IT fields, you receive better executive salaries worldwide.
5. Stay Updated on the Latest Trends in the Industry
You learn all the latest knowledge when you participate in an approved online learning program, and you are kept updated on modern developments. Learning anything different consistently is the secret to broadening your knowledge, understanding, and skill set. Understanding these lessons from other sources is generally too time-consuming if you juggle several tasks, such as community and full-time work.
Conclusion
Everyone wants to boost their careers, and there are many ways to do that. But, if you wish to acquire new skills as quickly as possible, certifications are the proven way. If you are involved in Azure Virtual Desktop skills, you should take the Microsoft AZ-140 exam, and it will give you a solid grip on the subject and secure a better job. If an organization sees that you are Microsoft certified, it spontaneously raises your chances of getting a good job.