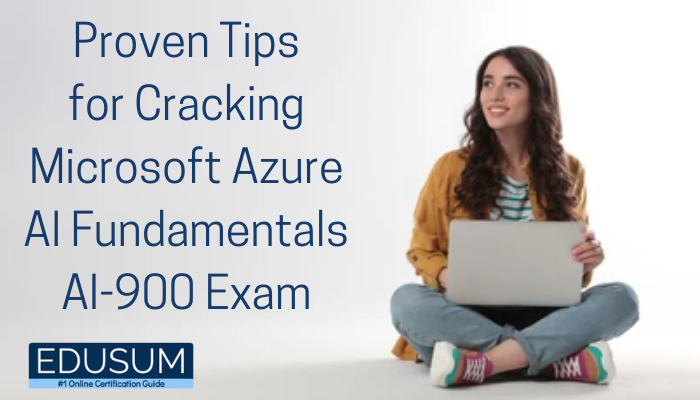 Microsoft Azure AI Fundamentals AI-900 exam allows applicants to prove their basic understanding of ML and AI workloads and their execution in Azure. The compelling part about this Microsoft exam is that even if an individual does not own any technical background, they are still eligible to take the exam. Any prior experience associated with data science or software engineering experience is not needed. Though, it would be beneficial if you have a fundamental knowledge of the core concepts concerning AI and different Microsoft Azure services.
Microsoft AI-900 Exam Information
To take this exam, applicants need to explore the official website and register for the exam by paying $99 as the exam cost. AI-900 certification cost varies from country to country.
Below are the important details about the AI-900 exam:-
Time Duration: 60 Minutes

Number of Questions: 40 to 60

Types of Questions: Different types such as short answers, case study, multiple-choice, mark review, drag, and drop, etc.

Exam AI-900 passing score is 700/1000.
Microsoft AI-900 Exam Syllabus Topics
This exam evaluates the different skills of the applicants in the field of AI and Machine Learning. It also measures their knowledge of other Azure services used in these fields. The core knowledge areas needed for this certification with their weightage is mentioned below:-
Describe AI workloads and considerations (15-20%)

Describe fundamental principles of machine learning on Azure (30-35%)

Describe features of computer vision workloads on Azure (15-20%)

Describe features of Natural Language Processing (NLP) workloads on Azure (15-20%)

Describe features of conversational AI workloads on Azure (15-20%)
Magic Resources to Pass Microsoft AI-900 Exam
The list below reveals to you some preparation resources and tips that will help you crack the Microsoft AI-900 exam smoothly:
1. Enroll in Training Course
AI-900 exam takers can enroll in the one-day training course "Course AI-900T00: Microsoft Azure AI Fundamentals" offered by Microsoft itself. A qualified instructor leads this course.
2. Take AI-900 Practice Tests
There are plenty of websites that offer practice tests for AI-900 exam preparation. These practice tests play a vital role in helping exam takers become familiar with the exam structure and environment.
3. Use AI-900 Study Guide
By using the AI-900 study guide, you will be able to craft your preparation journey that suits your learning method. A study guide helps you concentrate on technical areas and exam topics, and it will guide your reflection as you learn and study at a proper pace.
4. Be a Part of Online Forum or Community
Participating in an online forum or community can be a great way to interact with like-minded people. You can learn from others' thoughts and experiences, pick up understanding from those who've passed the exam and offer learning and tips to help them prepare.
Proven Tips for AI-900 Exam Preparation
Undoubtedly, these tips can change the way you carry out your preparation. Hence, we have incorporated proven tips and tricks to help you qualify for the Microsoft AI-900 exam. So, make sure you follow the below-mentioned tips to pass the AI-900 exam with a flying score.
Pull yourself together, begin organizing, create a study plan, and try to follow it.

After this, make sure to devote time for AI-900 exam prep every day. Furthermore, avoid last-minute prep because this will only cause confusion and nothing much.

Also, take up an online training course because training will enhance your ability to solve the AI-900 exam questions competently.

In the end, keep in mind that you've acquired a clear understanding of all the AI-900 syllabus topics before sitting for the actual exam.
Why Take AI-900 Practice Test?
Keeping in mind the number of AI-900 exam question types you can face when sitting for your exam, it becomes clear that you should know all the concepts thoroughly to deal with exam questions in any case. That is why it is recommended to utilize practice tests to boost your Microsoft Azure AI Fundamentals exam prep. Practice tests are one of the most effective tools to prepare for Microsoft exams. Edusum.com is the best website to obtain the most trustworthy and top-quality practice tests. Edusum.com website does well to maintain its practice questions up to date to guarantee that those who use them are not baffled during their exam. Comprising real-time exam questions, practice tests evaluate your grasp over the essential topics in a timed environment, helping you become knowledgeable about:
Exam structure

Time-management skills

Preparation level

Identifying the weak and strong area
Conclusion
There is no doubt that AI-900 practice tests are helpful. If you are preparing for your exam and are running short on time, they will help you manage your preparation process in an organized way. It doesn't mean that you should ignore proper preparation. Use study guides, AI-900 practice tests, official training courses, and so on. All these study resources will improve your odds of success.