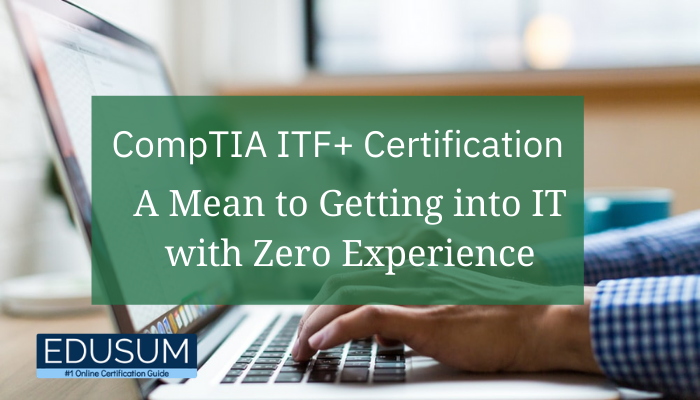 Most people in the IT profession contemplate the CompTIA IT Fundamentals+ certification to be an entry-level certification. According to CompTIA, the IT Fundamentals introduces fundamental IT knowledge and skills that help professionals determine if a career in IT is good for them. It also aids organizations in qualifying non-technical teams for digital transformations. Basically, what that is saying is, the CompTIA ITF+ is the most basic IT certification one could achieve.
Essential Facts About CompTIA IT Fundamentals+ Certification
CompTIA IT Fundamentals+ is the only entry-level certification that helps learners or career changers decide if they have competency for information technology and the best career path.

ITF+ is the only single certification covering all IT foundations, creating a broader understanding of IT, making it ideal for non-technical professionals.

CompTIA ITF+ builds an IT education framework for learners in middle school and high school.
Who Should Obtain CompTIA IT Fundamentals+ Certification?
Students are aspiring to build a career in Information Technology.

Professionals working in fields that need a comprehensive understanding of IT.

Sales, marketing, and operations staff in IT-based organizations.

Those looking to obtain knowledge of IT Concepts and Terminology, Infrastructure, Applications and Software, Software Development, Database Fundamentals, and Security.
Why Earn CompTIA IT Fundamentals+ (ITF+) Certification?
There are many other benefits to them throughout the entire course of your career. Here are the benefits of CompTIA ITF+ certification if you think about whether or not to earn this certification.
Staying Relevant
Keeping yourself updated with the latest advancements is essential in any industry, but it's important in a field like technology. IT is a field that is rapidly developing over the years. That's why continued professional development is vital to keep yourself updated.
CompTIA certifications help professionals to stay relevant in their respective fields. Just like you attend conferences, be involved in webinars, take training courses, or write for publications sharing your subject matter proficiency, CompTIA certifications are one piece of the career progression.
Progressively Sharpen Your Skills
Whether you are looking for a new job completely or seeking a promotion in a current organization, many people apply for jobs that empower them to foster their growth, even if that means they don't have all the essential skills just yet.
Obtaining CompTIA ITF+ certification helps you to acquire the skills required to accomplish your career objectives. This knowledge can be straightaway employed on the job and offers immediate benefits.
CompTIA ITF+ Certification Is an Investment in Yourself
Cutting-edge knowledge and education are never blitzed. By getting a CompTIA ITF+ certification, it shows both to your employer—and yourself—that you have invested in your career. You are an enduring learner that never wants to stop growing
Earning a CompTIA IT Fundamentals+ certification only advances your knowledge and could move you in another direction than you didn't know you're enthusiastic about.
Simple Study Tips to Prepare for CompTIA IT Fundamentals+ (ITF+ FC0-U61) Exam
Preparing for any exam takes commitment. You must put in a huge amount of effort to get through the exam. Below mentioned tips will assure you pass the test even if this is the first time you are going to take it:
1. Truly Be Confident
Don't let uncertainties strike you when studying for your FC0-U61 exam. Certainly, what will give you confidence is how well you are going to study. Make sure you commit yourself entirely to it. Don't accept being far gone on with disturbances or lose your concentration: confidence is important when preparing and taking the exam.
2. Allot Sufficient Time to Study
You require at least 2 hours a day to study if you wish to seize success. You should learn all the exam syllabus topics thoroughly and revise regularly. You can decide to do this early in the morning or in the night before you go to sleep. It's a fact that you need to have a balance between your studies and other important responsibilities. So, you have to assure you ignore none of them.
3. Visit the CompTIA ITF+ Exam's Official Page
CompTIA provides information on exam ITF+ FC0-U61 which you have to go through. You'll find all the aspects you have to know on the FC0-U61 exam's official webpage to assure you satisfy the exam prerequisites, syllabus topics, structure, study guide recommended training resources, and regulations. Do not start your studies before you go through the details from the official web page.
4. Take Benefit from Online Videos
Learning from videos can be interesting if you want to get a solid grasp of tough topics quickly. As studies have proven, this can be because images tend to simulate our minds more than written words. So, it becomes simpler for you to soak up what's going on and easily retain the topics explained. While there are many websites where you can watch tutorial videos, the most extensively utilized platform is YouTube. It gives you a broad range of options to select from so that if you can't understand what one video tries to deliver, you can try watching another.
5. Perform CompTIA ITF+ Practice Tests
Taking CompTIA ITF+ practice tests before the actual exam can be quite beneficial. By performing them, you can get a solid idea about exam structure, kind of questions and gauge your learning and figure out any misconceptions you may have.
6. Online Communities and Forums
Online communities and forums are platforms where you can interact with people who share the same interests as you. You can find many online communities relevant to the CompTIA ITF+ certification. By engaging in online communities, you can get your doubts solved by experts, answer questions posted by other members, thus strengthening your command, share study materials, get tips from those who have already given the exam, and even hold discussions.
What Next?
After passing the CompTIA FC0-U61 exam, the sky is the limit! There is nowhere to go but up from here. Being that it is a foundational cert, the ITF+ can throw you in any direction you wish to pursue in IT. If you are interested in Security, then the next natural step would be Security+. If networking catches your interest, then Network+ is the best next step.