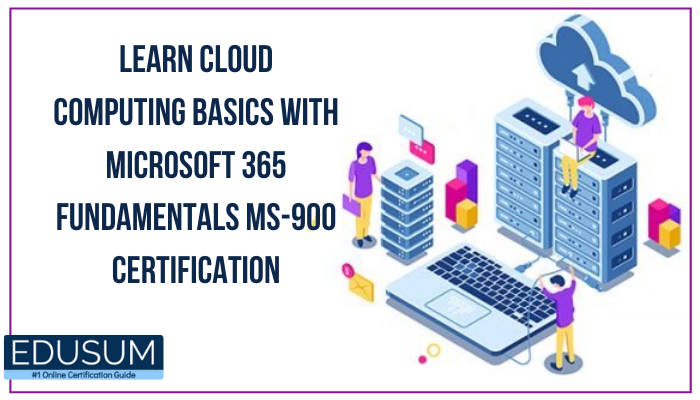 For a business that desires to take up cloud services, they can't ignore hiring a professional with Azure skills. And if you wish to work as such a specialist, there are things you must know, including gaining the right skills. Microsoft, with its exam MS-900, has offered a chance for applicants to take advantage of the most cost-effective and expandable cloud technology to offer solutions to their organizations. But until you have the appropriate qualifications, this can sound like a fantasy. Though, with thorough exam preparation with practice tests, learning courses, and more, you can always acquire the essential knowledge from study resources. So, do you want to know how to ace the Microsoft MS-900 exam and set yourself up for success? Then keep on reading this article.
Microsoft MS-900 Exam Details
The Microsoft MS-900 exam consists of 40-60 questions, which candidates need to be answered within 60 minutes. So, answering 40-60 questions in 60 minutes demands the applicant to work on their time management skills. It may seem easy at first sight to have approximately 2 minutes per question, but if you come across any difficult questions and not quick enough in other questions, you will end up leaving few questions unanswered.
So, you are advised to answer the easy questions first and don't spend too much time on one question.
Microsoft MS-900 Exam Includes the Following Topics:
Describe cloud concepts (10-15%)

Describe core Microsoft 365 services and concepts (30-35%)

Explain security, compliance, privacy, and trust in Microsoft 365 (30-35%)

Describe Microsoft 365 pricing and support (20-25%)
This certification exam is available in 7 languages, including English, French, Spanish, German, Korean, Chinese (Simplified), and Japanese.
Are You Preferable Candidate for MS-900 Exam?
If you want to sit for the Microsoft MS-900 exam, first of all, you need to know if you are a perfect candidate for this exam or not. Like any other Microsoft certifications, Microsoft 365 Fundamentals certifications have a definite target audience. The best-suited candidates for MS-900 Microsoft 365 Fundamentals exam are those individuals who are seeking opportunities in Cloud services.
A Complete Framework for Microsoft MS-900 Exam Preparation
Tough Microsoft MS-900 is a fundamental exam and is not as challenging as many of the advanced-level Microsoft certification exams; you still need to study harder and moreover smarter. Thorough preparation can help any applicants to ace this exam on the first attempt. If you plan to take it, the tips discussed below will help you avail of most of your preparation.
1. Make a Study Plan
Most applicants ignore this basic step. When you study without a realistic and practical study plan, you will do whatever you want whenever you wish. As s result of this, eventually, you will not be able to work at a consistent pace and will end up cramming the night before the actual exam. So, you'd better have a study plan that shows you what you have to study at what time and for how long. And perhaps you weren't able to finish this task because of some other conditions; you have to make sure you finish it before moving on to the next.
2. Know the MS-900 Exam Objectives
Your familiarity with the MS-900 exam topics is very vital to your success in the exam. The fact is that there is no way you can obtain the appropriate materials if you are not familiar with the exam objectives. The Microsoft official webpage for this exam comprises the complete objectives and subtopics that the applicants need to study while studying for this Microsoft certification exam.
3. Enrol in a Training Course
There is a high possibility that you are not familiar with all the exam objectives. The best way to get completely soak up them is to enroll in an official training course. You can register for the instructor-led training provided through the Microsoft platform. There are also free online courses that you can opt for.
4. Participate in an Online Forum
Participating in an online forum or community and asking your doubts or sharing your knowledge about the Microsoft MS-900 exam can help you acquire and sufficient knowledge. It helps you to learn from the ideas of others in the same position as yourself or with those who've already cracked the exam. Participating in an online forum can be a justified break from revision and may amaze you in the number of questions it answers.
5. Attempt Microsoft MS-900 Practice Tests
Practice tests help you assess your skill level before the real exam. One of the benefits of taking practice tests is that they help you identify your weak areas in your preparation journey. At times you read and think you have studied and retained so much in your brain; but, you have not. By answering MS-900 practice questions, you can simply gauge your level of understanding of any topic and identify the areas you are lacking and require further studies before sitting for the actual exam.
6. Avoid MS-900 Brain Dumps
Brain dumps are a big NO!! It is vital to keep in mind that these are illegal sources; if caught, you will be disqualified from the exam. They are a fake economy, only help you to pass rather than gaining the essential skills and expertise needed to crack the exam.
Make sure you avoid brain dumps at any cost. Even if you get through the exam, you'll not have acquired the skills the certification intends to teach you, indicating you won't be able to employ these into practice in real-life situations and your job.
7. Evade Multitasking
One thing that has made many applicants go off the track during their exam preparation is frequenting multiple tasks at the same time. Your entire concentration should be on your MS-900 exam preparation only. For this reason, please turn off your smartphone when they aren't part of what you're utilizing for your preparation. You also should mute social media notifications. You can only entirely focus on your studies when you are not in a distracting environment.
8. Keep Revising Your Notes
This is another excellent tip for MS-900 exam preparation. Throughout your preparation, writing notes should be part of an important part of your studies. Review what you're studying, highlight keywords, use examples, and write your own questions based on the exam topics that you're studied.
Reasons to Earn Microsoft 365 Fundamentals Certification
MS-900 exam equips you with the fundamental skills that make your career start with a strong footing. It's the only exam you'll need to get the Microsoft 365 Certified: Fundamentals certification. So, how does such a managing a solid ground to promote your profession? Well, it does so with the help of exam topics which you have to learn and master:
1. Expertise in Cloud Concepts with Microsoft 365 Fundamentals MS 900 Exam
After passing the MS-900 exam, you will be able to describe cloud concepts. This involves describing different types of services accessible for the cloud, the advantages. As well as factors that will make you inclined to use the cloud rather than familiarize yourself.
2. Core Services and Concepts for Microsoft 365
commanding and identifying the core services and concepts for Microsoft 365 is another great way MS-900 can help you accelerate your IT career. Your knowledge should involve the skill of determining Microsoft 365 core services. So, you should perceive what it means to deploy and support Windows and Office. You must also be well-informed about the investigation and collaboration solutions.
3. Privacy, Security, Trust, and Compliance
The Microsoft MS-900 exam assures that you perceive the different features of Microsoft 365. For instance, privacy, security, trust, and compliance. You'll become well-versed with security principles like zero-trust along with management concepts for integrated endpoints. Other prowess areas for this topic involve knowledge of threat protection—security center, service trust portal, and compliance manager. Also, comprise in this data privacy, you will see information protection as well as governance solutions.
4. Evidence of Skills and Expertise
The Microsoft certification ensures that its holder has some experience and profound knowledge of the Software as a Service Cloud model and general Cloud services. This Microsoft certification is evidence of the skills that the organizations usually seeking for.
5. Competitive Edge
Certified professionals often have more possibilities to be considered for jobs. According to Microsoft, almost 86% of hiring managers normally favor those applicants who already have an IT certification.
6. More Prominent Job Positions
Professionals having MS-900 Microsoft 365 Fundamentals certification are generally more likely to get promoted or are hired for senior positions than their non-certified colleagues.
7. Microsoft MS 900 Exam: Pricing and Support
Suppose you can understand how pricing and support for the Microsoft 365 are done. Then your career is come out an examination gages! This area allows you to receive knowledge in predicting, planning, and comparing pricing, determining multiple licensing options, and the Microsoft 365 service lifecycle. There is also the matter of supporting offerings for the services of Microsoft 365.
Final Words
Passing the Microsoft MS-900 exam lies mainly in what you do during preparation. So, have enough time to go through all the suggested resources if you want to get the exam right. Attaining that level of being certified pilots a journey that demands your total dedication.
Once you do it properly, you make it possible for yourself to accomplish the desired mark thanks to the practice test. And it's not just about the results you obtain, it's also about how this will add towards getting the Microsoft 365 Certified Fundamentals certification, likewise your career now and in the future.