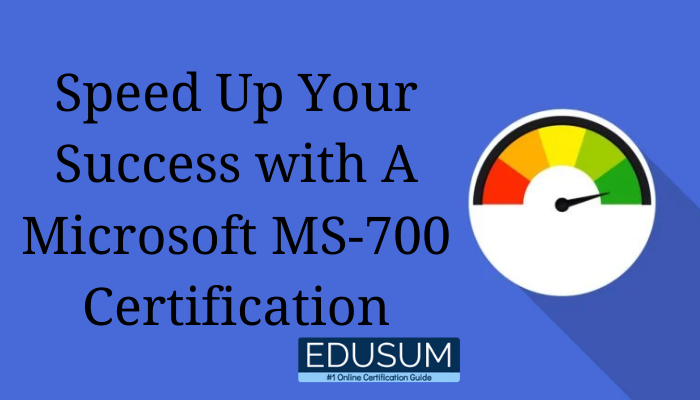 Microsoft certifications provide the fuel required to push you forward in your career. IT professionals agree that achieving a renowned certification from Microsoft offers infinite opportunities for individuals as their skills are proved by one of the most renowned IT organizations. Thus, this article is centered on the Microsoft 365 Certified: Teams Administrator Associate certification, its related exam by code MS-700.
Microsoft MS-700 exam assesses your skills to carry out the following technical tasks:
Plan and configure a Microsoft Teams environment

Manage Chat, Calling, and Meetings

Manage Teams and app policies
The Microsoft Teams Administrator configures, deploys, and manages Office 365 workloads for Microsoft Teams that concentrate on productive and powerful collaboration and communication in an enterprise environment.
Proven Tips to Pass Microsoft MS-700 Exam
With the appropriate resources and commitment, you can pass your certification exam on the first attempt. In this section, we will look at available study materials that will considerably enhance your performance. Let's check them out!
1. Instructor-led training Courses
The training courses offer a comprehensive perspective on the exam topics. They are usually delivered by experienced experts who perceive what the examiner is looking for. You can explore the various platforms online to find the perfect course for your exam and learning style. You may want to read the applicant's reviews before you select a trustworthy source. If you are not sure of any, explore the official instructor-led training offered by the vendor - Microsoft.
2. Self-paced Learning Paths
If you are looking for free resources to study for your exam, some learning paths provided by Microsoft are also one of the outstanding options to look into. Presently, you can online free, and Instructor-led paid training courses available that you can follow on Microsoft on the official webpage.
3. Microsoft MS-700 Practice Tests
You can make the best of your preparation with MS-700 practice tests. These study materials give you an overview of what your Microsoft MS-700 will be like.
Significant Benefits of Passing MS-700 Managing Microsoft Teams Exam
Certainly, doing great in your Microsoft MS-700 exam will get you a lot of gratifying perks. One of them is obtaining the Microsoft 365 Certified: Teams Administrator certification. All in all, here are the key benefits that you will get after passing such an exam:
1. Applicable Knowledge and Skills with MS-700 Certification
Your newly obtained skills will decide how well you will perform to take care of your employer's business requirements. Learning through the MS-700 syllabus carries out the essential skills in assuring success in the business environment because of excellent collaboration and communication. Your expertise will comprise deploying, planning, and maintaining Team chats, channels, live events, meetings, calling, and much more. As a consequence, your IT skills will help your organization ensure the least downtime and superior quality support.
2. Efficiency and Job Security
Across most organizations, some of the core requirements for hiring professionals involve holding at least one certification, which suggests sitting for and passing exams. Most hiring managers take into consideration a certification like the Teams Administrator one as an esteemed qualification in expertise confirmation. You have to go through the MS-700 exam to earn the course now, not a walk in the park. Thus, such a certification is of high value and proves your level of productivity.
3. Nailing the Microsoft MS-700 Exam Determines Business Success
Presently, there are more businesses than previously. As an outcome, small, mid-sized, or large organizations now take into account IT, an important aspect of their everyday operations. While hiring, these organizations consider the exams an applicant passed and the associated certifications that come with it. So, passing the Microsoft MS-700 exam will draw attention from potential employers since you'll be seen as a qualified professional who can help them attain more productivity in their businesses.
4. Differentiating Yourself From Crowd
Most professionals in technology-based industries accept that sitting for Microsoft exams and obtaining certifications signify specific levels of devotion by professionals to their IT careers. And despite all other applicants that other applicants might have, you're going to be hired for a position since you hold a Microsoft certification. Passing the Microsoft MS-700 exam shows commitment to your career and skills in Microsoft Teams administration. It also shows your ability to take the initiative in offering solutions in your field.
Conclusion
The value of certifications isn't just restricted to individuals. Businesses also avail when they have employees who are certified and skilled in their field. Thus, getting through the Microsoft MS-700 exam and receiving the Teams networks will bring you and your organization unique perks because of the expertise that you'll have. If you wish to implement practical solutions by utilizing modern technology, you need this same badge. And with MS-700 Managing Microsoft Teams certification, your star in the IT field will always shine!